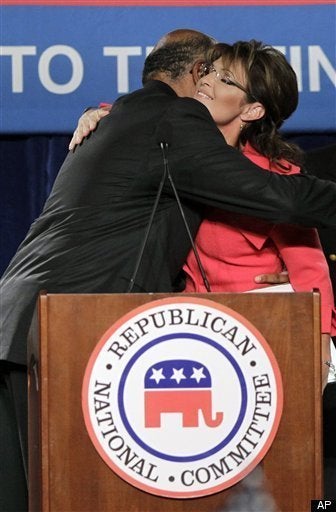 WASHINGTON -- Republican strategists didn't wait until the 2010 elections were over to air their concerns about a potential White House run by former Alaska Governor Sarah Palin. Granted anonymity by Politico, they shared their doubts about her prospects for beating Obama, in the process foreshadowing an effort to siphon away both support and momentum from her still-unannounced candidacy.
But while the consultant class sniped in secrecy, the big names in the party have quickly come to Palin's defense in public. RNC Chairman Michael Steele, speaking to "Good Morning America" on Monday, argued that it is cowardly to offer political criticisms without attaching your name to them.
"If you are not willing to put your name with your comments, then there is not validity to it... Put your name next to your quote and then have a conversation with Sarah Palin. Until then, leave it alone," he said. "You know all this kind of dissension and, you know, frustration within the party is not doing anything to get Republicans elected tomorrow. So until we get that job done let's not worry about 2012."
Former New York City Mayor Rudy Giuliani, meanwhile, made the point that Palin's anti-establishment credibility is only helped when Republican operatives air their concerns anonymously to the consummate insider publication.
"I worked for Ronald Reagan, you know the 11th Commandment was don't criticize another Republican," he said during an appearance on "Fox and Friends" on Monday. "Let's not start this presidential race before this election is over and let's not go through the negativity we went through in the last one where Republicans attacked the heck out of each other. We have got a bigger mission here. Sarah Palin has every right to make her case to the Republican Party. How about we let the Republicans decide -- not the so-called leaders -- whether she is qualified or not?"
"I think they are missing the whole point of what is going on in our electorate right now because that is the worst possible way to take that kind of a lesson out of this election," Giuliani added. "I think this time we have to have a Republican National Committee that disciplines Republicans who attack other Republicans. I see it starting already and it really disturbs me."
Steele and Palin have an intertwined relationship, owing to the RNC's help with her legal bills and Palin's help fundraising for the committee. But his comment, in addition to Giuliani's, gets at a larger and more interesting dynamic. While the GOP is poised for big gains this Tuesday, the party remains in a state of identity disorder. The Republican establishment may fear the notion of a Palin White House run. But they also understand the fragility of the GOP coalition. Republican power depends, to a large extent, on embracing the wing of the party ostensibly led by Palin.
It's not beyond the realm of reason that some of the anonymous aides sniping about Palin to Politico work or have ties to Giuliani and Steele. But no Republican with national aspirations would echo those snipes publicly. As Democratic pollster Stan Greenberg noted, when discussing the possibility that the Tea Party drained funds away from other GOP functions:
It is indisputable that they've had to spend many, many millions just to make the races competitive, money that could have been spent elsewhere... There should be some hand-wringing [among Republicans].

But regardless of the outcome, I think the Republican establishment has been so burned by the defeat of their candidates in the primary and is so worried about what lies before them that they won't in any way be critical of the Tea Party. They won't have the debate," he added. "You might see some retired members of Congress or consultants with no clients say something. But any member of the establishment would be chastised for bringing it up...
UPDATE: Add Tim Pawlenty to the list of Palin defenders. The Minnesota Governor tweeted the following on Monday morning:
Politico story is way off. Palin deserves great credit for all her work on GOP's behalf.
REAL LIFE. REAL NEWS. REAL VOICES.
Help us tell more of the stories that matter from voices that too often remain unheard.