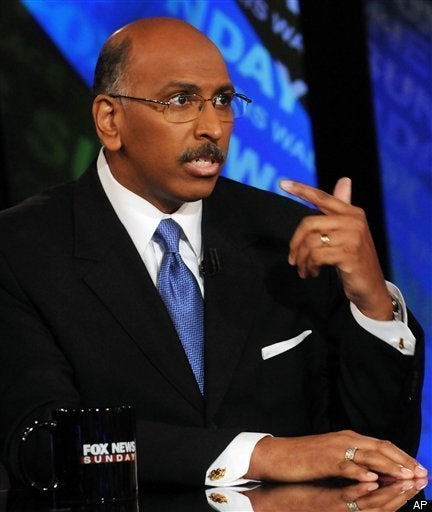 In his press briefing on Thursday, White House Press Secretary Robert Gibbs all but invited Republicans to attack the president's proposal to tax roughly 50 of the nation's largest banks as a way of recouping TARP funds and curbing compensation practices.
"If you want to be on the side of big banks," Gibbs said, "this is a good country, you are free to do so."
Already, some in the GOP are taking up the challenge. Minutes before Gibbs briefed reporters, Republican National Committee chairman Michael Steele slammed the administration's proposal, calling it "nothing more than another tax on the American public."
"The fact is this money has already been paid back by the banks and this punitive tax will hurt Americans' savings and discourage job creation at the worst of economic times," Steele added.
There is a legitimate policy-based foundation to Steele's criticism, including the concern (implicitly acknowledged during the president's statement on Thursday) that any tax levied on banks will simply be passed down to shareholders or consumers, as opposed to compelling executives to take smaller bonus packages. But the politics of this do seem stacked against the RNC Chair.
Next to members of Congress, Wall Street bankers are held in very poor repute. To make a philosophical case that they should not be taxed -- especially as their profit margins seem to be doing quite well -- doesn't seem like a brilliant political strategy.
It is worth noting that Steele's conclusions are at odds with what other respected policy observers have predicted. Felix Salmon, at Reuters, called the tax a "smartly designed" way to recoup TARP losses; one that could raise approximately $ $180 million per firm per year. And as Ezra Klein of The Washington Post notes, this isn't some ad-hoc attempt by the administration to dip into the bankers' wallets. The president is legally obligated to introduce this provision. From the White House's fact sheet on the tax comes this:
"The EESA statute that created the TARP requires that by 2013 the President put forward a plan 'that recoups from the financial industry an amount equal to the shortfall in order to ensure that the Troubled Asset Relief Program does not add to the deficit or national debt.'"
Popular in the Community