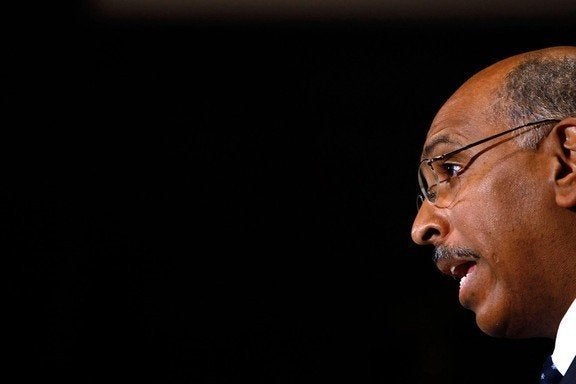 Republican National Committee Chairman Michael Steele appeared to express agreement last week as a conservative radio host interviewing him trashed the leadership of the Republican Party and ripped Missouri Senate candidate Roy Blunt for having an affair with a tobacco lobbyist.
With Steele on the phone, conservative Missouri radio host Vincent David Jericho repeatedly disparaged key Republicans.
Midway through the interview, Jericho called the entire Republican leadership and House Minority Leader John Boehner (Ohio) in particular, "an absolute freaking joke."
"I'm not just some voice flapping in the wind," Jericho said. "I am speaking for hundreds of thousands if not millions of Americas who are feeling the same way. For God sakes, the Republican Party is supposed to stand for something. Why don't they stand up and lead. Because some of the leadership with Boehner and some of these other guys are a joke. And you can't say anything. They are an absolute freaking joke."
"I'm with you," replied Steele. "I'm 1,000 percent with you. I agree with you. When I use the word 'healing' I absolutely agree with you. It is about leadership, first and primarily. What I was saying there, there is a lot of pain that comes out of the '06-'08 cycle, because of the things we failed to do."
Spokespeople from both Boehner's office and the RNC insisted that Steele's comments were directed at the broad direction of the GOP and not the minority leader himself.
"It sounds like Chairman Steele agrees with Leader Boehner that our party lost its way, and part of our responsibility is earning back the trust of the American people by offering better solutions to the problems they face," said a Boehner spokesman named, oddly enough, Michael Steel.
Later in the interview, when Jericho again set his sights on GOP officials, Steele again was agreeable. This time the target was former Missouri Gov. Matt Blunt and his father (and current Senate candidate) Roy Blunt (R-Mo.).
"His [Matt Blunt's] daddy [Roy] screwed around with a tobacco lobbyist," said Jericho. "Then slips language into the homeland security bill favorable to the tobacco lobbyist. I mean here is a guy that has committed adultery multiple times. Yet he had a senior position, and still does, in the Republican Party. Guys like Papa Blunt make us sick to our stomach. They aren't conservatives, and they sure don't reflect moral absolutes the way that we expect the Republican Party to stand up. You had the page boy scandal, you had all of that crap, and nobody stands up to it and says, 'This is crap! What are you doing?' Behave like a man -- not like, not like little boys who are running around with their little toy and can't behave themselves."
To which Steele replied, "Look, now don't, don't -- I mean, I agree with you. And when stuff gets in the crapper, you gotta clean it out."
LISTEN TO THE RADIO INTERVIEW HERE:
Progressive publications in Missouri jumped on the story, holding it up as evidence that Steele had trashed the leading Republican Senate candidate in the state. But RNC officials told the Huffington Post that the Steele was "not agreeing with the radio host's comments on Roy Blunt, rather he is agreeing with him on his comments relating to recent scandals involving the Republican Party."
"Like Chairman Steele has said many times before, he views recent scandals as unnecessary distractions and that we as a party need to move beyond those conversations to discuss the real and immediate concerns that face American families like health care and the economy," said RNC spokesperson Katie Wright. "Chairman Steele fully supports Congressman Blunt and his campaign for U.S. Senate."
That said, Steele's remarks could cause headaches for the RNC chair and Blunt. Relative to his first rocky months at the committee, Steele has found his footing -- but he continues to be viewed skeptically inside and outside the party. More importantly, the 2010 Senate election in Missouri is one of the key races in the upcoming cycle, and a clear test of Steele's leadership. Having the RNC Chairman not push back against an attack on the GOP candidate for that seat for having an affair is bound to cause intra-party awkwardness. At the very least, it serves as fodder for Blunt's Democratic opponents.
Popular in the Community