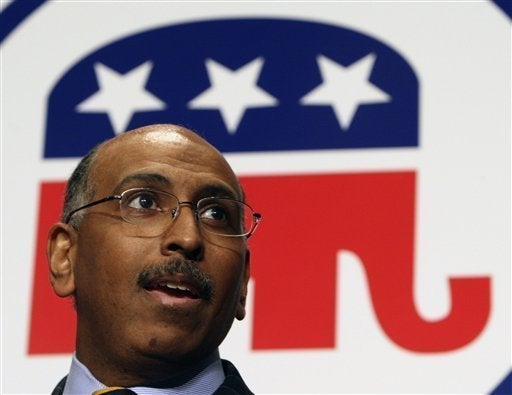 Michael's Steele statement of support for an "individual choice" on abortion has provoked deep concern among social conservatives and spurred further speculation that his tenure at the RNC will be brief.
On Wednesday, the RNC Chair walked back a remark he made in an interview with GQ Magazine, declaring unequivocally: "I am pro-life, always have been, always will be." But even with the quick clarification, the damage was done.
On Thursday, several religious right officials and anti-abortion advocates criticized Steele for telling the magazine that he "absolutely" thought abortion was "an individual choice," to be decided at the state level.
Former Arkansas Gov. Mike Huckabee: "Comments attributed to Republican National Committee Chairman Michael Steele are very troubling and despite his clarification today the party stands to lose many of its members and a great deal of its support in the trenches of grassroots politics."
Roberta Combs, president of the Christian Coalition: "I'm a little surprised that Michael Steele, being the leader of the Republican Party, is at odds with the pro-life platform, the platform that conservative put in place... If this is his viewpoint, he has made it be known. I'm just surprised that the leader of the party is at odds with the pro-life platform."
Evangelical leader Lou Engle: "Steele's argument that abortion is a matter of "individual choice" is extremely disappointing, especially in light of past statements in which he promised to protect and defend human life. "Steele's remarks to GQ indicate that he may be confused about "choice" and the "law." The law is supposed to protect human life, not permit the taking of it. And, it can never be a "choice" for an individual to take a life."
Tony Perkins, president of Family Research Council: "I read the article last night so I am familiar not only with his comments about the life issue but also about the efforts to redefine marriage and 'mucking' up the Constitution. I expressed my concerns to the chairman earlier this week about previous statements that were very similar in nature. He assured me as chairman his views did not matter and that he would be upholding and promoting the Party platform, which is very clear on these issues. It is very difficult to reconcile the GQ interview with the chairman's pledge."
Talk that this new rhetorical misstep could result in Steele stepping aide was batted down in conversations with several social conservative officials. He should be granted some time to find firm footing, was the usual refrain. But in private, several Republicans expressed bewilderment and frustration with Steele's gaffes and implored him to avoid the media spotlight for the time being.
"He needs to get off the air and start raising some money," said one high-ranking conservative. "He doesn't need to be giving interviews anymore."
Steele's remarks to GQ represented more than just another political headache for a party already in disrepair. They re-opened a whole host of questions and concerns about the newly elected chairman. One of the main critiques of Steele before he took the RNC post was that he was a social-moderate in conservative clothing, including on abortion.
"For the conservatives on the committee that was a concern and this feeds into that," said Cindy Costa, a national committeewoman and RNC member from South Carolina. "He has to have his talking points down completely so that he doesn't ever get thrown off message. It is not so much problematic with the RNC members as it is with Republicans out here in the country."
Republican officials say that Steele recognized the Pandora's box he may have opened with this GQ interview and has reached out to those who may find them objectionable. That included releasing a clarifying statement on Thursday morning:
"The Republican Party is and will continue to be the party of life," the statement read. "I support our platform and its call for a Human Life Amendment. It is important that we stand up for the defenseless and that we continue to work to change the hearts and minds of our fellow countrymen so that we can welcome all children and protect them under the law."

Whether the walk-back (coming on the heals of a mea culpa over his comments on Rush Limbaugh) will be enough to keep the party pacified remains to be seen. Clearly Republicans, while taking a personal liking to their new RNC chairman, are not, to this point, enamored with his leadership.
"You don't want to be sending mixed messages," said Costa. "You don't want a platform that says one thing and a chairman who says another."
Popular in the Community