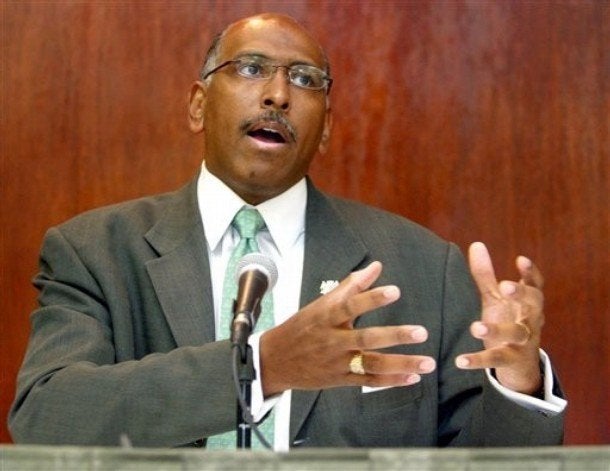 Roll Call reports that, even as rumors of his ouster circulate, Republican National Committee chair is redecorating his office:
As criticism of Steele from within Republican ranks has grown in recent days, some GOP insiders are grumbling that the new RNC leader has spent some of the organization's scant cash to remodel his Capitol Hill office, even as other pressing matters languish, like filling top staff positions.

...

And as grumblings about Steele's statements on abortion and a few other gaffes have drawn fire, HOH has uncovered more evidence that Steele isn't planning to go anywhere -- in fact, he's getting quite comfortable in his new office: Sources say a Bowflex exercise machine recently arrived at RNC headquarters, presumably for the chairman to work on those abs of Steele.
Steele brought up his makeover plans in his interview with GQ interview. Referring to the "heavy dark-wood Republican furniture he has inherited," Steele told Lisa DePaulo, he was "redoing the whole thing. This is gonna sound weird, but it's way too male for me." Overshadowed by Steele's controversial thoughts on abortion, the office overhaul attracted little notice. But that could change, as Roll Call adds that money is hardly flowing at the RNC:
Still, as Steele settles in and peruses paint chips, his party is looking for ways to pinch pennies. Republican consultant Curt Anderson, one of Steele's advisers as he reshapes the RNC, has said the committee is going to have to do more with less this election cycle, particularly now that it can't rely on the president for fundraising.
Calling all HuffPost superfans!
Sign up for membership to become a founding member and help shape HuffPost's next chapter