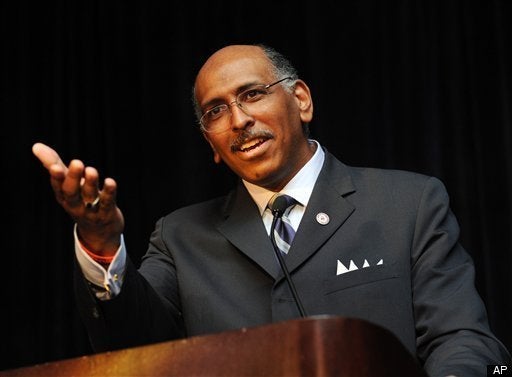 WASHINGTON -- Defying both his critics and earlier reports of his impending departure, RNC Chairman Michael Steele told fellow committee members on Monday that he would run for a second term in the post.
The reelection quest was greeted by cheers from some corners of the Democratic Party -- giddy at the prospects of GOP infighting and rhetorical stumbles -- as well as befuddlement from some Republicans. Steele had reportedly been hinting he would leave the post, unsure that the support was there to continue. However, in the immediate aftermath of his announcement, allies were arguing that he would get the necessary votes.
Announcing his plans, Steele sent out a four-page statement to RNC members as well as two fact sheets touting the achievements made during his two-year tenure. The entire package was passed along to The Huffington Post. Doug Heye, an RNC spokesman, said he could not "comment on anything in relation to the RNC Chairman's race." But the two other memos have been previously reported as an official committee document.
In the statement announcing his reelection candidacy, Steele takes subtle swipes at his critics -- noting that, "a significant number of past RNC major donors have migrated to other organizations led by former RNC Chairmen" -- while delivering a veritable report card for his own tenure. He concludes with a pitch to retain his post.
So tonight I come to my bosses with a record that only you can judge, based upon directions you made clear to me from the very beginning. Yes I have stumbled along the way, but have always accounted to you for such shortcomings. No excuses. No lies. No hidden agenda.

Going forward, I ask for your support and your vote for a second term. Our work is not done; and my commitment has not ended. I believe the worst thing we can do now is to look backwards. Who you elect as our next Chairman will speak volumes about our willingness to truly be the party of Lincoln. What we do as a party must reflect the realities of the political marketplace and the voters. Growth for our movement requires new allies. We can no longer settle in the safe harbor of our comfort zone, but must reach beyond ourselves for the next generation.

Tonight I truly believe we are stronger, better and prouder because we started those things and more over the past two years. Now let's finish the job.

The supporting research documents -- one authored by Steele the other by Michael Leavitt, his chief of staff -- are filled with similar data points. The Steele doc, which was released and reported on in mid-November, makes a lengthy case that disunity within the GOP has been and would be historically disastrous. Under this light, his decision to make overtures to the Tea Party should be viewed as a salvation for the ranks.
Closer to home, conservative schisms led to Republican defeats in pivotal elections. Ross Perot certainly had a huge hand in George H. Bush's 1992 defeat, and Libertarian or Alaskan Independence Party candidacies almost certainly were responsible for the defeat of Slade Gorton in 2000, Conrad Burns in 2006, and Ted Stevens in 2008, among others.

[snip]

From the beginning, the RNC reached out to Tea Party activists and other grass roots conservatives to ensure that their voices were heard and their principles were honored. While President Obama and the Washington crowd treated the Tea Party with disdain or condescension, the RNC accorded them respect.
The Leavitt memo is more specific than Steele's own. Authored on December 1, it takes noticeable umbrage with the negative media narratives that have engulfed the RNC Chair, arguing that they aren't fairly based on empirical evidence.
Yet some media reports assert that we failed to win as many seats as we could have, specifically identifying 21 seats, all of which were held by Democrats who had won in the previous election by margins ranging from comfortable to overwhelming, where
Republicans "could have been competitive."

At the outset, it should be noted what an extraordinary assertion that is--had Republicans won an additional 21 seats, for a total of 85, that would have been the second highest gain in U.S. history, and the highest overall since the 1800s.
Calling all HuffPost superfans!
Sign up for membership to become a founding member and help shape HuffPost's next chapter