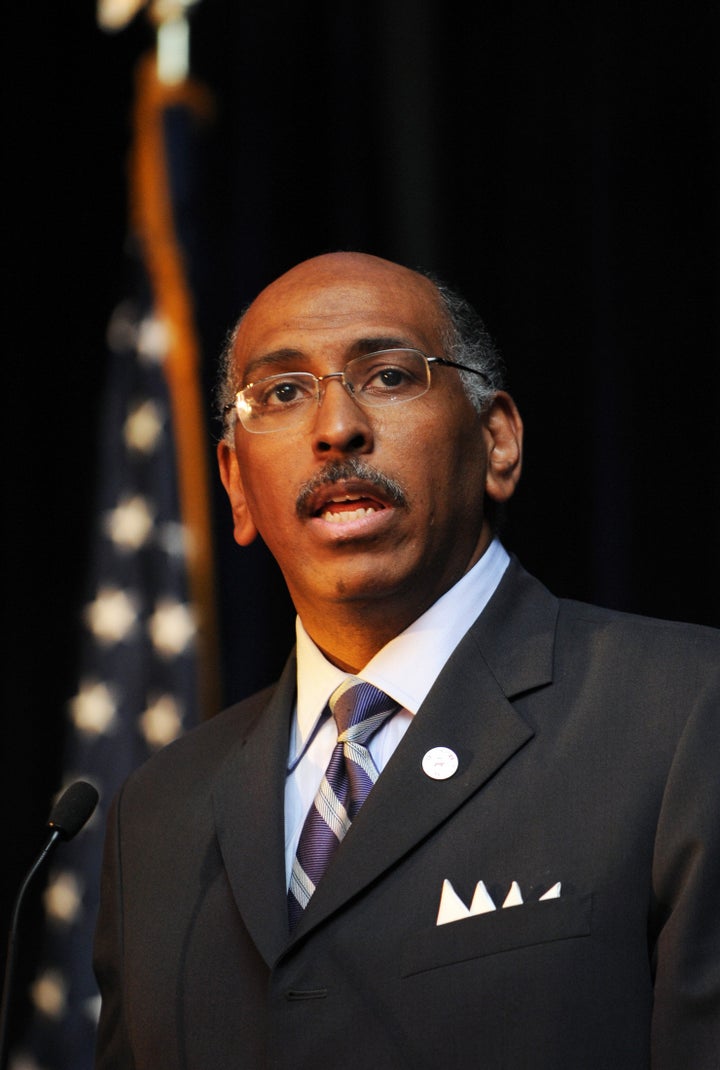 Republican National Committee Chairman Michael Steele said on Wednesday that the philosophical disputes erupting within the GOP, which manifested themselves in last night's special election in upstate New York, were "phony" and the creation of an overzealous media.
Speaking to reporters after Republicans swept two gubernatorial lessons but lost a long-held congressional seat in New York's 23rd district, Steele chose to emphasis the sweet over the sour.
"The Republican renaissance has begun," he declared at one point, "and it has begun in earnest."
But the elephant in the room was hard to push away. A slew of reporters quizzed the chairman over what, exactly, had gone wrong in NY-23 -- where the Republican Party candidate Dede Scozzafava was pushed out of the race only to watch the Conservative Party candidate Doug Hoffman lose a seat that had been in GOP hands since the 1800s.
Steele stressed that the problem was institutional. Had there been an actual Republican primary in place, there would have been no fracture inside the GOP tent. But when asked if he was concerned about this phenomenon repeating itself (as it seems likely to happen) in other congressional races in 2010, he lashed back at the press
"No," he proclaimed. "You know what I'm concerned about? I'm concerned about is the fact that in the United States Senate the Democrats have 60 seats and can't pass a health care bill. You know what I'm concerned about? I'm concerned about the division that exist within the House caucus between the Blue Dogs and the Speaker, that are ramming down a vote that they are going to have to cast that I'm going to chew them up on next year. That's what I'm concerned about."
"We can look at NY-23," he went on. "We can look at this phony fight between conservatives and moderates within the GOP. The reality is, the country, the country, the country is stagnated when it comes to the lack of a health care policy. When it comes to a lack of a fiscal policy. That to me is a bigger concern rather than ideological disputes within a political party."
"Now, it makes for great script for you guys. It makes for great news and noise for the talking heads, for those who like to drum up this stuff. That's why I call it phony. Because it is not reality. For the person who just lost their job do you really think they care? If you got fired when you left this press conference would you really be concerned about a philosophical difference between conservatives and moderates in the Republican Party."
The impression left was obvious: Steele would have been content with any Republican candidate, provided that he or she could win. He was asked, earlier, for instance, about the need for ideological purity within the GOP's ranks, and responded by saying he didn't see the value in "losing seats."
"I'm not in the business of division and subtraction," he said. "I'm in the business of multiplication and addition. I want more Republicans going to Congress. I want more Republicans going to the statehouse. I want more republicans running out counties and our cities. Because I think Republicans do it better."
"Winning is a lot sweeter and if you don't think last night was sweet you need to go see a doctor."
Calling all HuffPost superfans!
Sign up for membership to become a founding member and help shape HuffPost's next chapter