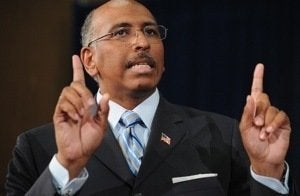 Republican National Committee Chairman Michael Steele criticized President Obama on Tuesday for traveling to Copenhagen to pitch Chicago as a host site for the 2016 Olympics.
Steele said that sending Michele Obama, which was the White House's original plan, would have sufficed. "I think the First Lady would have been and should have been the lead here," said the RNC Chair. "Let her go and sell Chicago. But the goal should be creating not job opportunities seven years from now but job opportunities today. And I think that what the president is doing is not necessarily helpful and doesn't, in my view instill the confidence in the American people that the focus is there on jobs, wealth creation and moving us beyond a recession to prosperity."
Steele accused the president of leaving Congress directionless on health care. "This administration has been pushing like hound dogs on getting a health care bill passed pronto," he said. "And if it is that important, Mr. President, then stay at home and get it done. But don't then push the members of Congress to blindly go about this process, not reading legislation, not putting legislation up on the Internet for the American people to read, not giving the kind of I think leadership that is necessary to get your health care bill done."

Steele refused to call the president's decision a "mistake," saying such a description was "in the eye of the beholder." But, he added: "I think at a time of war, at a time of recession, at a time where Americans have expressed rather significantly their concerned and frustrations over the course of spring and summer about health care, about the economy, about a host of domestic issues and even international issues, I think that this trip, while nice, is not necessary for the president."
Attacking Obama's last-minute decision to fly to Copenhagen in person is suddenly a popular refrain from Obama's GOP critics. Sen. Kip Bond (R-Mo.) also accused Obama of neglecting his presidential duties by focusing his time on Chicago's Olympics bid; to which White House spokesman Tommy Vietor, replied: "What does Sen. Bond have against the Olympics coming to America?"
Popular in the Community