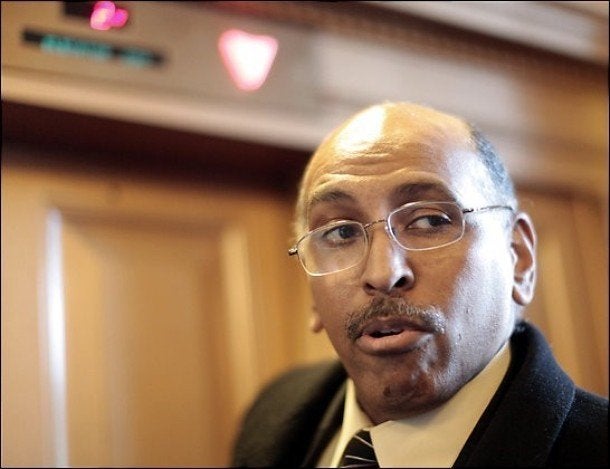 A tumultuous week from Republican National Committee Chairman Michael Steele has spurred more than a few enraged reactions from within the party.
Among conservatives, there is a growing sense that the RNC header has become a distraction -- frequently generating problematic headlines at a time when the focus should be on a stumbling Democrats. Commenting on Steele's impromptu book tour, which no other Republican officials seemed to have been warned about, one major consultant went so far as to compare the chairman with former Sen. Larry Craig (R-Idaho) the infamous Idaho Republican who (allegedly) tried to solicit gay sex in an airport men's room.
"Does he not get it?" asked Larry Farnsworth, one-time press secretary to former House Speaker Dennis Hastert. "To write a book like that and not consult with the rest of the party leaders is maddening. It's the most selfish thing I've seen a politician do since a certain senator tapped his foot under the bathroom stall. Michael Steele is clearly using the RNC platform to promote Michael Steele."
"Can you imagine what Karl Rove and the White House would have done to Ken Mehlman or Ed Gillespie if they would have pulled that?" Farnsworth added.
The reactions to Steele's antics don't get much worse than that -- at least in public. In private, the griping has been intense. Other Republicans have expressed fury with the RNC chair for stepping all over news that Sens. Chris Dodd (D-Conn.) and Byron Dorgan (D-N.D.) were retiring by telling Sean Hannity that the GOP was not just unlikely to win back the House in 2010, but wasn't even ready to govern.
"I'm sorry if Washington hates my pragmatism," Steele responded defiantly on the Dennis Miller show Friday.
The overwhelming concern is that Steele has become a rogue agent -- convinced that his playbook for a Republican revival is the right one, while simultaneously refusing to show anyone else the plays.
"Fortunately, the future of conservatism is not in the hands of Michael Steele," said Craig Shirley, a longtime conservative consultant. "He only controls the future of the Republican consultants who depend upon him for contracts."
Steele's defenders, naturally, scoff at such comments. If anything, they argue, the chairman has been a success. The Republican Party he inherited was in the doldrums. Today, there is more energy, and he has victories under its belt.
"The notion that he is a distraction is inaccurate," RNC Press Secretary Gail Gitcho told the Huffington Post. "The RNC is wholly focused on the 2010 midterm elections. We have momentum coming off 2009 and we are well-positioned for significant victories in November. Chairman Steele is more than a full-time chairman. And his objectives are to raise money and win elections this year."
Beyond the largely superficial issues of messaging and media cycles, however, lie concerns about the committee structure. Several Republican officials told the Huffington Post that there is limited communication between the RNC and other campaign committees, as well as GOP congressional offices. Others asserted that there was dissension within the RNC staff -- as could be extrapolated from the news that the committee's own press staff had no control over Steele's book tour.
The financial front is also worrisome. The Washington Times reported this week that wealthy contributors were "shunning" the RNC out of discontent with Steele's performance. Of the money that has come in, a massive $15 million is already out the door, spent on off-year elections. Twenty-thousand dollars of that was sent to the Republican Party apparatuses on the Northern Mariana Islands -- a non-voting portion of the GOP whose members helped Steele win the RNC post last winter.
Taken separately, the miscues might be manageable. This past week, however, they came at such a consistent and fast rate that the committee could do little to bandage them up. The RNC's communications shop is already understaffed, GOP officials say. And there is a "significant amount of frustration" -- as one strategist put it -- with the lethargic pace of response to these stories. This week alone, Steele used a racially-insensitive term ("honest Injun") to laud Republican principles, told his Republican critics to either "shut up" or "fire him," and insisted (against clear countervailing evidence) that he hadn't actually run for RNC Chair.
By the week's end, even Steele's defenders were compelled to admit that he was a double-edged political sword -- an energetic chairman who could deliver political daggers but was often was hurt by his own weaponry.
"[Y]ou have to walk a very fine line with regard to all communication and it's a difficult balancing act," one well-connected a Republican political consultant summarized. "On one hand, if you stick to saying what's safe, relying on poll-tested and focus group-approved talking points, you're going to come off as boring, predictable, canned, inauthentic or worse... On the other, if you say what you think, offer up 'straight talk,' or communicate in a way that is tougher to tag as predictable, bland or generic, everyone says you're going off-message, out of control, or you're just plain crazy... Politics is full of people who say you ought to do this, you ought to do that. Steele might deserve a little bit of a break here."
Popular in the Community