Stefan Reisch stepped into a hospital elevator alongside his wife and kids. Before the doors closed, they were joined by a doctor who was looking down at his cell phone.
The man looked up, saw Reisch and did a double-take.
"It's you!" the doctor said. "It's a miracle!"
Medical professionals rarely react like that. Then again, it's also rare that someone goes from being paralyzed on the left side by a stroke, failing to respond to the best medicine for such a situation, undergoes emergency brain surgery ... then walks out of the hospital two days later as if nothing happened.
As spectacular as that outline of Reisch's tale is, the full details are even better. His story also is a reminder of the amazing strides and ongoing advancements in the fight against stroke, the No. 5 killer in the United States and a leading cause of adult disability.
May is
, a time to celebrate our accomplishments and to acknowledge how much work remains to be done against a disease that is both treatable and beatable. Knowing a few basic facts can help. For instance, ask yourself and your loved ones: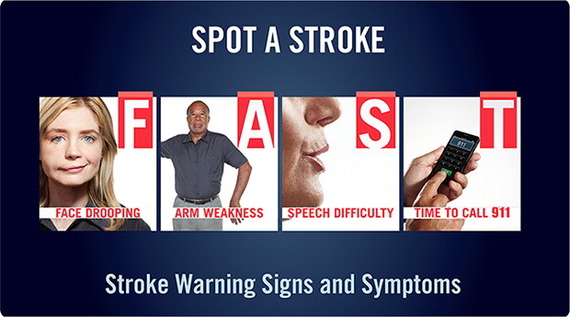 Many people still think strokes only happen to old, sick people. Reisch thought that, too, until Aug. 27, 2014, when he was a seemingly healthy, 41-year-old hair stylist, surfer and father of two who was on his way to work.
The surf was up, so Reisch planned his day accordingly.
He left home around 9:30 a.m., expecting to be at "Belli Belli" -- the hair salon he owns with his wife, Jennelle -- by 10. He'd drop off a few things, then head over to Pacific Beach to ride the waves.
A few minutes into the drive, he felt pain in the right side of his neck while driving on Interstate 8. Seconds later, his manual transmission Land Cruiser went rolling up and down the center divide like a skateboarder on a ramp, then slid off the road. Reisch couldn't get the vehicle under control. He tried pushing the clutch but his left leg wouldn't move. He also couldn't see or hear on his left side.
Reisch had just suffered a stroke. A blood clot likely triggered by that neck pain worked its way up to his brain, blocking normal blood flow.
"People were honking at me and I was thinking, `What are you honking at?'" he said.
Someone called 9-1-1 to report a drunk driver. When a paramedic reached Reisch, the first thing he said was, "Are you drinking?"
Then, "Are you on drugs?"
Seeing a lopsided attempt, the paramedic said, "I think you're having a stroke."
Reisch was rushed not to the nearest hospital but to the UC San Diego Medical Center, the nearest Comprehensive Stroke Center. This means it's a hospital recognized by the American Heart Association/American Stroke Association and The Joint Commission for meeting standards to treat the most complex stroke cases.
Alerted that Reisch was on the way, the hospital was ready for him. Doctors immediately gave him the clot-busting drug tPA, which is considered the gold standard of stroke care. When given within three hours -- and up to 4.5 hours for some patients -- it can dramatically improve chances of recovery.
For Reisch, it made absolutely no difference.
"No change?" Reisch heard a nurse say. "I've never seen that. At least a little something always happens with tPA."
Jennelle Reisch arrived soon after and was presented with three options.
Best of all for Reisch, a neurosurgeon at this hospital, Dr. Alexander Khalessi, was among the first doctors in North America to perform the procedure.
Oh, and, one more thing: Reisch would be awake during the procedure, an arrangement that produced some interesting moments.
Like when Reisch wanted to sit up. Khalessi, "kind of yelled at me, `You can't sit up right now! I'm in your brain!" Reisch recalled.
Khalessi urged Reisch to relax by using some breathing techniques. Soon, Reisch's urge to sit up gave way to a strong headache.
"Yeah," Khalessi told him, "you're going to feel that."
Then Reisch said, "Owwwww!" And that was it, the magical moment. Like a dentist plucking out a troublesome tooth, Khalessi removed the stroke-causing clot from Reisch's brain.
"Pretty much immediately, I could move my hand and foot," Reisch said. "Maybe it took minutes, but to me it felt like seconds. Everyone started saying, `We've got movement!'"
A doctor positioned on Reisch's right side went around to the end of the table on his way to examine Reisch's left hand. He was accidentally kicked by Reisch's revived left leg.
"When they wheeled me out of the operating rooms, all these doctors came around," Reisch said. "They'd seen me go in and now they were like, `How is that possible?'"
It wasn't just that he was alive and moving. It was how lively and how much he was moving that astounded them.
"I was giving everyone left-handed knuckle punches," he said. "I was so happy. I was crying, `I can move! Give me knuckles!'"
During her husband's procedure, Jennelle Reisch tried being optimistic. Khalessi had told her to expect a best-case scenario that included him walking in six months.
She certainly didn't mind how far off that projection proved to be. The joy spread across the hospital.
"They kept bringing in doctors to show me off," Reisch said. "They'd say, `Raise your arm.' I'd do the test and they'd go, `Wow. Amazing.' They even let me walk out of the hospital. They brought me a wheelchair, but then they were like, `OK, you're good.'"
It was on the elevator ride out of the building that Reisch came across the doctor who did the double-take while on his cell phone.
"Seeing the excitement in his eyes was kind of fun," Reisch said.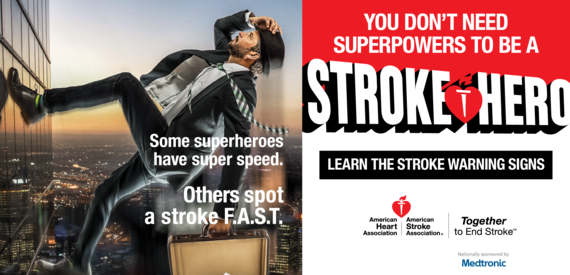 That is Stefan, playing a starring role in a Stroke Month campaign
About a week later, Reisch was doing a blow drying technique in his salon when he looked down and realized he was doing it all wrong. His left hand wasn't responding as it should.
"Oh, yeah," Reisch told himself. "You did have a stroke."
Being right-handed, his residual weakness seldom manifested. Still, there were some reminders. The bigger issue was coming to grips with the fact he was a stroke survivor. There were some emotional lows and some re-evaluation of priorities.
He's been told this was likely a one-time event and he's doing his best to keep it that way. He follows a healthier diet and walks more. He's still surfing, sometimes with his 20-year-old son Julian. He's trying to get his 14-year-old daughter Renee hooked, too.
"The feeling you get when you're on a wave, I can't find it anywhere else," said Reisch, who's been surfing since he was 12. "They call it a surfer's high. It comes from all these variables -- kind of a bounce effect from rising and falling, controlling your body as the water is changing."
A lot of things perfectly falling in place is exactly how his life was saved that fateful day in 2014.
After being fortunate that his car didn't spin too far out of control, everything else played out like a textbook case: The paramedic recognized the signs of a stroke and took him to a Comprehensive Stroke Center. When tPA didn't work, he immediately underwent the retrieval procedure.
"I know now that time lost is brain lost, so I'm really fortunate," Reisch said. "The whole thing is amazing. It's a miracle -- a real miracle."