I hit the road to join a pilgrimage of ladies gathering in Seattle -- a conversation with Gloria Steinem about her memoir My Life on the Road. A compelling force drove me (like in Close Encounters of the Third Kind) a thousand miles to attend this epic intercourse between two of my favorite authors/speakers, in my favorite city.
Gloria Steinem and Cheryl Strayed, who have spent big parts of their lives on the road, were there to discuss it. Cheryl was also unveiling her new book, Brave Enough. I purchased a VIP ticket immediately upon hearing of the event two months prior.
Twenty-five hundred kindred spirits congregated. There was so much energy, enthusiasm and high-octane conversation in the room I considered how it could be bottled, like fresh air is now. I surveyed the auditorium, estimating a handful (maybe 2-3%) of men. One of them, a Seattleite, a friend and former co-worker, had volunteered to come with me.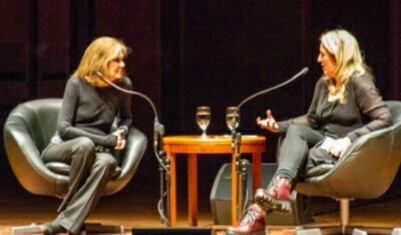 David (who shall remain anonymous but didn't request it) is tall, mature and approachable, so that's what women did -- they approached him, saying "Thank you for coming" -- "What brings you to a 'women's event'?" David, taken aback by the attention, explained: he'd long admired Gloria and was glad for an in-person opportunity. I knew this to be true, although I doubted he would have come without impetus. When I mentioned the reason for my pilgrimage to Seattle he bought a ticket, but by then the VIPs had sold out. We didn't have seats together and had to part ways when I attended the book-signing reception.
He'd admitted he didn't know who Ms. Strayed was until he looked her up, deciding she was, indeed, a strong counterpart to share the stage with Ms. Steinem. He didn't know I was a serious Cheryl groupie, having heard her speak three times, read her memoir Wild twice and eaten breakfast with her once at a writers' workshop. The real draw for him came from a recent profile of Gloria in The New Yorker. Of her photo in the magazine, he said, "She sure looks good for her age" (81). But, to be fair, that wasn't his primary observation. Things surprised him, such as discovering "she worked cerebrally, not emotionally" and that she was a trained dancer.
David is well-read, curious, an analytic thinker. He's a man who also knows the best places to study women (and attract their attention?) are at venues that attract mostly women. I wondered if he'd considered yoga.
Seattle -- the perfect location for this unique assembly -- did not fail to deliver its rainy charm and disarming diversity of ethnicity, generations, accents, clothing and social-economic backgrounds. Seattle - the original organic city -- was the perfect host to the collection of organic feminists.
Cheryl posed questions which elicited Gloria's responses on a range of feminist/humanist topics. They covered Gloria's road-life where she witnessed humanism (or the lack of it) at every turn. The road had been her school, literally and figuratively. It was where she learned all she's taught us, where she was inspired to keep carrying on and redefining her life's work.
She discussed intimate subjects, e.g., her mother's mental illness and her father's influence of taking his family to live on the road, and her yearning for a real home, a revelation later in life. She spoke often of heroes and sheroes -- among them Wilma Mankiller (joking about her name), Florynce Kennedy and Father Harvey Egan.
She covered topics not limited to her decades-long campaigns for equality in pay, voice, and rights for women, but as much about how feminism evolved inclusive of wider social justice issues such as xenophobia, homophobia, transgender phobia and other minorities' battles for representation.
We learned about Talking Circles via spellbinding accounts of her years in India where she became part of them, seeing the value of these circles, becoming educated as a storyteller and a good listener. In the circles, people listen, really hear, Gloria said, others' stories, problems, concerns. Through the circles, they expose issues, build trust, teach, create change.

That evening it wasn't logistically possible to be spontaneous with so many guests. However, simulation of a Talking Circle developed as women lined up on both sides of the auditorium, introducing themselves, their situations, and stating comments or questions. (Many thanked Gloria, profusely.) I most enjoyed seeing three-generation families -- mothers/daughters/granddaughters.
I remembered meeting a Moroccan man, long ago. As he explained Moroccan culture, he repeated, "Women talk, women are the school. Women are the school."
Now I knew why I'd wanted to come. To open my aperture on the world. There I was, part of an American Talking Circle with women sharing stories from Seattle, from the country, and from the globe.
I wondered how David was doing up in the balcony. (I was in the first row, so close I might've jumped into Cheryl's lap if I'd been Brave Enough.) I waved to him a couple of times but he was transfixed by Gloria. It turns out that on his bus ride home, a group of attendees noticed his book. "You went to Gloria Steinem!" (Did David smile? I'll bet he did.) "That's great! Good for you!"
Curious, I emailed a question: What did he like about the evening with Steinem & Strayed? His reply: "I didn't like the 'sound bytes' that developed because every time Gloria said a profound thought, applause interrupted. Also, I think more men should have shown up... she emphasized the quest for human dignity and how problem solving requires all-inclusive efforts."

I was impressed. "But what did you like?"
"I liked that she encouraged women to take charge of their own lives. 'Don't listen to my advice,' she said. 'Listen to yourselves.' I liked that she said 'All revolutions start in Talking Circles'. That was brilliant!" David had spent months touring India, over several years, and had observed several women's issues firsthand.
"I liked that she said women become more liberal as they age and men become more conservative."

"You don't seem conservative to me. For example, you went to see Gloria Steinem. THE Gloria Steinem! From the '60s, when you were a relatively conservative kid. And now you have a white pony tail to go with your white beard like she has her hip-huggers and concho belt. And, by the way, did you go to Steinem & Strayed mainly to be with me?"

I can imagine a jolly twinkle (he doesn't use emojis) as he wrote back: "Maybe. But since you have to ask, I must be waxing more conservative."
I know I'm the reason he went to witness Gloria and Cheryl's event, but he went, see? Women are the school.
Calling all HuffPost superfans!
Sign up for membership to become a founding member and help shape HuffPost's next chapter