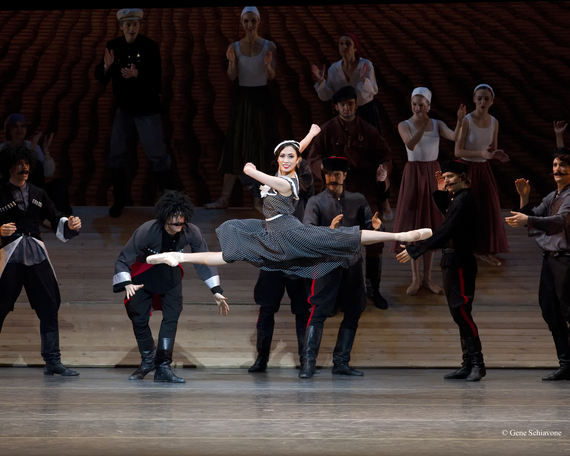 Ballet history is usually made in the august opera houses of St. Petersburg, Moscow, London, Paris and New York. But these days historic moments in ballet are taking place elsewhere: last week Misty Copeland made her debut as Odette-Odile in Swan Lake with American Ballet Theatre in Brisbane, one of very few black ballerinas ever to be cast in this iconic role. And this week, another distinctive ABT ballerina, Filipino American Stella Abrera returns to her homeland to debut in Giselle with Ballet Philippines, and to call attention to the continuing plight of children in Guiuan, the coastal town on Leyte hardest hit by typhoon Haiyan late last year.
Ballet to the People caught up with Abrera by phone just as Giselle rehearsals were wrapping up in Manila and she was headed for the airport, bound for Guiuan, to visit the construction site of a new school being built by disaster-relief organization Operation USA and Honeywell.
Two days prior, she had just flown in from Australia, fresh from ABT's first season in Brisbane where critics lauded her performances in Twyla Tharp's Bach Partita and Alexei Ratmansky's Seven Sonatas. Arguably the most versatile of ABT's current crop of soloists, the coolly elegant Abrera tackles the classics and more hard-edged contemporary work with refinement and aplomb. Finely etched body lines, delicate, precise footwork and exquisite épaulement are Abrera's trademarks - though she also has a great flair for comedy, evident in her uproarious portrayal of Hermia in The Dream, Frederick Ashton's distillation of A Midsummer Night's Dream.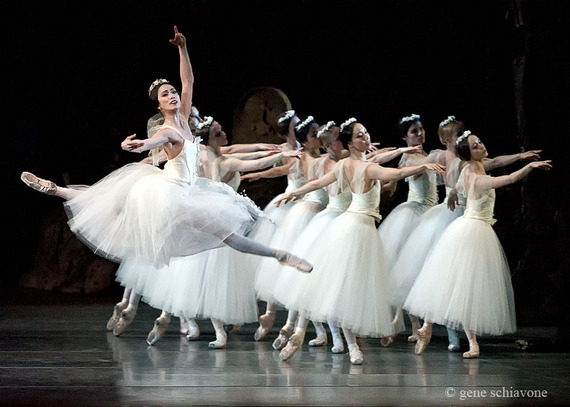 One of her best known roles is that of Myrta, Queen of the Wilis, in Giselle. Between the hours of midnight and dawn, these specters of jilted maidens, who died before their wedding day, prowl the woods and torture unsuspecting men. Behind Abrera's steely self-assurance as Myrta, we sense a tragic grief.
The greatest dramatic challenge in all of classical ballet is undoubtedly the lead role of Giselle: the transformation from naive peasant girl in Act I to strong-willed revenant in Act II, by way of the famous mad scene that brings down the curtain on Act I.
Adding to the gala performance buzz will be Abrera's return to the Philippines, where she was born and where she still has strong family ties, though she grew up and trained principally in California.
Gold medal award winner at the Royal Academy of Dance's Adeline Genée Awards in London in 1995, Abrera joined American Ballet Theatre the following year.
She and her husband Sascha Radetsky performed the Giselle Act II pas de deux on tour with Daniel Ulbricht's "Stars of American Ballet" last summer. But, she notes, "preparing the full-length ballet is a far more fulfilling experience. Telling the story from the beginning, with a full cast of players, allows everyone in the theater, including myself, to become invested in the characters. When Act II comes around, the atmosphere is more magical and heart-rending. I feel I can more fully flesh out my characterization of Giselle when I can tell her story from beginning to end."
This homecoming is poignant for Abrera for another reason: "Soon after I received the invitation to dance in Manila, super typhoon Haiyan ripped through the Central Philippines. The reports of devastation and suffering were staggering, and I knew my upcoming visit to the country needed to somehow contribute to the relief effort."
Abrera learned that child labor rates - already high in that part of the world - are rising in the typhoon-hit areas, as many children have been orphaned, families' livelihoods threatened, and schools destroyed. Increasing access to education for the children affected by the typhoon is a top priority in combating rising child labor rates. However, the current conditions for education are sometimes verging on hazardous. Many classes are held in overcrowded, makeshift schoolhouses, and basic supplies are scarce.
Abrera has partnered with Operation USA to help them rebuild Guiuan's essential infrastructure. She formed Steps Forward for the Philippines, a charity charged with providing material and supplies for their new school.
Friends, fans and fellow dancers have responded to Abrera's appeal to "step forward," and to date a little over half of the $30,000 she is targeting has been raised.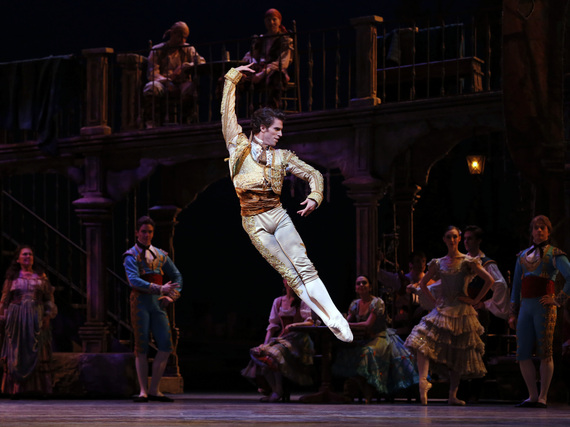 One of Abrera's strongest supporters in this campaign is fellow ABT dancer, James Whiteside, who travels with her to Manila to partner her in Giselle. He dances the role of the perfidious Prince Albrecht, who pretends to be a commoner so he can woo village maidens, even while engaged to a noblewoman. Whiteside has danced many iconic lead male roles since he joined American Ballet Theatre in 2012 from Boston Ballet. (Ballet to the People was particularly moved by his interpretation of the Artist in Alexei Ratmansky's Chamber Symphony, from the epic Shostakovich Trilogy.) The pair will be supported by Ballet Philippines' Rita Angela Winder as Myrta and Richardson Yadao as Hilarion, the feisty gamekeeper whose love for Giselle goes unrequited, and who is sent dancing to his death by the fearsome Myrta and her gang.
But before the curtain goes up on the innocent young village girl and her deceitful lover, Abrera takes an important trip to Guiuan, Leyte, and hopes that her fans will be inspired to help her on her mission:
Photos:
1. Stella Abrera in Alexei Ratmansky's The Bright Stream (Photo: Gene Schiavone)
2. Stella Abrera as Myrta in American Ballet Theatre's Giselle (Photo: Gene Schiavone)
3. James Whiteside as Espada in American Ballet Theatre's Don Quixote (Photo: Marty Sohl)
Related
Popular in the Community