But it wasn't praise for her sustainable practices or fresh designs that created the buzz. She's facing backlash for her use of ankara prints, a staple in West and Central African fashion, which she sent down the runway on non-black models. Only a few black models were included in the show overall.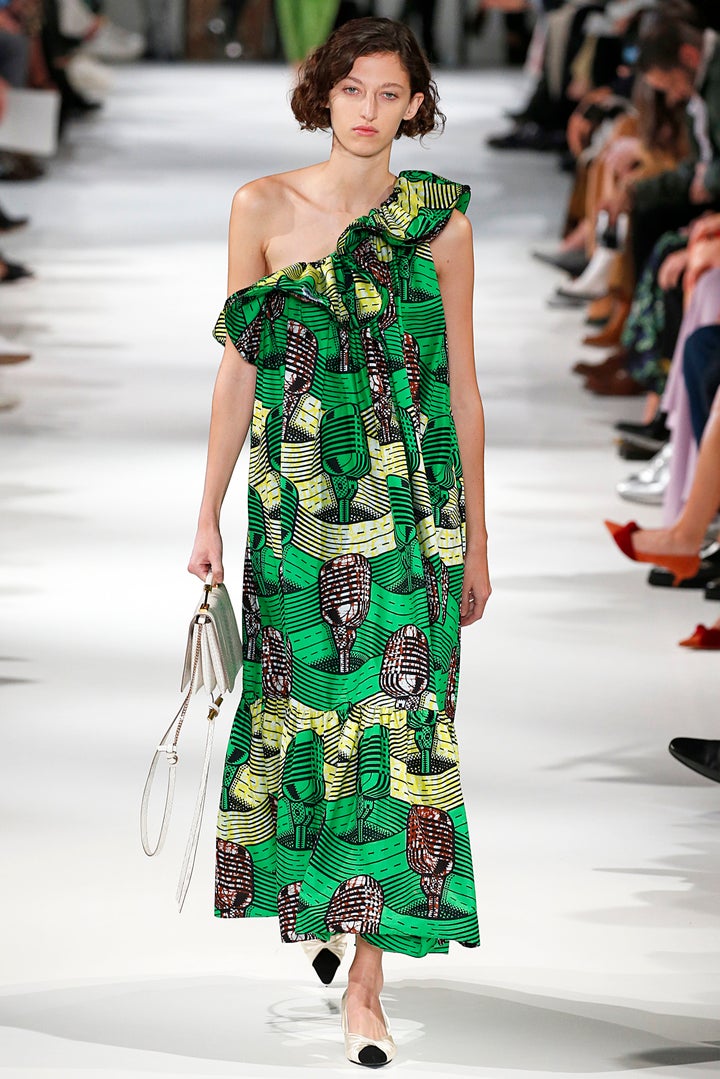 McCartney collaborated on the show with Vlisco, a long-time and well-known maker of ankara prints, which are also known as Dutch wax prints. According to its website, the company has been "designing and manufacturing distinctive fabrics loved by African women since 1846."
She was quickly accused of cultural appropriation on social media, where people called her out for the underrepresentation of black models on the runway and romanticizing the "basic African designs" that "grandmothers wear... daily."
Fashion writers had mixed responses to the runway show: The Washington Post's Robin Givhan was put off by McCartney's use of acid-wash denim, while the Sydney Morning Herald's Annie Brown acknowledged that what qualifies as cultural appropriation ― using designs and ideas from cultures that are not your own for gain ― can be "tricky" in fashion, and pointed out the industry clearly needs to be more racially diverse.
...[W]hile it may be true that there is no such thing as an original idea, and designers will always pay homage to eras, places, communities, techniques and aesthetics that inspire them, that also doesn't mean helping yourself carte blanch to other cultures.

When does 'borrowing' become problematic, nay racist? When the context is missing? When the representation of the culture isn't properly and fairly realised? When it's plain old insensitive? When the balance is out of whack?

Perhaps all of the above.
Culture site OkayAfrica's response was pointed: "Dear Western fashion houses, please stop taking designs that Africans have been wearing for years, calling them your own, and charging people out the ass for them."
A spokesman for Stella McCartney told HuffPost the designs "were about celebrating a unique textile craftsmanship, its culture and highlighting its heritage," noting Vlisco "helps maintain [the] heritage" of ankara.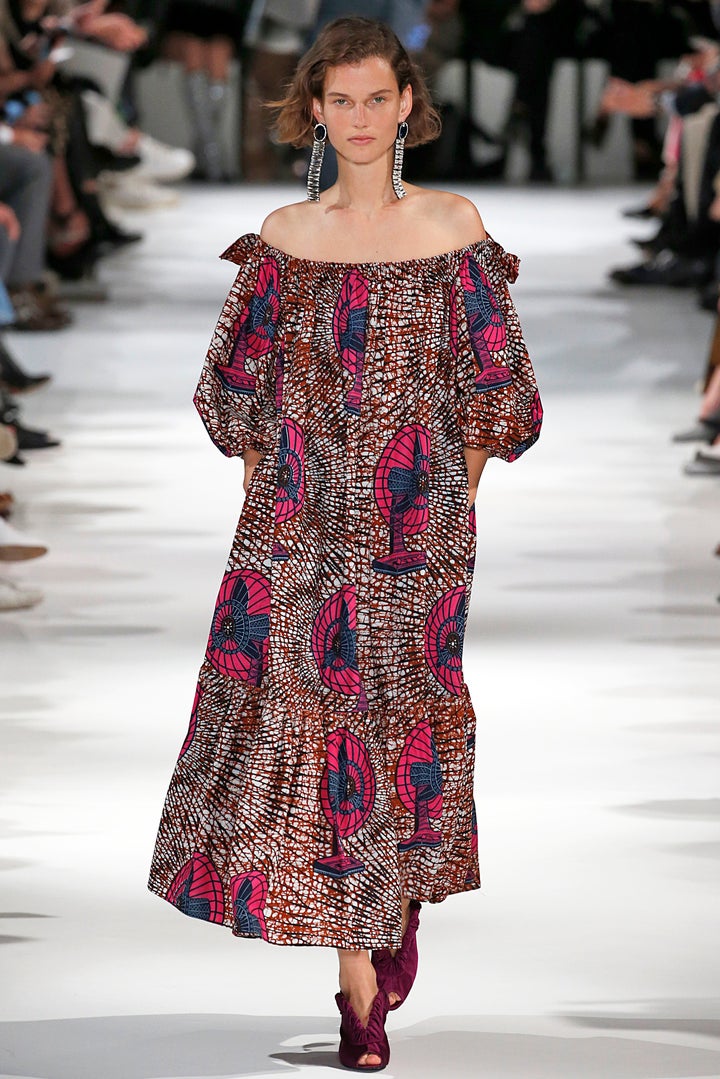 He noted Vlisco has also worked with other designer labels, including Comme des Garcons and Viktor & Rolf. This, of course, does not let designers off the hook: Comme des Garcons came under fire for not using black models at all when it collaborated with Vlisco for an "Africa-themed" fashion show in 2015, according to Quartz; nor is this the first time McCartney has been accused of insensitivity.
"To some extent, the question of whether Vlisco is truly 'African' or not is moot, because the fabric so readily and indelibly signifies the fashion and style of West African women; it might be like asking if denim is 'really American' given the complex global history of indigo," she wrote. "At this point, Vlisco is about much more than just the fabric as an object of fashion. The ecosystem and visual language of its trade is a cultural phenomenon in which women entrepreneurs flourish, and individuals can forge and display their identities through design."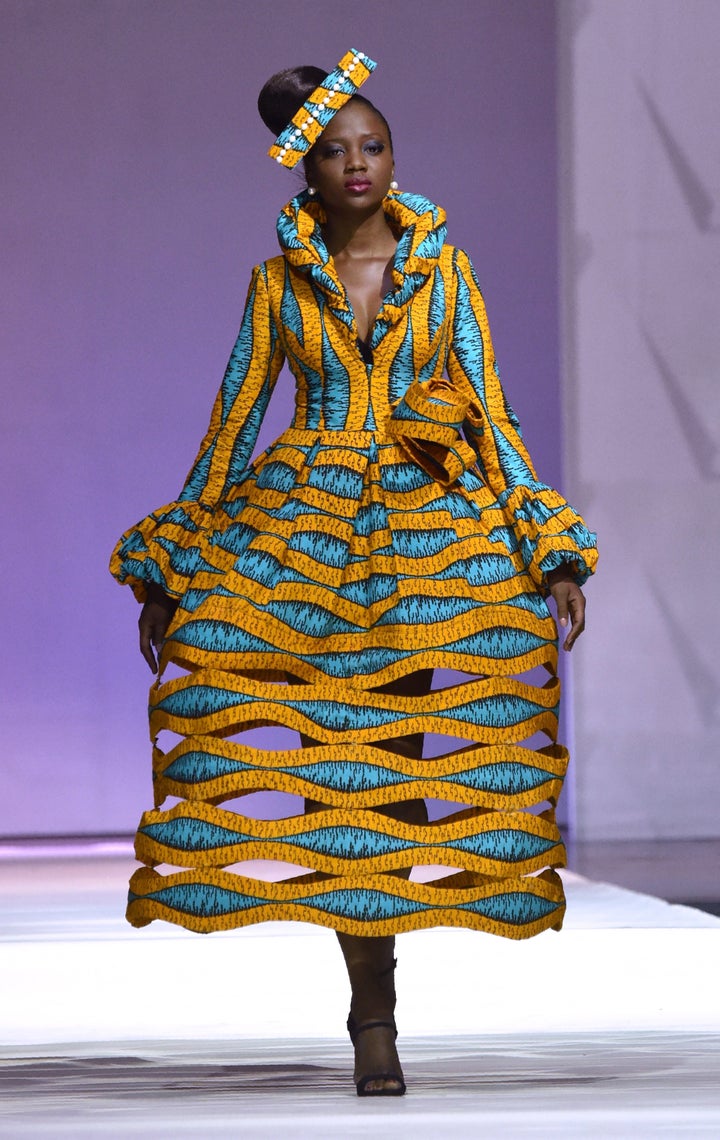 "I think it's rather unfair to essentially wipe out the history of how this fabric came to be owned culturally by West Africans simply because the technique didn't originate here," she wrote. "Its popularity evolved in our hands, according to West African taste and became a part of West African culture. Some of the more famous Ankara patterns are made up of symbols synonymous with Yoruba culture that women of generations past can understand."
Liberian designer Charlene Bendu Dunbar, owner and creative director of Suakoko Betty, said McCartney's collection is "dope," but that the use of African prints is "always bittersweet."
"On one hand, any time African culture and design are being celebrated or put on a platform, I'm all for it," she told HuffPost. "On the flip side, designers need to give credit that these are African-inspired looks and make sure they do business in ways that benefit the economies (as in African countries) that these designs are pulled from (as [Stella] does with the Ethical Fashion Initiative)."
Mariatu Turay, founder and owner of the contemporary African clothing website Gitas Portal, said there is "nothing wrong with using commercial African prints," but that the appropriation lies in trying to "redefine ownership," "failing to acknowledge smaller brands and those from an African heritage who wear such prints and designs on a daily basis."
A more concerted effort by all brands to actually seek and work with designers they draw inspiration from is the first step toward making an instance like this less troubling, she said.
"The frustration comes from using our prints and then attempting to tell us, Africans and those of African heritage, that it's not ours."
Support HuffPost
A No-B.S. Guide To Life
Before You Go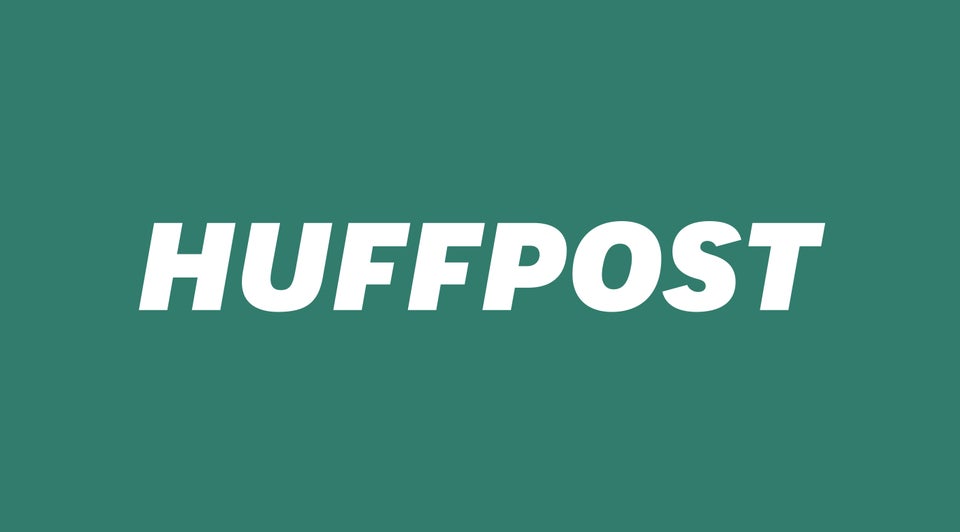 7 Cultural Appropriation Myths Debunked
Popular in the Community