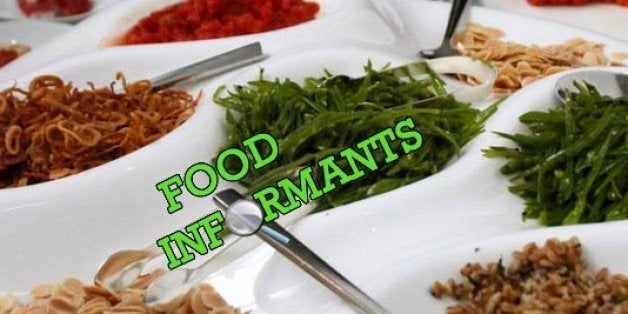 Food Informants is a week-in-the-life series profiling fascinating people in the food world. We hope it will give you a first-hand look at the many different corners of the food industry. Know someone who would make a great Food Informant? Tell us why.
Stella Rankin is a partner of start-up catering company Pinch Food Design. She was recently nominated for the Bizbash Readers Choice Award for Best Caterer in New York City. Originally from Australia, she lives in NYC, has two Pomeranians, and is a big fan of Broadway.
6:00am: Alarm goes off and I really want to hit the snooze but I feign excitement and head to the gym… yep if this grogginess is any indicator, it's Monday.
7:45am: Showered and dressed, I head off to the office, start the day with a purchase for our weekly sales meetings at Pinch Food Design; donuts from Doughnut Plant on 23rd –- check! My favorite -- the carrot cake!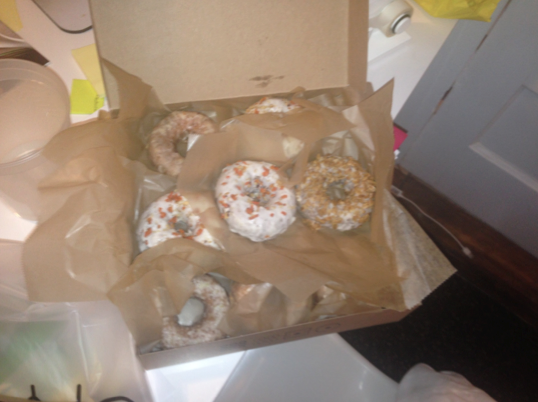 9:00am: Respond to a few emails, I just read the 4-Hour Workweek, so I'm trying to look at my inbox less to increase my productivity. Within 5 minutes I realize I'm addicted to my email and sneak a peek and fire off some emails. Whoops.
12:30pm: Lunch at Cookshop with an old client. Have a great chat about work, life and love and try the crispy fish tacos, with pico de gallo, green cabbage slaw, lime crème and cotija cheese. The waiter tells me that the cheese is only produced July-October because the cows are fed only on the rich green grass that grows naturally on the mountains during the rain season. You learn something new everyday! After lunch it's back to the Pinch office.
3:30pm: Calls, calls and more calls. Have to wrap things up and jump in a cab to head to MoMA for an event we are catering with the Council of Protocol Executives. We are expecting around 300 guests and we want to impress.
5:00pm: The Pinch staff are busy doing their thing. MoMA is open to the public till 5:30pm so we have less than an hour to set up two bars, three food interactions and be ready with trays in place. Luckily the team is stellar and by 6:20pm there are serving trays in place and butlers with cocktails. That is no small feat and even I am a little impressed.
6:30pm: Guest are starting to arrive, and we are up and running. We are in the Statue Garden and guests are raving about the food and presentation and I am happily overwhelmed. Feels like a slam dunk event.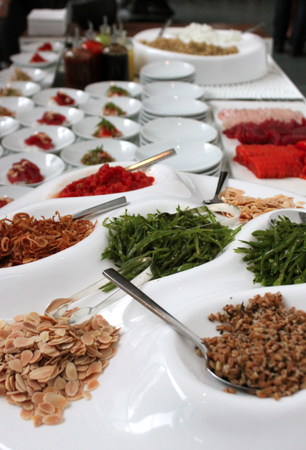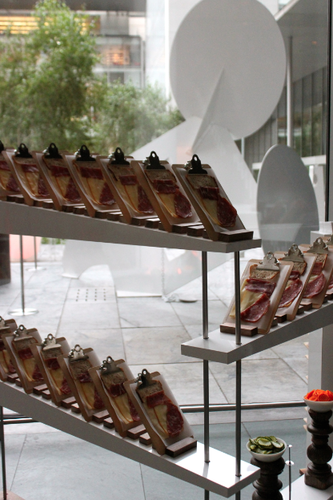 9:30pm: Event is over and I realize I haven't had even one bite. Throw back three "Baked by Melissa" cupcakes that are at the event and head home.
8:30am: Got to Pinch and grabbed an espresso. Sitting down at my desk and plough through some emails (guess that 4- Hour Workweek book didn't stick) and work. Lots of event inquiries coming in which means a busy fall. Very exciting for me!
12:30pm: Wow it is already lunchtime and I have a client tasting at Pinch. This is when guests come in and try all our new food and see our designs. This is one of my favorite things about my job. Chef Bob Spiegel comes and shows the client our chef's table and they are already excited. It's a quiet demo in which the chef assembles, seasons, slices and stacks bites of food live at the event, in full view of the guests on our silicone tablecloth. We have a beautiful olive oil chicken with broccoli rabe, caramelized pearl onions and tomato marmalade and finish off with the donut slide. I'm one full girl!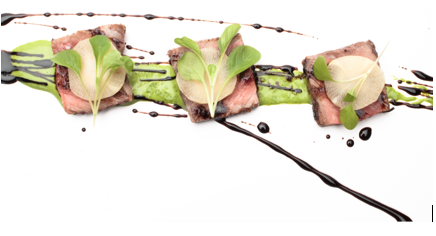 3:30pm: It's someone's birthday in the office and that means birthday cake. Our pastry chef makes a mean chocolate cake with ice cream. I beg my willpower to say no, but alas it is too weak today and I succumb to a small portion. That means 5 more minutes on the treadmill tomorrow -– if you can't already tell I have a love/hate relationship with sweets!
4:00pm: Jump in a cab and go do a site visit for an event we are doing in the meatpacking district. It's a cool pop-up shop. Walking through the cobblestone streets I trip on the corner and break a stiletto. You have to be kidding! Run into Scoop and buy a new pair.
6:00pm: Head to the salon for a quick blowdry. They even offer me Champagne. Now that is service.
7:30pm: Head to meet a potential client at Dos Caminos on Park Avenue for a drink. They are siting outside drinking in the evening summer heat. It's a balmy night. I tell them I can only stay for one.
8:30pm: One just turned to two. These CEOs are fascinating and have start-up companies, too. They're telling me stories about starting out in the business world in NYC. We talk about Pinch and some potential partnerships. I love listening to entrepreneurs; I find it all so interesting.
9:30pm: Somehow I am still here having a laugh. One of the guys tells me his family owned Dos Caminos for over 20 years and he used to be a waiter as a boy. I can't believe he kept that under wraps for 2 hours.
8:00am: Wake up late, no time for the gym! Jump in the shower and head to a meeting. Have a meeting at Americana with an old client that is now working for the NY Food and Wine Festival. Tell a few stories and have a laugh about the event world. I order coffee and fruit! I'm still full from yesterday.
12:30pm: I have lunch booked at Ovest down from my office on 27th. I'm meeting my old flat mate from University to catch up. We work out that we haven't seen each other for over 10 years. I have mixed feelings…10 years! Where has the time gone? We talk about old university pals and future plans. It's nice to see her. I opt for a light summer salad of mixed baby greens, French beans, hard-boiled eggs, Italian tuna and artichokes in mustard lemon dressing. I feel like all I've done this week is eat!
5:00pm: Like clockwork my Mum and Dad call from Australia. Every Wednesday and Sunday we have our chat. Have a great chat, I tell them all about the Broadway show I saw last week. Mum tells me an old family friend is having a baby. Great news. I always hate hanging up, I miss them so much!
8:00pm: Head to Pearl & Ash, a new restaurant on Bowery for a client dinner with friends who are getting married. We are catering their wedding -- who says you shouldn't mix business with pleasure? Order a Sancerre and what feels like the entire menu. My favorite is the trout, black garlic, leek and dill. Good restaurant, I'm impressed.
10:30pm: Heading home and talk on Skype to a friend, my special friend. Lots of stories and catching up to do. I find it amazing after all this time we can still talk for hours at a time. Distance does make the heart grow fonder.
1:30am: After 3 hours I have to get off the phone! I'm so tired I basically hang up with my computer under my head.
6:00am: Up and early and off to a breakfast event for one of our clients at the Meatpacking pop-up shop. It's a bit rainy and I feel bad for my client as the pop-up shop is somewhat in the open air. It's a light shower and clears quickly. Phew. We serve mini potato pancakes with baked apples and goat cheese, jalapeno deviled eggs and salami omelet with Tuscan herbs and mascarpone.
9:30am: Jump a cab and head to the office. I have so much to do and I know I have another tasting at lunch. Time to focus and knock through the work.
12:30pm: Our waiter comes up the stairs and tell me that our guests have arrived. We are entertaining six guests from one of the local university's event team. Great group, lots of food. One is heading to Australia so I give her all my native experience within a 30 minute download.
2:30pm: Back to my desk. Lots of questions from clients and a few big bookings. I'm super excited about the fall. We already have some fantastic events on the books.
3:00pm: The afternoon slump hits and I have to grab a coffee but I can't get up from my desk. It's extremely busy.
5:00pm: Is coffee god's nectar? If it isn't it should be. Head across the road to see my barista at The Americana. He is so lovely and we have a little chat.
6:00pm: I have dinner tonight downtown but have no time to go home. Get changed in the office for dinner. Walk downstairs and all the boys in the kitchen approve. They are great for my self esteem.
7:00pm: My friend's boyfriend is hosting a surprise dinner at Il Buco on Bond Street. All the guests meet downstairs in the private room. We all wait and enjoy a glass of vino, and some great hors d'oeuvres. Now, when walking into a new place social lubricant is important, it's really the process of having a drink, and then another one and then another till everything feels right.
7:27pm: The guest of honor arrives to big bellowing "surprise." What I found most remarkable was how so many people could keep it a secret.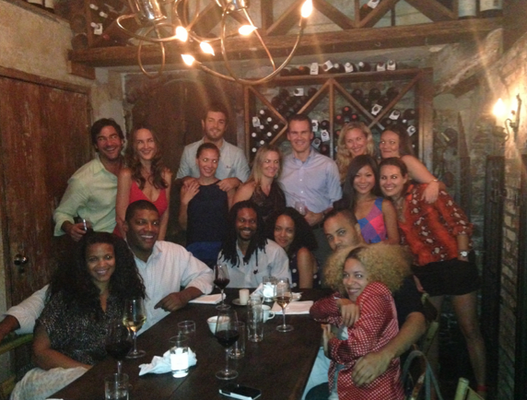 Friday, August 23

7:00am: Straight to the gym for a run.
9:00am: Arrive at the office. No meetings or tastings, just a huge to-do list. Sit down and start to cross things off. I realize I have a tiny obsession with to-do lists and crossing things off. I actually write something I have already done down, just so I can cross it off. Writing this makes me realize I'm kind of crazy.
10:00am: Our designer and owner TJ Girard is busy with a photo shoot downstairs. I wander down to take a look. She has some new interactions she is shooting. Very exciting. She is so super creative.
11:00am: Jump on a conference call with a bride and groom. They are excited and have tons of questions. My favorite is when the bride asks, "My father is rather emotional, can you please cut him off at the bar if he starts crying?"
12:00pm: No tastings so we have family meal. It's when all the staff eat together and it's really nice. Today is a collection of great dips and vegetables with crostini. Nothing like a little gourmet house-made Pinch lunch.
3:00pm: Sugar low! Our owner and Head Chef, Bob Spiegel brings me up some caramel popcorn fresh from the kitchen. Have a nibble, but it's so addictive. Once you pop you can't stop. Take it away.
5:00pm: Trying to finish off all my loose ends for the week and to finish up, I know I have 8pm reservation for BLT with a friend on 22nd Street. Not hungry at all. Damn that popcorn!
8:00pm: Head to BLT and everyone else is starving. We order a beautiful bottle of Jolivet Chat du Nozay, tuna tartare, crab cakes, broiled Maine lobster, braised short ribs, the New York strip steak, sauteed spinach, french fries, and then top it all off with mini donuts. Okay, I have to admit the food is good.
See more Food Informants below: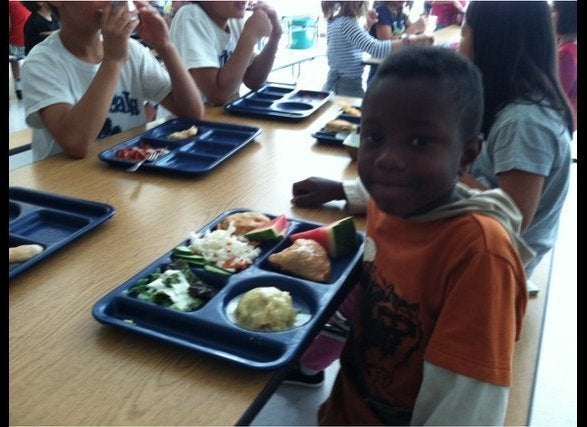 Food Informants
Related