A Republican state legislator in New Hampshire is claiming that the United States government is responsible for the Boston Marathon bombing.
State Rep. Stella Tremblay (R-Auburn) posted on conservative talk show host Glenn Beck's Facebook page Friday that the attack and the subsequent search for suspects was playing out how Beck had suggested. She said the bombings were a plot by the federal government, and included a link to a video from another conservative talk show host Alex Jones, in which Jones also claims the federal government planned the bombing. Tremblay's message to Beck was posted Friday morning, before suspect Dzhokhar Tsarnaev was arrested.
Just as you said would happen. Top Down, Bottom UP. The Boston Marathon was a Black Ops "terrorist" attack. One suspect killed, the other one will be too before they even have a chance to speak. Drones and now "terrorist" attacks by our own Government. Sad day, but a "wake up" to all of us. First there was a "suspect" then there wasnt. Infowars broke the story and they knew they had been "found out".
It's unclear which of Beck's comments Tremblay is referencing.
In the video, Jones spends eight minutes discussing his theory, which includes what he says are photos of off-duty Navy SEALS near the marathon finish line and backpacks he claims contained bombs.
Tremblay did not return a message left requesting comment.
Tremblay's history advisor, David Johnson, told The Huffington Post in March that former President Abraham Lincoln deleted a constitutional amendment and dissolved the United States, while also not freeing the slaves. He also claimed that the U.S. government is under the control of Queen Elizabeth II.
The New Hampshire Democratic Party is calling on state Republicans to condemn Tremblay.
"Even for the New Hampshire Republican Party, which has become synonymous with the tea party and radical extremism, Representative Tremblay's claims are a new low," state Democratic Party spokesman Harrell Kirstein said in a statement. "She is an embarrassment to the New Hampshire House of Representatives, to her constituents, and to the entire state of New Hampshire."
Londonderry Patch reported Tuesday that New Hampshire GOP officials have come out against Tremblay's Facebook post.
"It is hard to believe that just days after the cowardly acts of terror took place in our backyard that Representative Tremblay would thoroughly discredit herself with her bizarre, embarrassing and unfounded comments," state GOP executive director Matthew Slater told Patch. "New Hampshire Republicans strongly reject her outlandish views and believe that anybody who holds such bizarre beliefs should not be taken seriously."
According to the site, she said that a constituent told her to watch a video which then led her to Jones' video. She also questioned why the FBI searched the home of a Saudi Arabian student after the bombing and then dropped the investigation after she says Secretary of State John Kerry met with the Saudi ambassador.
"It was one of my constituents that sent me an email, and it went to a site where ... I think it was a major retired marine was speaking, and then he said, 'please go to Infowars,' and they had pictures of, what is it, black ops? With black backpacks. They show them at the scene, so they knew something was going on ...," Tremblay told Foster's Daily Democrat.
Tremblay also said that it should not be her role to investigate terrorism but rather suggested that the media needs to do more.
"Why are you leaving it to some dumb representative to ask questions, when the reporters should be doing their job?" Tremblay said. "Are you that blind that you're not willing to ask questions of your government?"

Before You Go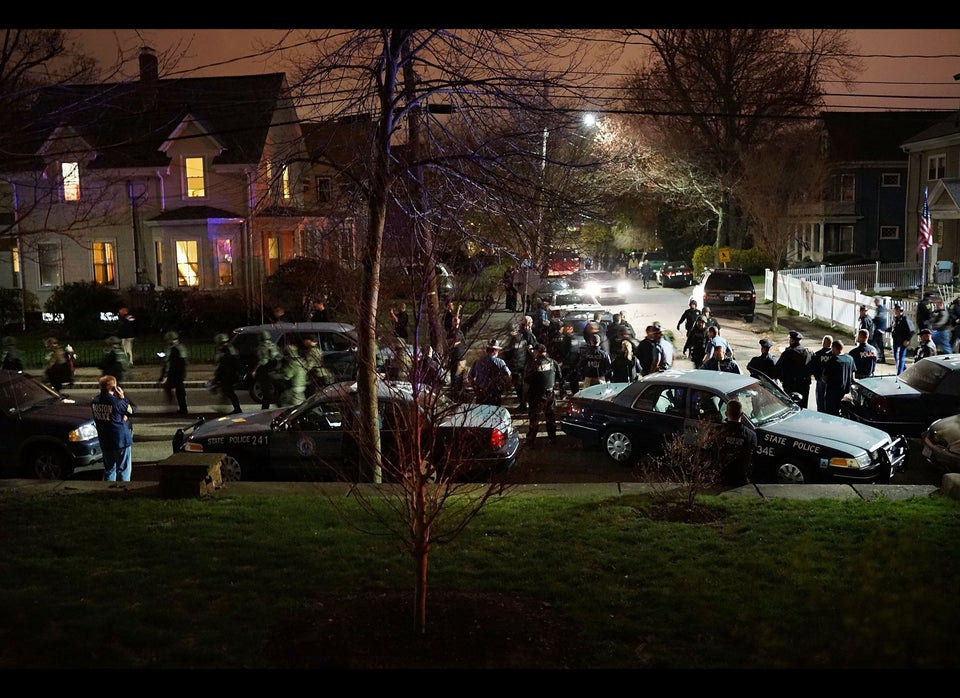 Manhunt For Suspect #2
Popular in the Community