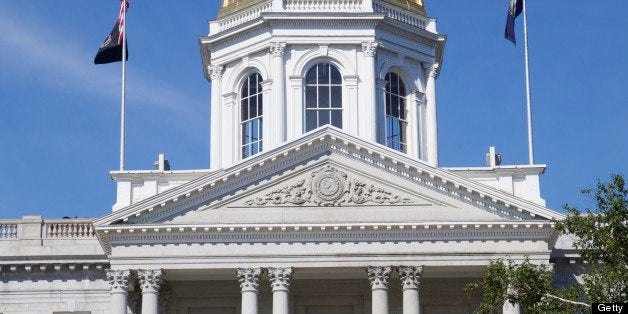 The New Hampshire legislator who resigned Thursday after claiming that the Boston Marathon bombing was an inside job, is continuing to press her theory that bombing victim Jeff Bauman is faking his injuries.
In an emailed response to The Huffington Post Friday, former state Rep. Stella Tremblay (R-Auburn) said the marathon bombing is being covered up and that no one has conducted an investigation into the bombing. The HuffPost had requested comment on an email Tremblay sent to the 424-member Legislature on Wednesday saying she wanted an investigation into the bombing. As part of the email to HuffPost, Tremblay included a YouTube video from Dr. Stan Monteith, an orthopedic surgeon, who claims that Bauman, who lost both of his legs in the attack, is actually an actor pretending to be injured. Tremblay sent the email from her official state account.
Tremblay's email (Warning the video link contains graphic images):
Here's his professional analysis on Jeff Bauman, please check it out...
https://www.youtube.com/watch?v=HBPQMUysEBs Dr. Monteith is an orthopedic surgeon. I am not an expert...just listen to them. did you run the story of the two FBI agents that arrested the two suspects in the Boston Marathon Bombings? Coincidence that they "fell" to their deaths? HMMM!!! Did you see that Uncle Tsarni is a long time CIA Chechnya organizer? Do you do any followups? BoilingFrogs post do an EXCELLENT Job of reporting. I only connect the dots and learn, learn, learn. Here is my letter of resignation. Apparently no one wants to open their eyes and seek the TRUTH!!! Perhaps you will be a truth seeker? instead of a "political" pawn?
In the video, Monteith explains that his analysis of photos of Bauman and the bombing scene have led him to conclude that Bauman is an actor who was at the scene to help show there was an explosion. A tourniquet was not properly placed, he said and he questioned photos that show too little blood, while others show more blood. People can be seen ignoring Bauman, which Monteith said would not have happened if Bauman was truly injured.
"In honor of the victims of the Boston Marathon bombings, I request and continue to demand a full investigation," Tremblay wrote. "Honesty and truth is what I have requested from the beginning and will continue to do so. I have tried on several occasions to contact Jeff Bauman, to meet with him for a personal visit and to have a sincere discussion. To date, I have not been successful. I continue to pray for blessings of recovery, health and emotional healing on his behalf and those of other victims."
Tremblay, whose resignation was greeted with bipartisan enthusiasm, said she resigned because she and her family were moving out of her Republican-heavy district to be closer to her elderly parents. She used the three-page single spaced letter to outline a variety of thoughts, including how the state family court system is hurting fathers by requiring child support, and to call for the end of direct United States Senate elections and voter identification. In the letter, she also said that serving in the Legislature made her understand the need for two political parties.
Calling all HuffPost superfans!
Sign up for membership to become a founding member and help shape HuffPost's next chapter
BEFORE YOU GO
PHOTO GALLERY
11 Paranoid Obama Conspiracy Theories