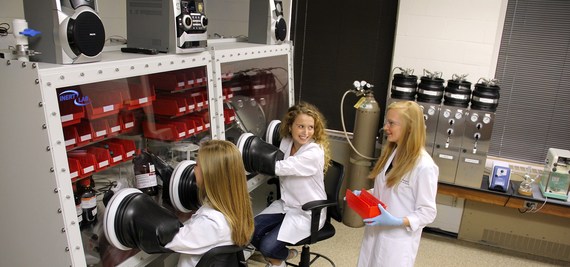 Saint Mary's College chemistry majors work inside the "glovebox" researching the effects of organic liquids interacting with metals.
Photo Credit: Saint Mary's College
My 2016 resolution is to write about women's college alumnae, specifically alumnae who majored in a STEM subject (Science, Technology, Engineering, and Mathematics). The women I will feature are actively pursuing, established in, or retired from a STEM career.
I'm excited about this new focus, and I'm looking forward to introducing you to these talented and inspirational women. With limitless career opportunities today, women truly are finding that their place is in a career as an astronaut or a zoologist and everything in between. May their stories inspire you to investigate STEM, along with colleges for women.
While it's true that early in American history women were not permitted to earn a college degree, today's educational opportunities are abundant. However, even with this abundance, women still are deliberately choosing to attend single-sex colleges, regardless of their major. They know that women's colleges are not only relevant, but essential and that this educational choice is the best fit for them. If you would like to understand this phenomenon, read two of the HuffPost blog posts I've penned: New College Cool: Women's Colleges and Why Adult Women Returning to College Choose a Women's College.
As a sneak-peek of things to come (and also to pique your interest), here are three alumnae I'll be spotlighting:
Lucia A. Perez
Astrophysics PhD student at Arizona State University, currently on leave pursuing a Fulbright Fellowship in South Africa
Wellesley College
Bachelor of Arts, Astrophysics
Class of 2014
Leah Busque
Founder and CEO at TaskRabbit
Sweet Briar College
Bachelor of Science, Math and Computer Science
Class of 2001
Barbara J. Slatt, PhD
VP of Research & Development and External Relations at Procter & Gamble (Retired)
Saint Mary's College
Bachelor of Science, Chemistry
Class of 1971
I'm writing these stories as a way to introduce girls and young women to the vast and engaging world of STEM careers, as well as to provide the recognition and attention women's colleges so richly deserve. So stay tuned! To date, I've connected with some pretty amazing STEM alumnae from a variety of occupations in various industries and expect this to continue.
If you would like to be included in this project or simply want to learn more, feel free to contact me. The best way is via the contact gadget found on my blog Advantages of a Women's College.
Wishing you and yours a Very Happy 2016!
Calling all HuffPost superfans!
Sign up for membership to become a founding member and help shape HuffPost's next chapter