Stem cell therapies that could one day lead to a cure for diabetes percolate in the hobbled back legs of an 11-year-old yellow Labrador named Daisy Mae Doodle.
Because the purebred with the graying muzzle could no longer jump on a bed, Susan Holoff paid about $3,500 for a procedure that may one day be tucked into a revolution changing treatment for everything from heart problems to herniated disks.
Today, stem cell treatments are more available to pets than to people.
A Westlake Village veterinarian used a scalpel to slice away fatty tissue from Daisy Mae's abdomen and sent it in a plastic tube to a Poway business. A pellet of adult stem cells was extracted in a process involving a high-speed centrifuge. They were injected directly into Daisy Mae's limbs to ease her arthritis.
"She's like a different dog," Holoff said. "There's no question I consider the surgery successful. She didn't want to be near anything. Now she's all over me."
Though human research of stem cell uses ranges from diabetes to eye conditions, the U.S. Food and Drug Administration has approved only products for humans related to blood-forming stem cells long used in treatment of leukemia and other cancers.
By comparison, animal treatment involving stem cells is mostly unregulated and races forward. Supporters said the therapy can bring subtle improvements, as well as sometimes dramatic changes that can help turn an arthritic retriever into a pup. Other observers suggest treatments are being offered at top-dollar prices to desperate pet owners before the effectiveness has been fully proved.
"It's hard to get past the placebo effect," said Dr. Ken Bruecker, a veterinarian surgeon in Ventura who has performed stem cell procedures but worries that pet owners are blinded by their investment. "If you spend $3,500 on a procedure, you want it to work."
The promise of stem cells from fat tissues comes in that they are blank building blocks that can become bone, cartilage, tendons or fatty tissue. Research is aimed at figuring out how the cells can be manipulated into cavalries of healthy cells that replace malformed ones.
"Regenerative medicine truly offers the potential for a cure," said Dr. Sean Owens, a veterinary stem cell researcher at UC Davis. "What if we could inject stem cells into a pancreas? Instead of using insulin to treat diabetes as a chronic disease, what if we were able to use stem cells to not only treat your diabetes but cure you?"
Stem cells from embryos have greater potential to grow into different body parts than other cells but are also more unpredictable and raise the risk of rejection. Much of the animal research, and virtually all of the commercial therapies, involves adult stem cells extracted from fat or bone marrow.
The cells are believed to serve as biological paramedics, rushing to an injured part of the body and secrete proteins that fight inflammation, reduce scarring and trigger healing.
Holoff owns two dogs: Daisy Mae, who endures occasional tremors treated by Valium, and a strapping, attention-hungry lab named Dodger Dog. They are her family.
"I prefer them oftentimes to people," she said in a modest Encino town home decorated with bobblehead look-alikes of members of her beloved Dodgers baseball team.
Holoff learned about a stem cell procedure to treat arthritis on television and saw it as a way to help Daisy Mae with arthritis that grew worse every day. Holoff pays for pet insurance. It covered $538 of a $4,800 bill for stem cell therapy and other treatment for Daisy Mae.
Still, her decision wasn't about money.
"I've made adjustments in my life. The animals are not one of them," said Holoff, an owner of a 10-employee manufacturing company that makes lighted magnifying devices. "I always swore money would never be an option in the care of my dogs."
Several weeks after the therapy by Dr. Daniel Slaton, of Westlake Village, Daisy has shown what Holoff called dramatic improvement. She still has trouble jumping into a car. But she runs when she's called. She can jump on the bed.
"She's trying to get in the car herself," Holoff said. "The fact that she's trying herself means she's feeling better."
Researchers say they're impressed with the kind of therapies that helped Daisy Mae but push for more studies pinpointing exactly how the therapies work. Their own studies are focused on using stem cells to treat everything from dry eye in dogs to a condition in horses called laminitis, involving an inflammation of the hoof.
The connection to people is real. The work being done on dogs, cats and horses may contribute to human therapies, said Dennis Clegg, of Ventura.
He's co-director of the Center for Stem Cell Biology and Engineering at UC Santa Barbara. His studies include using stem cells from fatty tissue -- the same kind of cells used to treat arthritis in dogs -- to reconstruct flesh and blood vessels decimated by shrapnel from a bomb.
The theories also could potentially be used to reconstruct breasts after a mastectomy.
"The idea is maybe we can go in and add the stem cells with a gel that could fill in that area," Clegg said.
Animal research leads to human research, Clegg said. He cited studies on horses that shows stem cells from bone marrow may reduce joint inflammation, easing arthritis. One day, the same procedures may be performed on people.
"Arthritis is one of the biggest maladies out there," he said.
Barbara Gericota is a UC Davis researcher studying how to use stem cells to treat spinal cord injuries caused by herniated disks in dogs. The goal is to apply what's learned to treat the same injury in people.
"Sometimes what you see in mice and rats doesn't really compare to humans," Gericota said.
FDA officials are cautious. They are trying to crack down on companies that promote stem cell therapies for humans that are not approved by the agency. The officials say they're trying to assess whether stem cells taken from an animal and then used as medicine are an area that should be regulated.
"As the research and clinical use of stem cells in veterinary regenerative medicine is still emerging," spokesman Jalil Isa said, "FDA does not yet have a clear picture of the safety and effectiveness of these treatments."
A Poway company called Vet-Stem has treated 10,000 animals -- mostly horses and dogs -- with stem cells over a decade, mostly for arthritis and other orthopedic issues.
"We've never had one die," said Dr. Bob Harman, the onetime dairy veterinarian who founded Vet-Stem. "We've never even had what we call a serious adverse event."
Veterinarians, including a handful from Ventura County, Fed-Ex the company samples of fat tissue that serve as a reservoir for stem cells. Lab workers return the cells in sterile syringes within 48 hours.
Other vets purchase $595 kits from a Kentucky company called MediVet America. The kits are designed to enable veterinarians to process stem cells from fat themselves. At least one Ventura area vet has sent bone marrow to a stem cell company created by researchers from Colorado State University in Fort Collins.
"In the next 10 years, the number of conditions we're going to be treating are going to astound people: diabetes, nerve damage, trauma that happens when an animal gets hit with a car," said Harman, also listing liver damage and congestive heart failure.
He cited studies that include 2007 research involving 21 dogs with arthritis. Researchers from Vet-Stem and other animal hospitals concluded the stem cell therapy improved the dogs' mobility.
The placebo effect is real, Harman said. Pet owners thought they saw improvement in their animals even when their dogs received injections of saline instead of stem cells.
But examinations showed the dogs that received stem cells experienced even more mobility, less pain and a wider range of motion.
"It's not like this was just discovered," he said. "There's a very substantial body of evidence it's ready for prime time."
Skeptics don't question the potential of stem cell therapy, but they contend more research is needed to prove its effectiveness.
"They're often promoted entirely based on anecdotes and testimonials," said Dr. Brennen McKenzie, president of the Evidence-Based Veterinary Medicine Association and author of a blog called SkeptVet. "I think we should be real careful about using them widely before we have evidence about their safety and efficacy."
Bruecker, of the Veterinary Medical and Surgical Group in Ventura, believes stem cell therapy can help pets that suffer from arthritis. But the chances of impact are low when the stiffness and soreness emanates from another condition like hip dysplasia, he said.
People see stem cells as a magic bullet, he said. And even when the procedure doesn't help the animal, owners convince themselves it did.
Observers say both sides -- skeptics and advocates -- are right. More research is needed, they said. But the lack of definitive answers shouldn't be a stopping point.
Owens, the veterinary researcher, said he doesn't think stem cells cure osteoarthritis. But it appears to help with many animals and the practice appears to be safe.
"No one knew how aspirin worked," he said. "But we still used it."
Patrick Smiekel wasn't sure stem cells would help his dog, Dottie. Even now, five years after a procedure, he doesn't know.
Dottie was 2 then and suffered a torn anterior cruciate ligament. Smiekel's vet -- Bruecker -- told him stem cell therapy might help but there were no guarantees. He said he paid $1,000 to have stem cells from the dog's bone marrow injected in her.
She healed. She stopped limping. But Smiekel, who lives in Santa Barbara, doesn't know whether he should credit the therapy or the natural healing process.
"If you asked me 'Would I do it again?' " he said, "I probably wouldn't. The hard part of all of this is: How do you tell?"
Debbie Wilson, of Oxnard, doesn't have to be convinced the procedures work. She knows.
About 14 months ago, the Ventura County Star employee adopted an English cream golden retriever named Chloe from a Camarillo pound.
Chloe was arthritic. Bumps the size of jawbreakers bulged on her paws. She could barely walk.
A friend of Wilson's told her about stem cell therapy. She took Chloe to Slaton, the Westlake Village vet. It cost $2,700, about $1,000 of which was paid by a rescue animal group. The change was dramatic.
A dog that once couldn't relieve herself without pain now walks on the beach, scampers up a flight of stairs and plays tug-of-war with a stuffed animal called Spidey. She lies on her back and splays her legs in a doggy dance.
"I think it's a miracle, actually," said Wilson, who wants to make sure other people know about stem cell treatment. "If it gives you more time, I'm all for it."
(c)2013 Ventura County Star (Camarillo, Calif.)
Distributed by MCT Information Services
Before You Go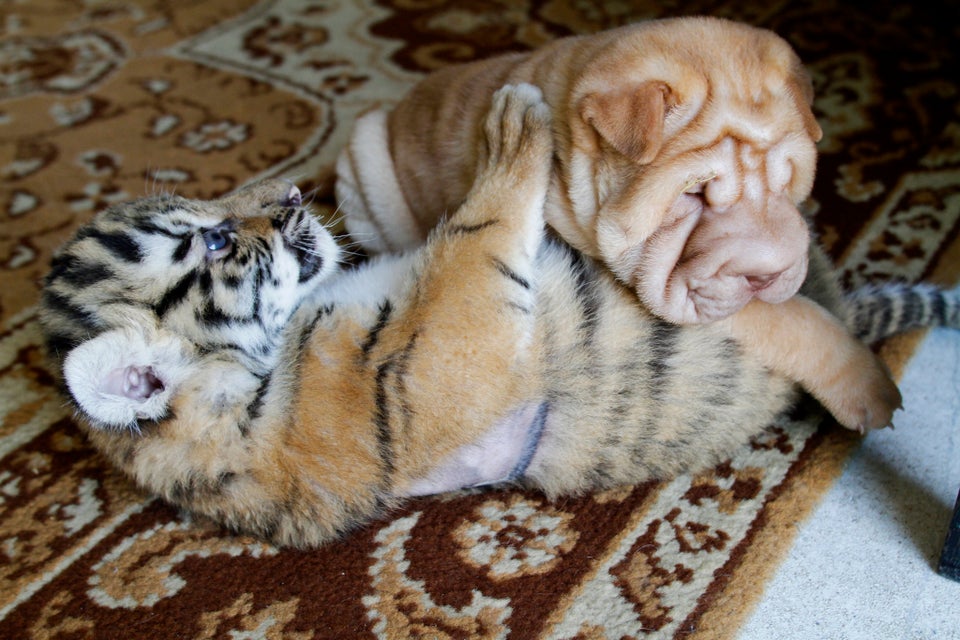 Animal Photos Of The Year 2012
Popular in the Community