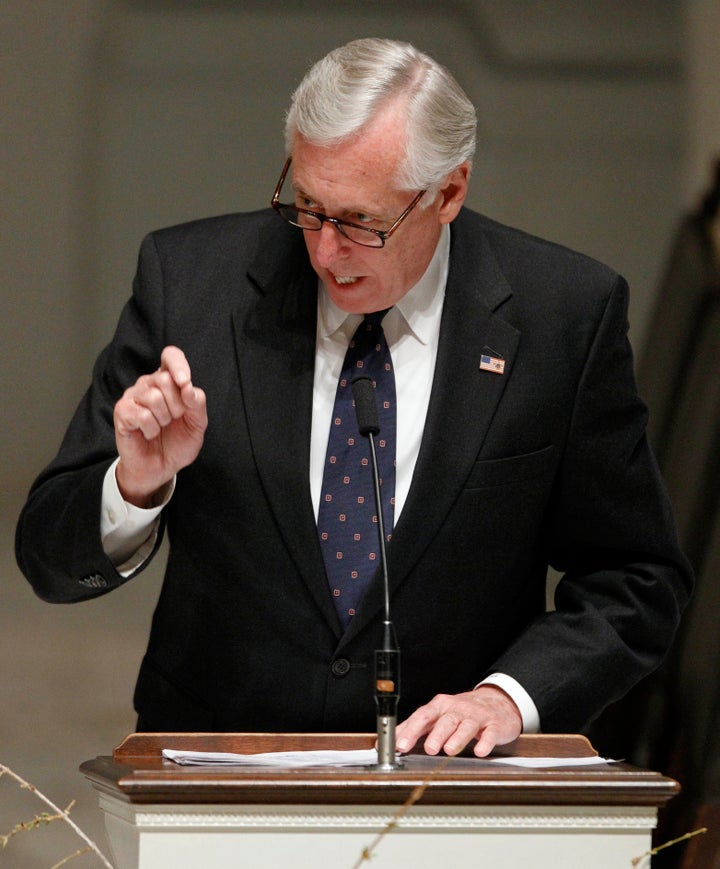 WASHINGTON -- House Minority Whip Steny Hoyer's office offered a quick clarification on Tuesday night to earlier comments the congressman made opposing an executive order to require government contractors to disclose their campaign contributions.
An aide to the Maryland Democrat told The Huffington Post that Hoyer still opposed the basic idea, which would apply not just to directors of those contractors but to their officers, affiliates and subsidiaries, as well. He did not, however, believe that the White House would use the threat of disclosure as a means of compelling contractors to withhold donations to Republican officials, campaign committees or like-minded causes.
"Mr. Hoyer is not saying he thinks the Administration's goal in putting forward this proposal is to use disclosure to award contracts, or that the Administration would do that," spokeswoman Katie Grant wrote in an email.

Grant's statement walked back some of the concerns Hoyer had expressed earlier Tuesday, when he told reporters that he had "some serious questions as to what implications there are if somehow we consider political contributions in the context of awarding contracts."
But it may have come too late. Republicans were quick to jump on Hoyer's initial remarks, echoing the argument that it would be used as a cudgel by the Obama White House.
"I'm glad to see that somebody on the other side is standing up to this blatant attempt to intimidate people into either not participating or, to the contrary, basically repealing the Hatch Act, putting politics back into the procurement process," said Senate Minority Leader Mitch McConnell (R-Ky.), a longtime opponent of campaign finance reform. "It's truly an outrageous action that the White House still has an opportunity to not go forward with."
Hoyer's district, a Washington, D.C. suburb, houses a number of federal contractors, so his opposition to disclosure raised some eyebrows among good-government groups. So did the fact that the congressman last year supported the Disclose Act, which would have prohibited government contractors from spending on elections.
In the end, neither Hoyer's nor the Republican Party's opposition to the executive order has much practical impact on whether or not the White House will issue it, though a timeframe for such a move remains uncertain. But having bipartisan leadership in opposition certainly doesn't help the administration make the case that there is broad support for greater disclosure.
UPDATE: Grant emailed the Huffington Post a follow-up statement re-affirming her boss's support for the DISCLOSE Act even in light of his opposition to the possible executive order.
Mr. Hoyer strongly supports the DISCLOSE Act and believes that reforming disclosure requirements needs to be done in a comprehensive way. Senate Republicans should not have blocked the DISCLOSE Act last year, and they should follow their own rhetorical support for transparency in elections and work with us to pass it this year.
Popular in the Community