WASHINGTON -- House Democratic Whip Steny Hoyer (D-Md.) on Tuesday lashed out at White House officials who have suggested that backers of a new Iran sanctions bill in the Senate are actually trying to start a war.
"There have been some that have suggested, in the White House, that those folks were more interested in war than they were in a resolution by peaceful means," Hoyer said during a sit-down with reporters. "I think that is absolutely untrue, an irresponsible assertion and ought to be clarified or retracted by those who have made it in the administration."
"Nobody believes, as far as I know, that going to war with Iran is anything but a dangerous objective that none of us would seek," he said.
Hoyer's comments come days after National Security Council spokeswoman Bernadette Meehan said senators pushing Iran sanctions legislation should "be upfront" and just say they want military action in Iran. Similarly, in November, White House Press Secretary Jay Carney warned backers of the bill against sparking "a march to war" and said Congress should "reserve its ability to legislate for the moment."
A number of top administration officials, including President Barack Obama and Secretary of State John Kerry, have asked lawmakers not to move on the bipartisan Senate bill because they say it would blow up a delicate deal in place between Iran and a number of world powers. Under that deal, which takes effect Jan. 20 and lasts for six months, Iran will curtail its nuclear activities in exchange for some relief from sanctions.
To be clear, Hoyer said he didn't support the House moving forward with a similar Iran sanctions bill. Instead, he said he and House Majority Leader Eric Cantor (R-Va.) have discussed possibly voting on a non-binding resolution that allow lawmakers to voice their opinions about what should be accomplished in Iran. Namely, he said, many lawmakers feel strongly about stating that the endgame should involve preventing, not containing, Iran's nuclear weapon capability.
"I'm sensitive to the administration's concerns," Hoyer said. But "the House of Representatives and the United States Senate have both an obligation and a right, and perhaps a responsibility, to articulate their view as to what needs to be the final outcome of an agreement."
Moments later, Hoyer seemed pleased about airing his grievances.
"I'm glad that's on tape because that sounded pretty good," he said.
Carney was asked about Hoyer's criticisms later Tuesday. He took a much softer tone this time.
"Our view is that Congress simply ought not" pass new Iran sanctions, Carney said during his daily briefing. "Our opposition has simply been that now is not the time to potentially and inadvertently fray the coalition that has assembled behind a position that has forced Iran to the negotiation table."
He added, "Surely nobody in Congress wants [war] as an objective."
Before You Go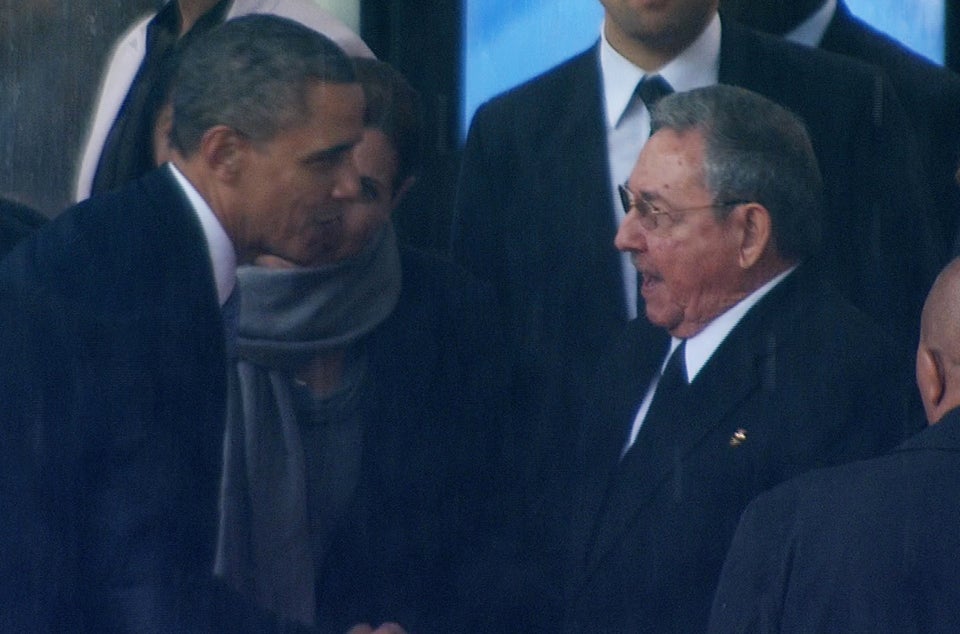 Obama's Handshakes Around The World
Popular in the Community