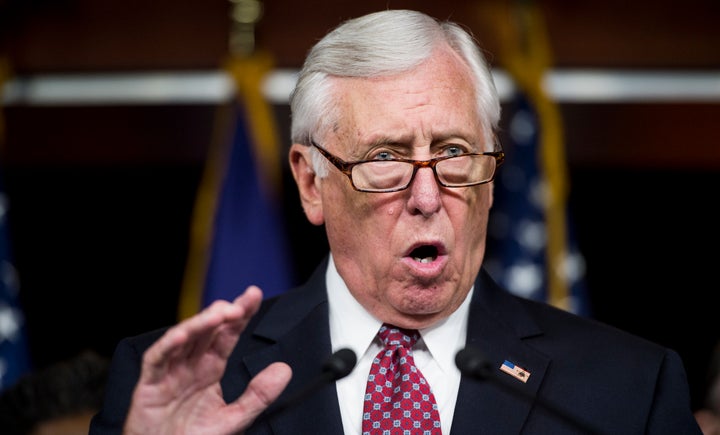 WASHINGTON -- House Minority Whip Steny Hoyer (D-Md.) lamented the dwindling time remaining for the House and Senate to avoid a government shutdown on Wednesday.
Hoyer cautiously said he "hopes" the government won't shut down, refusing to say definitively whether he thinks GOP leaders in both chambers will act fast enough.
"We're not for burning the House down; we're for fixing the House," Hoyer said of Democrats' thought process over recent infighting among Republicans, which has fed into the last-minute funding scramble.  
The second-ranking Democrat in the House told reporters he hopes the Senate sends his chamber a "clean" bill to fund the government for another few months no later than Monday or Tuesday.
Senate Majority Leader Mitch McConnell (R-Ky.) set up a procedural vote for a continuing resolution to fund the government through Dec. 11, which includes a measure to defund the family planning provider Planned Parenthood for one year.
Democrats won't go along with it, and McConnell knows it. The Thursday vote is expected to fail in the Senate, after which McConnell will likely put forward a clean government funding measure.
Hoyer said he'd prefer the bill continue funding only until mid- to late November to keep more pressure on lawmakers to negotiate and hammer out a long-term funding bill, but he said Democrats will take what they can get. 
"We are deliberately trying to act responsibly within the framework of what is possible, and we are in the minority," Hoyer said when asked if Democrats were actively pushing to work things out with Republicans. 
Hoyer urged more conservative members to heed the advice of Sen. Kelly Ayotte (N.H.) and other Republicans who have called for a clean funding measure immediately. 
Complicating matters in the House, representatives in the conservative wing of the party are vocally stating that this is a pivotal moment in their eyes: If House Speaker John Boehner (R-Ohio) doesn't tether an amendment defunding Planned Parenthood to the spending bill, there is a very real chance they will try to oust him. 
Boehner has said he isn't worried about such comments and is focused on keeping the government running. Democrats are remaining quiet for now about what they would do if conservatives attempt to overthrow Boehner. Hoyer said he recognizes Boehner's plight, but that Democrats have not had formal discussions about what their response would be if the speaker were challenged.
"Hopefully common sense and reasonableness will prevail," Hoyer said. "Now, I know, there's not a lot to base that hope on. We hope that Republicans see the wisdom of passing a clean CR."
PHOTO GALLERY
Scenes From 114th Congress And Capitol Hill
REAL LIFE. REAL NEWS. REAL VOICES.
Help us tell more of the stories that matter from voices that too often remain unheard.