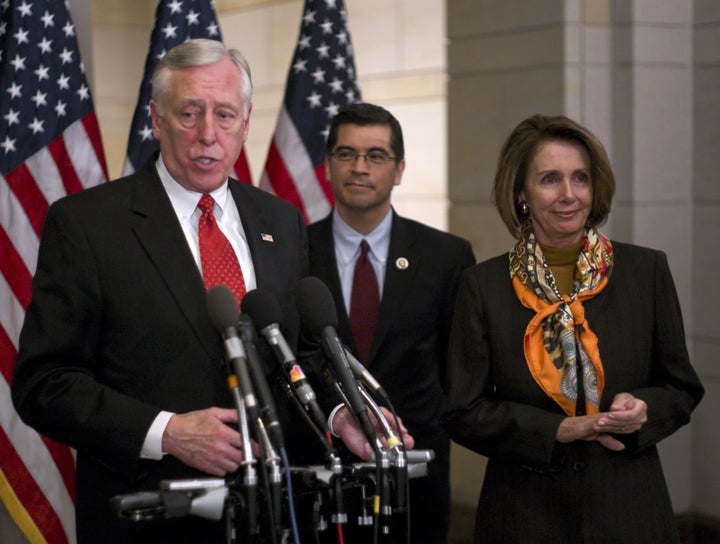 WASHINGTON -- Two top Democrats in the House came out in support of the Iran nuclear deal on Wednesday, but voiced major qualms with the underlying agreement. 
House Minority Whip Steny Hoyer (D-Md.) and House Democratic Caucus Chairman Xavier Becerra (D-Calif.) announced they would vote in favor of the deal and against any efforts in Congress to block its implementation.
While President Barack Obama already has the necessary votes in the Senate to protect the deal, which curbs Iran's nuclear program in exchange for some sanctions relief, the support from Hoyer and Becerra further strengthens Obama's hand. 
Despite vowing to protect the agreement, Hoyer didn't mince words in his critique of it. 
"This agreement is not one which I would have negotiated, nor one I think should have been agreed to, given the collective strength of the P5+1 compared to that of Iran," Hoyer said. "I believe this agreement gives too much to Iran and demands too little in return."
Still, Hoyer stressed that "no matter how deep, how personal, and how sincere my concerns about this agreement are, they ultimately do not outweigh the need for a united position on Iran."
Becerra argued that few votes could be taken more seriously than one bent on stopping the spread of nuclear weapons. 
"After thorough examination, I have decided to support the agreement negotiated to prevent Iran from producing and possessing nuclear weapons and to vote against any congressional measure attempting to thwart its implementation," he said. 
The House is expected to vote on a resolution of disapproval on the deal as early as Friday. So far, over 120 House Democrats have come out in support of the deal, but 146 are needed to sustain a presidential veto if the resolution of disapproval reaches Obama's desk.
Calling all HuffPost superfans!
Sign up for membership to become a founding member and help shape HuffPost's next chapter