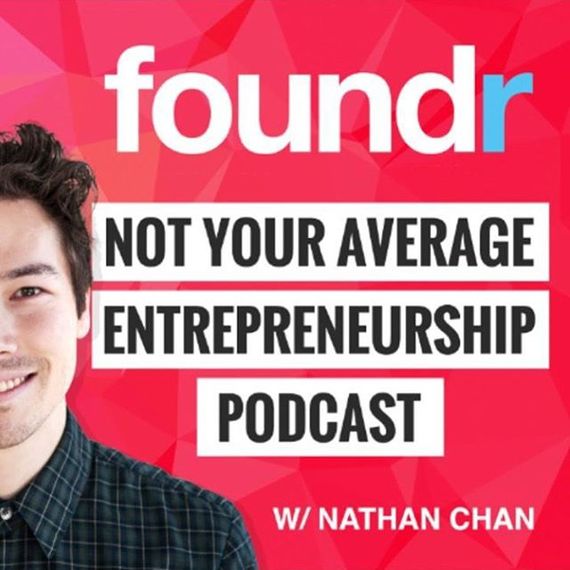 Foundr has scaled to significance in the entrepreneurial media space in a relatively short amount of time, teaching and inspiring hundreds of thousands of young entrepreneurs through their podcast, magazine, blog, courses, entrepreneur club, and more. And as you've heard me say before, this overnight success took some time to build.
For Foundr, one of the most important drivers of growth has been Instagram (which is surprisingly not just for selfies, memes, and pictures of food). After trying a plethora of marketing approaches which were not moving the needle significantly, Nathan started to experiment with Instagram one day, and immediately noticed a $150 spike in sales for the magazine by the following day. He knew he was on to something. Eighteen months later, @foundrmagazine has reached over 800 thousand followers, generated tens of thousands of leads for their business, and launched an Instagram course which has helped hundreds of entrepreneurs to achieve real business results on the platform.
For example: thanks to the knowledge and teachings of Foundr, the @DailySparkTV account, run by yours truly, has ballooned to nearly 20K followers in just a few months while generating plenty of engagement and leads. Check out one of our best performing posts below:
But let's look back to to the beginning. Before Foundr existed, allowing him to regularly rub shoulders with the most influential entrepreneurs in the world such as Richard Branson, Tony Robbins, and Seth Godin, three to four years ago Nathan Chan's work consisted of fixing mouses, resetting passwords, repairing laptops, and similar things.
As an IT Support Professional at an Australian travel company, Nathan found his work unfulfilling, and even somewhat degrading at times, and like most of us at one point or another, he found himself pondering what to do next. He soon left the job and returned to university where he would earn his Masters of Marketing and subsequently began to experiment with different opportunities in online marketing.
After some months of struggling to start a successful business, Nathan began to realize there was a gap in the market: there was no high quality publication targeting entrepreneurs and aspiring entrepreneurs in the younger generation he belongs to... and that is how the vision for Foundr was born.
Perhaps my greatest takeaway from sitting down with Nathan is one that all new entrepreneurs can benefit from. Though he had a massive vision for where Foundr was going, in terms of execution, things happened very much step by step and brick by brick. At every step, Nathan focuses intently on the one problem (or brick) that is most important to moving the business forward, increasing their chances of advancing rather than getting caught in overwhelm.
The first brick was releasing the first issue. The second brick was releasing the second issue. The third brick was starting to reach out to more influential entrepreneurs, and so on. Landing Richard Branson for a cover story was pivotal to the brand, but it happened eight months into the business. Eight months of grinding day in and day out towards the goal of releasing a fantastic monthly issue. Their next big break was landing Arianna Huffington for issue 17, after which things started to snowball a bit.
During this journey, Nathan and his team have learned some key lessons, such as:
Be prepared to blow people away with some of the best content out there that is compelling and potentially life changing, the type of content people want to tell their friends about
Consistency over a long period of time is critical
Leverage and speed of implementation is absolutely key. All of the best entrepreneurs execute fast
On a personal level, Nathan has become much more disciplined about his use of time as well as becoming insanely focused on the business to the level of obsession, which has actually led to greater appreciation for the downtime with friends and family. Fitness and nutrition have become a key focus in order to get the optimal performance out of his mind & body.
Today, in addition to the parts of the business we've already discussed, Nathan is working with his team on the Foundr Club, which he describes as "a gym membership for entrepreneurs". Foundr Club was created as a community offering to unite Foundr's entire following across blog, podcasts, IG, courses. It is a community based initiative outside of Instagram that is meant to be around no matter what happens to Instagram. In return for a reasonable monthly subscription, members receive access to all back issues of Foundr Magazine, monthly expert presentations and mastermind trainings, and exclusive deals providing over $10,000 in savings on various startup tools and perks.
Muoyo Okome is the founder of Daily Spark Media & the Daily Spark Entrepreneur Community, a fast-growing online community dedicated to the empowerment, education & support of entrepreneurs. He has previously started, grown, and sold a mobile gaming company and runs several businesses in the mobile, online & e-commerce spaces.
A career-long technology professional and alumnus of the Princeton University (BA) and The Wharton School (MBA), his prior experience includes software engineering, consulting, and business management roles at companies such as Microsoft & IBM.
Follow Daily Spark Media online:
Popular in the Community