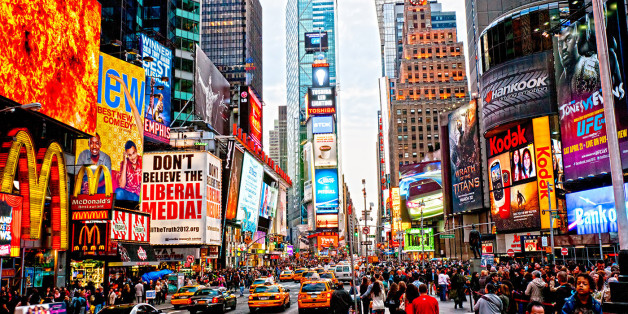 New York City is so many things to so many people. 8.4 million people to be exact. That's a lot of personalities and stories hiding amongst the skyscrapers and city lights. But what happens when you step off the bustling streets and into someone's home? What does New York look like on the inside? WELOVENYC is an ongoing project that explores this very notion. The video series, found on YouTube, brings you into the homes of everyday New Yorkers' to find out what life in the Big Apple is really like underneath the glitz and glam.
"The way people live is the most vulnerable, honest and personal you get," said Rolf Leer, the man behind the series, in talking with Outspeak. "And if you are invited to take part in that, you're just being a good friend. I want to be that friend and get a backstage look at the lives of New Yorkers. I want to know what they're like behind the 'resting bitch face' walking too fast around town every day."
Leer's curiosity lead him to move from Norway to New York in 2016. After spending time in the city and becoming a part of the fast paced, loud, and crowded network that is NYC, he fell in love. "I love people. I love diversity. I love New York City. And I believe positive stories should be shared more often. I came with the ambition of getting up-close and personal with New Yorkers and to visit a broad spectrum of the wonderful diverse cocktail of people in this city. I wanted to investigate some of the eight million wonderful and brave people living in New York; to see what they're like when you step inside their personal space, learning about city's secrets, what it's like to live in the world's melting pot, and why they love it here."
Leer's offers a stark contrast to the stereotypes attributed to many New Yorkers. The people that Leer meets and films come from all walks of life, showcasing a diverse, bold, and welcoming population that has the power to inspire. Through the project, Leer and his subjects show the world that New York is a city full of dreamers, lovers, artists, entrepreneurs. "I've experienced that this city can accommodate everyone no matter believes, looks, religion. The only thing this city asks of you, is to be open minded and tolerant, which I find very inspiring," he said.
With today's state of affairs, showcasing the diversity of race, faith, and gender helps to prove what makes the city so special. "Being different is appreciated. Diversity is appreciated. I love that I can experience some of the greatest performers in the world just by taking the train. I love the honesty this city represents. I think the community sense in this city is beautiful. Especially nowadays, walking down to Union Square subway. Seeing New Yorkers gather and share their love for each other on post it notes all over the station. It's a unity that truly touches me."
WELOVENYC isn't just offering a look inside people's apartments. It's offering an honest glimpse at the city from those who know it best. From favourite restaurants to hidden gems to top haunts in the city, Leer doesn't hold back once he enters these people's homes. These video interviews are focused on having New Yorkers share cultural insights. Leer wants to give the new generation of travelers something more than the travel guides provide. He wants to reach travelers who are searching for local experiences, and looking to step outside the typical tourist route.
One of the biggest surprises Leer discovered on his journey was how unique his subjects are. There is no 'typical' in New Yorker and after visiting more than 70 homes, Leer has learned that time and time again. "They're all unique in their own way. The professional snuggler, nightlife promoter, Naked Cowboy, singing telegram, underground DJ, holistic therapist. They're all crazy in the most positive sense."
When deciding on who stands out the most, Rolf surprisingly, couldn't pick just one. He continues to be inspired and surprised by the artist painting naked bodies as they share their inner secrets, the Italian restaurant owner obsessed with his Harley Davidson, the NYC drag queen winner that stresses the importance of high heels and latex condoms, the NYC taxi driver sharing stories about annoying customers, the hedge fund guy talking about the law against flirting, and the XL blogger that wants to inspire girls to be confident. It's a hodgepodge of people that, the kind you dream of meeting when you travel around the world, living right there in The Big Apple.
Leer set out to gain a better understanding for what makes New York such a unique city and what drives people from all over the world to settle down there. Through his work with WELOVENYC, he has gained a new understanding of what brings people and a city together, "I am convinced that through understanding and exposure to people that are different than you, you'll learn to accept and even love the differences. So... if I can contribute to just a tiny bit more understanding and tolerance through the stories and interviews, that would be my ultimate goal."
Follow WELOVENYC on YouTube, Instagram, and The Huffington Post Contributor Platform for updates.
REAL LIFE. REAL NEWS. REAL VOICES.
Help us tell more of the stories that matter from voices that too often remain unheard.