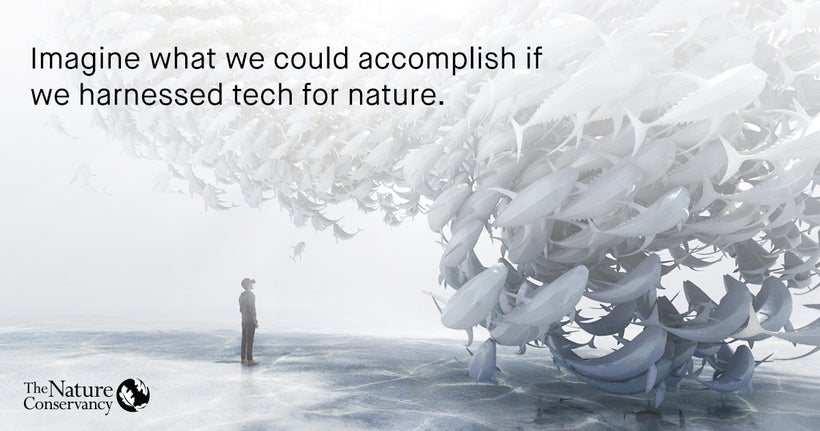 This is where we build the future.
We are the innovation hub of the world, creating new technologies and ideas that are transforming the human experience. And there's an epic challenge and opportunity before us. And it's not designing the next social network, disruptive app or new gadget in the internet of things.
The challenge of our time is to build a world where people and nature thrive together.
Let's create a new story of human progress that isn't at odds with nature's needs. Let's build a world where human ingenuity is aligned to support nature to do what it does best—sustaining all life on Earth.
Our own offices, agencies, research centers, and labs could be the incubator for a new world, piloting new ideas and technologies, unconventional markets, and unexpected alliances that benefit nature and the human experience.
The Nature Conservancy here in California and around the world, is already writing that story. We used citizen science and private markets to create pop-up habitats for migratory birds. We created a blueprint for faster and cheaper renewable energy that protects local wildlife. We built an app that helped fishermen revive millions of acres of ocean floor while reviving their business. We prove it's possible for nature and people to flourish together.
Together our bold ideas and actions will create the change we and our future generations will depend on.
And there's no better place to start than our oceans. They cover three-fourths of our planet and are a vital food source for more than a billion people. We need to reinvent how we fish to keep our oceans thriving for generations to come. We need your help to design and build a system that can give real-time reports on overfishing, poaching, shark finning, and other illegal acts that are threatening our wildlife, food supply, and disrupting the habitat that affects all life on Earth.
We're calling all activists, inventors, entrepreneurs, social, and cultural game-changers.
We're calling on our best to create the world we want.
Calling all HuffPost superfans!
Sign up for membership to become a founding member and help shape HuffPost's next chapter
This post was published on the now-closed HuffPost Contributor platform. Contributors control their own work and posted freely to our site. If you need to flag this entry as abusive,
send us an email
.