After six years of marriage, Steph and Ayesha Curry are still the sweetest couple in the game.
On Monday, the basketball power couple ― and parents of incredibly adorable kiddos Riley and Ryan ― shared his-and-her Instagram posts to mark their sixth wedding anniversary.
″‬My woman! My life! My everything," the Golden State Warriors point guard captioned a video of the pair jamming in the car, as per usual. "'He who finds a wife finds what is good and receives favor from the Lord.′ Proverbs‬ ‭18:22‬ Thank you for making me a better person each and every day! I love you. Happy Anniversary baby...#six."
Meanwhile, Ayesha posted a then-and-now pic and got a little retrospective:
"I don't know where the time has gone. It definitely feels like just yesterday, except we have two babies and lack of sleep to show for it! Not to mention a ton of bomb memories. I love you so darn much that there's not much I can say here because it won't nearly amount to how I feel. 😘 'The man is the head, the woman is the neck and she can turn the head anyway she like.' 🎞📽 kidding! But goodness do you put up with my antics. And for that I love you 20x infinity.
The Currys met as teenagers at a church youth group in Charlotte, N.C., but both admit it wasn't exactly love at first sight.
"We were just kids," Ayesha, a cookbook author, told People in May. "He was the cute boy at church that all of the girls were obsessed with, so I made a generalization that maybe he wasn't for me."
Steph felt similarly "meh" about the meeting.
"I don't remember the exact first day I saw her," the basketball star joked. "There was no wind blowing in her face with a backlight."
Years later, when Ayesha was acting and modeling in Los Angeles and Steph was playing basketball at Davidson College, the pair reconnected ― or more specifically, Steph searched Ayesha out on Facebook.
Eventually, he convinced her to go on a very "cheesy," very LA first date: they drank chai tea lattes, posed for pics with Marilyn Monroe impersonators and Steph bought a pair of pricey Oakley sunglasses he couldn't afford just to impress his crush.
"That was kinda just fate right there. Two kids from Charlotte, meeting again in LA on a whim," he said in an interview on "In Depth with Graham Bensinger" in 2016. "[We] dated for three years. When I got to Golden State, I knew I found the right one so I didn't want to waste any time."
"Why waste time when you've found the right one, right?" Steph added. "I knew. I had met my wife in high school and knew her story and her family what she was about."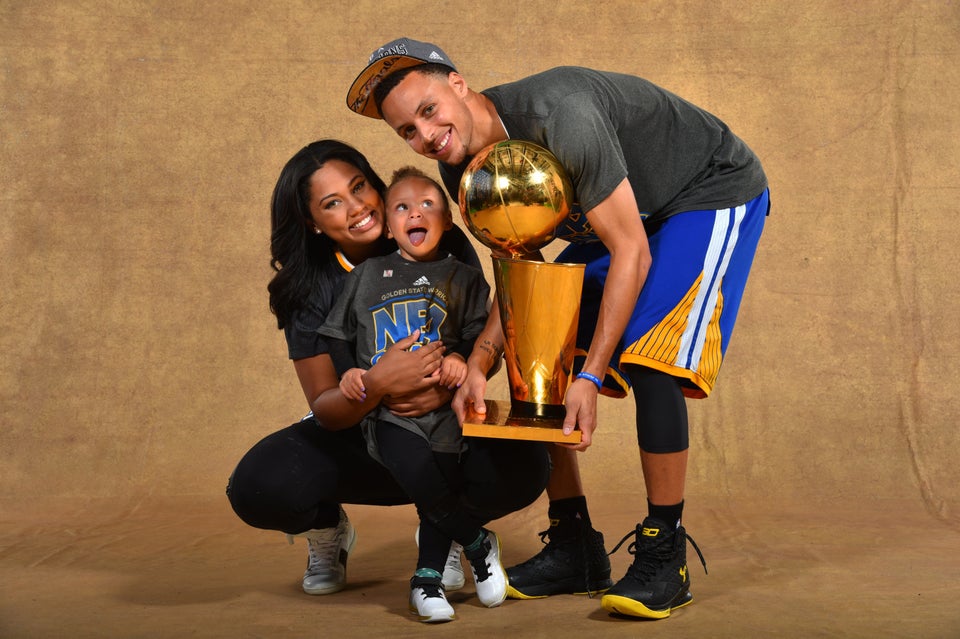 Steph And Ayesha Curry's Sweetest Moments