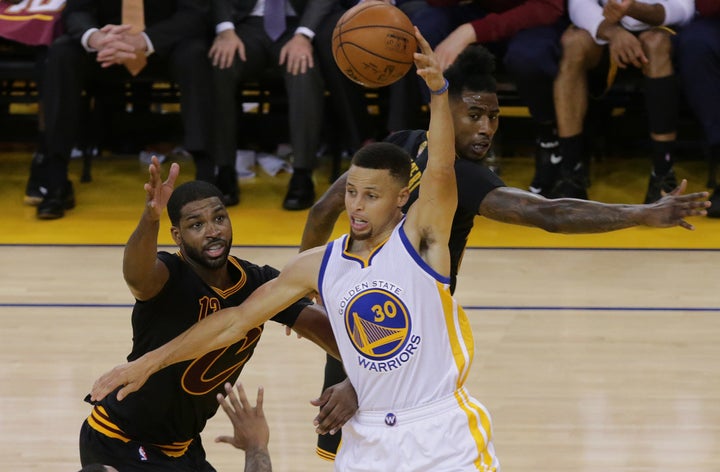 The Golden State Warriors broke the NBA's all-time regular season wins record for a multitude of reasons: Draymond Green's Swiss-army-knife abilities, Klay Thompson's laser shooting, Andre Iguodala's rare versatility, Steve Kerr's team-first philosophy. But more than anything else, it was because of Stephen Curry's absolute brilliance.
Let's not overthink things and forget how special Curry has been. The back-to-back league MVP averaged an NBA-best 30.1 points per game while shattering his own record for made 3-pointers. With all due respect to LeBron, Kareem, MJ, Magic and Wilt, there may not have been a better individual season ever recorded.
So what has gone wrong for Curry against Cleveland in the finals?
It's not that he's been bad -- that would be overstating the case. But his scoring is down 8 points, and more importantly, his efficiency has plummeted as well -- 42 percent from the floor and from 3, while compiling a measly 4.6 assists, down from 6.7 during the regular season. Maybe most importantly, his turnovers have increased while his normally stout plus-minus has been reduced to fifth-best on the team against Cleveland.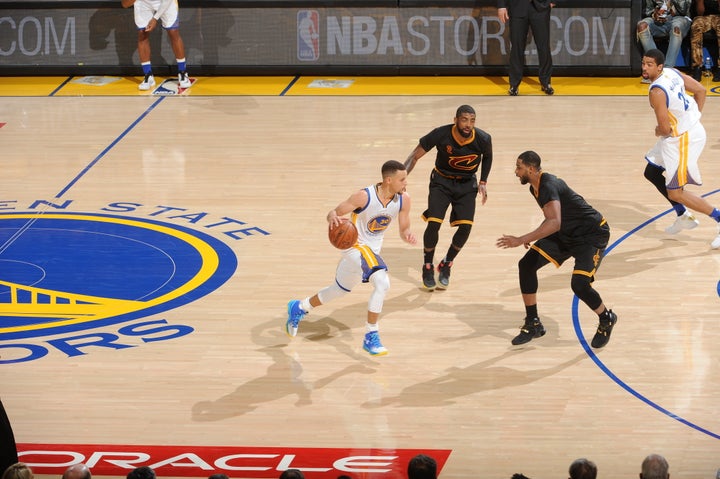 The Cavs' philosophy in defending Steph has been simple yet effective: For every high ball screen that Curry receives -- and there are a boatload of them -- Cleveland employs all its bigs to over-hedge and induce the MVP to give up the ball. "Make someone else beat you," is head coach Tyronn Lue's no-frills message.
The result is a sight that's become all too common in this series: Curry flipping a soft lob pass to either Green or Iguodala 30 feet away from the hoop.
To be sure, both of those guys are deft at making the correct decision in a shortened 2-1 or 3-2 situation, and we saw the effects of not having Green in the Cavs' impressive 112-97 Game 5 road win. But in situations like this, Cleveland essentially takes Curry out of the play, at least until late shot clock situations. Or else Curry is forced into ultra-contested 3s -- and, even worse, errant passes that lead to live ball turnovers. In turn, these become small wins that quickly pile up.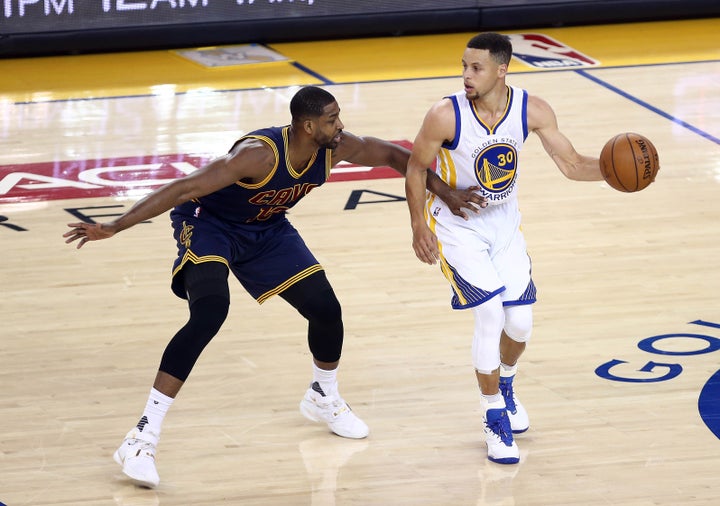 It's simple math -- 3s are worth more than 2s, and Curry, instead of taking over 20 shots per game as he did during the regular season, is now taking 17 per game.
One other element to Lue's defensive scheme against Curry has proven golden as well. By employing power forward-center Tristan Thompson as a switcher in screen-and-roll, Lue has relied heavily on his big man to contain the 28-year-old sniper. Thompson, much to the chagrin of Kerr, has exceeded expectations and consistently forced Curry into contested jump shots.
Rhythm is as important as anything for a shooter, even the quality of the shot itself. Curry has not had a single game during the finals where he's been able to find -- and maintain -- a great rhythm for 48 minutes. Remember the odd sight of Kerr asking his benched superstar if he was okay during the Dubs' Game 3 loss?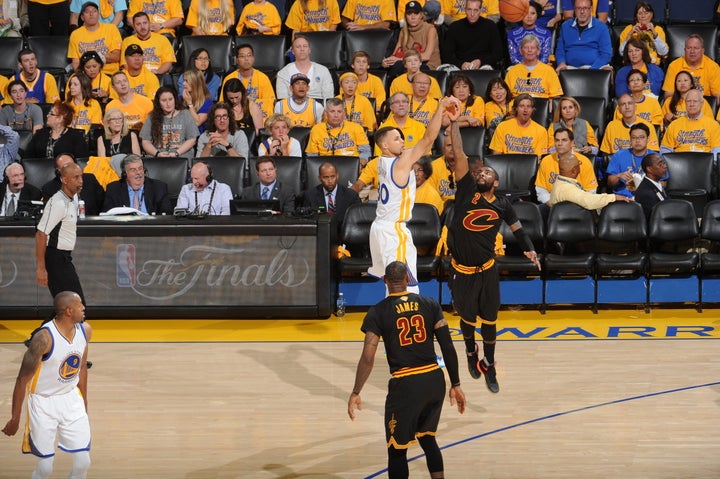 Kerr evidently felt the same way during Game 5. "I thought there were a couple of times in the game where Steph got into a little bit of a hurry," he said on Monday, following his club's fourth home defeat of the season.
While Curry has received plenty of help from Thompson, Green, Iggy and Shaun Livingston, he must play better to ensure a repeat title for the Warriors.
Just as LeBron and Kyrie Irving answered the bell in Game 5, it's time for Curry to do the same. Simply put, another 8-21 performance, as he had in Game 5 -- including a woeful 4-13 second half line -- will almost surely guarantee this series goes the distance.
And the only thing to expect in a Game 7 is the unexpected.
Related
Popular in the Community