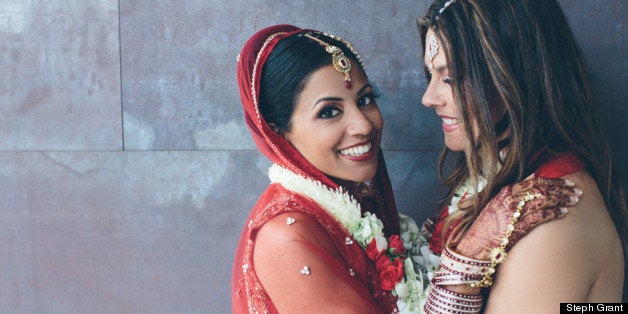 Updated on July 22 : A slideshow of wedding photos is no longer available on this page, but you can see more beautiful images at the links in the story.
Photographer Steph Grant recently had the honor of capturing a spectacular lesbian Indian wedding, a first for the seasoned photographer.
"I have photographed Indian weddings before and I have photographed gay and lesbian weddings before, but never have I ever shot an Indian lesbian wedding," she wrote in a post on her website on July 9.
The wedding of brides Shannon and Seema was held at SmogShoppe in Los Angeles, with Grant flying into town from Dayton, Ohio, just before the ceremony.
"I was greeted by a house full of friends, family and a lot of laughter," she writes. "It was going to be an exciting day. Beautiful Indian culture, stunning brides and style for miles!"
When asked about the difference between shooting straight and gay weddings, Grant told The Huffington Post in an email:
"It is an honor to capture the love stories of all couples in love. It is important for couples to feel proud when they find love and to be embraced by not only their family and friends but by their photographer as well. My technique is the same at all weddings. I pay very close attention to detail in my everyday life so that helps when capturing little moments that others may overlook. I do however believe that by me investing time and energy into my couples before the wedding on top of knowing what I would want captured at my own wedding helps me get the image that I ultimately want."
The photographs speak for themselves as they show the love between the two blushing brides. "There was so much love that consumed the SmogShoppe that evening," says Grant, "Friends and family came pouring in with smiles, hugs and tears… these two are clearly loved and in love."
To see all of the beautiful pictures from Shannon and Seema's wedding, as well as some photos from another lesbian wedding Grant shot, click through the slideshow below. For more information on Grant, visit her official website here.
Popular in the Community