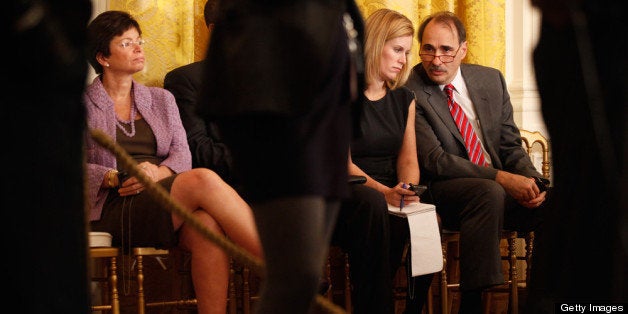 WASHINGTON -- Three former top campaign aides to President Barack Obama are starting consulting firm, continuing an ongoing trend of former Obama staffers entering the private sector to rake in large consulting fees.
Stephanie Cutter and Jen O'Malley Dillon, both deputy campaign managers on Obama's reelection campaign, and Teddy Goff, the 2012 digital director, are forming Precision Strategies, based in Washington and New York, they announced Thursday.
Jenni LeCompte, currently an assistant secretary of the treasury for public affairs, will also work for the firm, as will three other former Obama campaign staffers: Frank Benenati, Julia Prieto and Lucy Silver.
Cutter, 44, is a veteran Democrat communicator who has worked for former President Bill Clinton, former Sen. Edward Kennedy (D-Mass), John Kerry's 2004 presidential campaign, the 2008 Obama campaign, and then was a senior adviser to Treasury Secretary Tim Geithner and then to the president himself before moving to the 2012 reelection campaign, where she became one of its most prominent public faces.
Cutter has been known for her tireless, aggressive style -- one of her nicknames is Box Cutter. She was often the one making the president's case in Web videos designed to push back on specific charges from Republican Mitt Romney, and she drew attention when she intimated Romney may have committed a felony by misrepresenting his role at private equity firm Bain Capital to federal regulators.
O'Malley Dillon, 36, worked for Obama's 2008 campaign as battleground states director, and then went to the Democratic National Committee to help run Organizing for America, in an effort to keep the 13 million people on the campaign's e-mail list engaged. Much of her work at the DNC, she told The New York Times, "was building the foundation for the re-elect." There were a lot of things that were under the radar: the analytics work, building on our internal polling, honing our 50-state strategy." In her role on the 2012 campaign, she focused on managing voter contact programs.
Goff, 28, is another 2008 campaign alumnus who in 2012 became a prominent name, especially after the election ended and his senior role in the digital effort made him a focus for those in the press trying to figure out why and how Obama outpaced Romney so dramatically in Web, data, and technology. Goff helped build Obama's Web and social media presence, integrate its massive data operation and digital tools, and hone its online fundraising. Goff managed more than 200 people, and his team raised almost $700 million in online donations and registered around 1 million voters online. Between the 2008 and 2012 elections, Goff was a senior manager at Blue State Digital.
Since the election, most of the top staffers on the Obama campaign, as well as some who stayed at the White House after the 2008 campaign, have struck out on their own in the private sector, leading The New Republic to mock them as idealists turned cronies in a piece with the subtitle, "How to Make Millions Off Obama."
The list of Obamaites who have struck out on their own includes:
Jim Messina, the 2012 campaign manger, who has launched The Messina Group.
Jeremy Bird, Obama's national field director, and Mitch Stewart, former battleground states director, have founded 270 Strategies.
Robert Gibbs, Obama's first White House press secretary, and Ben LaBolt, the 2012 campaign's national press secretary, are in the process of launching as an yet unnamed firm.
Jon Favreau, Obama's White House speechwriter, and Tommy Vietor, former National Security Council spokesman, have started Fenway Strategies.
This doesn't include two of the most senior former Obama advisers, David Plouffe and David Axelrod, who are at this point brands unto themselves and will do consulting as individuals in addition to getting paid five- and six-figure sums to give speeches.
REAL LIFE. REAL NEWS. REAL VOICES.
Help us tell more of the stories that matter from voices that too often remain unheard.
BEFORE YOU GO
PHOTO GALLERY
Obama Surrogates