Santa Barbara-based mixed-media artist Stephanie Dotson looks to drugs and rugs for inspiration. Rugs can be considered a bit dull while drugs are anything but. Combine them and you have an intriguing and unexpected work of art. Stephanie's work often lives in that moment of tension where opposites pull in two different directions only to collide into a harmonious symbiosis. This is epitomized in her new drugrug series [pictured below] and in her work currently on view at New York's Christina Ray gallery.

Yasmine Mohseni: Your latest exhibition Shift and Weigh opened at Christina Ray gallery in New York on November 4, tell me about it.
Stephanie Dotson: Shift and Weigh is a two-person exhibit featuring work by me and by [Minnesota-based mixed-media artist] Lydia Diemer. We both work in a very textured and layered manner, reacting to different aspects of our surroundings, so there are formal and conceptual similarities in our work.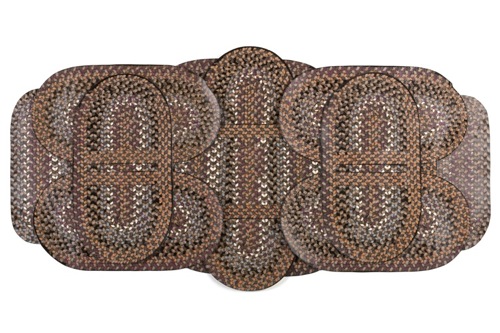 I'm showing resin and wax pieces, which are impasto paintings with a gloss of thick resin in between the brush strokes. This technique allows me to trace the marks of the brush strokes, turning them into stylized versions of themselves. The work morphs from an organic medium to a glossy illustration, spawning it's own spatial reality. I relate the process to my present landscape and seek to create a very stylized representation of a Southern Californian city.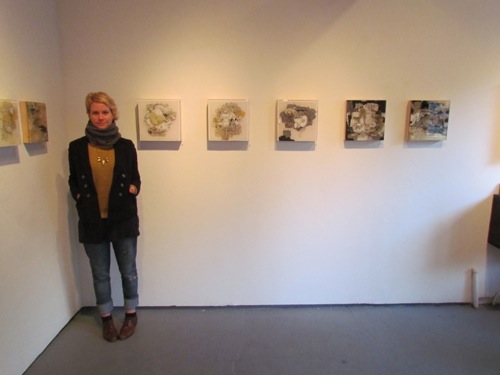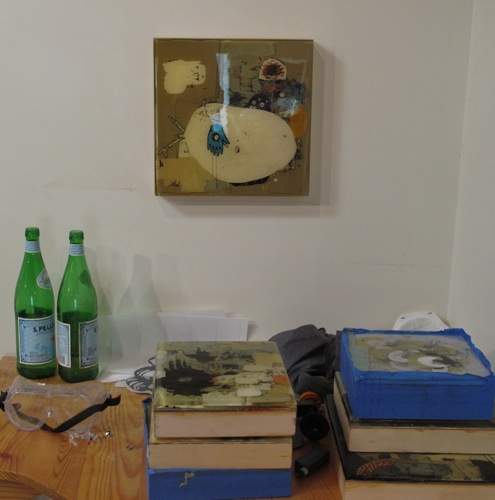 It changes. Right now, it's midwest-suburb-meets-art-school. I'm from Kansas and my early creative pursuits were traditional crafts like sewing and weaving. Art was about learning how to draw by tracing. I still see this fascination with weaving and tracing in my work today.
My style grows from a meeting of opposites, specifically in regards to my [use of] materials. Drawings, print braids and brushstrokes are handled more like sculptural material rather than two-dimensional objects. Recently I've printed a bunch of braid patterns, which I cut and collage into psychedelic patterns as part of a drugrug series. Rugs are loaded [objects] because they are so boring and domestic and the braid symbolizes an element of control or containment. Making the domestic braided rug psychedelic is opposite from the original narrative. Stylistically, my work varies but is almost always based in drawing, printing and cutting. Layering and creating multiples are part of my work and a direct extension of my printmaking training.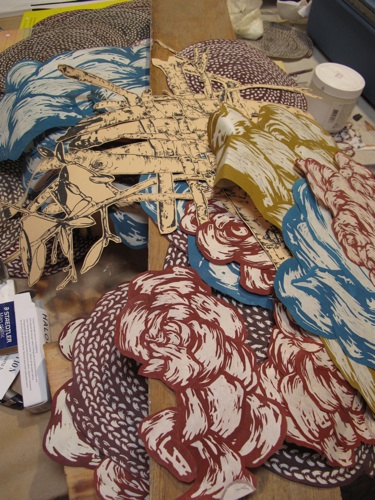 Why did you become an artist?
I guess I've always been an artist. I don't remember any point where I became an artist. I wasn't great at things where I was expected to come up with a predetermined "correct" answer, so I put more energy into creative pursuits where I was allowed to invent the whole equation. As a kid, I relished getting attention for drawing cats. I loved figuring out how to make things people hadn't seen before. When it occurred to me that people go to college for this, I never considered becoming anything else.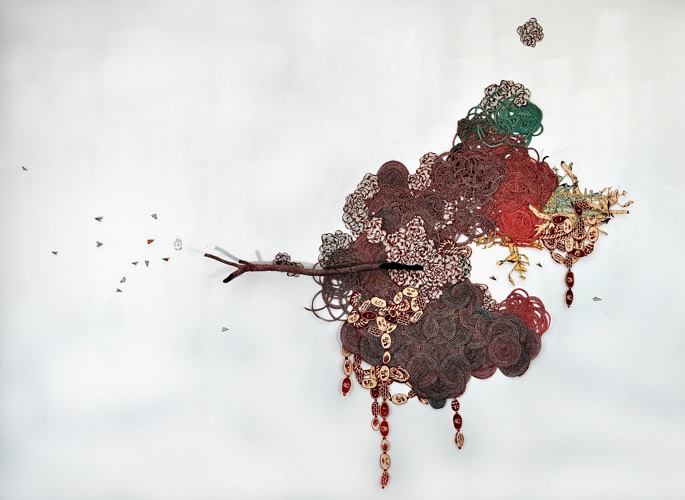 Which single artwork in art history has inspired you the most?
Dang, that's hard. There have been many inspirational pieces. Since I have to choose one it probably would be The Prophet by Frank Stella. I worked at the Kemper Museum through college and my desk faced it. So, I basically stared at that work 15 hours a week for two years. The handling of space and the graphic textures seeped into my subconscious and became part of my blood.
Which artists (living or dead) do you find most inspiring?
So many, the list is a growing beast. Off the top of my head, the handling of materials by El Anatsui, Judy Pfaff, Robert Rauschenberg and Radcliffe Bailey. My print work is inspired by Carmon Colangelo, Adriane Herman, Willie Cole and the lines of Kyle Fields, Albrecht Durer and Marcel Dzama. I have to mention El Lissitzky, Philip Guston, William Kentridge, Julie Meheretu, Cy Twombly. And many others...
Stephanie Dotson's exhibition Shift and Weigh is on view at Christina Ray gallery in New York through December 4, 2011
For more on Stephanie Dotson, please visit my sister blog Artist Visit.
Yasmine Mohseni is a California-based curator and arts writer, and contributor to The Art Newspaper, a London-based arts monthly.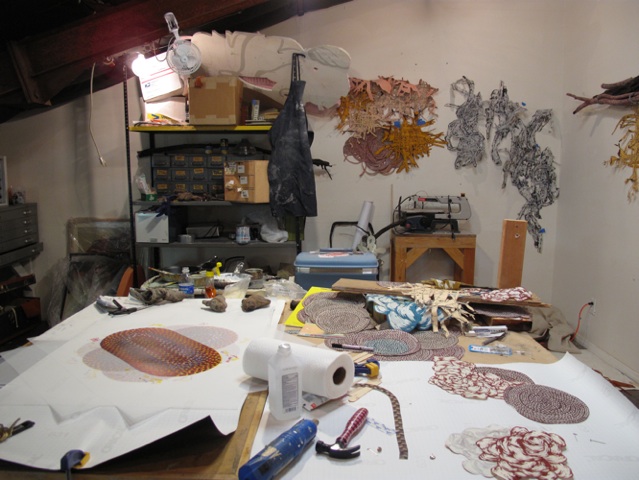 REAL LIFE. REAL NEWS. REAL VOICES.
Help us tell more of the stories that matter from voices that too often remain unheard.