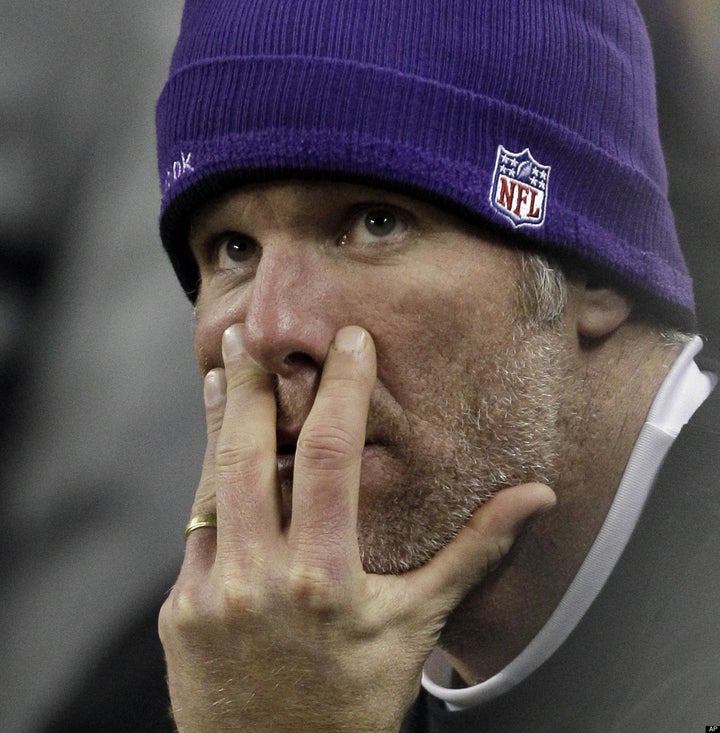 An independent massage therapist named Stephanie Dusenberry has claimed that several Minnesota Vikings players, including Brett Favre, sent her lewd text messages last September, according to a report on Deadspin.
In a message sent to Deadspin from her blackberry, Dusenberry alleged that she received a text from a Hattisburg, Miss. number. According to Dusenberry, the sender claimed to be Favre and requested that she work on him. When she said no, Dusenberry claimed that the man said, "you don't know what its like to not be touched by a woman for three weeks."
Favre was fined $50,000 for his lack of cooperation in the league's investigation into whether he sent Sterger racy text voicemails and naked photos in 2008.
Dusenberry reportedly worked for the Vikings in 2006-07 and left to start her own business.
More on Dusenberry from Deadspin:
She maintained good relationships with several players, including Chester Taylor and quarterback Tarvaris Jackson, some of whom she worked with this past season. At some point in the past two years, Dusenberry began to receive unwelcome advances from a number of current and former players on the Vikings. She had problems both in session and out of session with former Vikings defensive back Dwight Smith, wide receiver Aundrae Allison, and back-up running back Albert Young.
She claimed that Young sent her a naked photo via text message and that Favre's text messages were "similar to the ones he allegedly sent the Jets' massage therapists."
After telling Favre that the texts were making her uncomfortable, Favre allegedly responded by saying, "it's not like that."
Police reportedly told Dusenberry that Favre wasn't doing anything legally wrong.
Christina Scavo and Shannon O'Toole, two massage therapists who used to work for the New York Jets, sued Favre for sexual harassment and accused the legendary quarterback of costing them their part-time jobs with the team.
For more information, read the report at Deadspin.
Calling all HuffPost superfans!
Sign up for membership to become a founding member and help shape HuffPost's next chapter