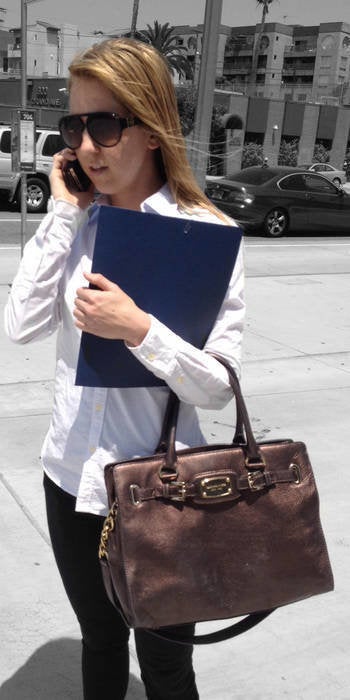 An employee of Walmart's Los Angeles public relations firm was fired Thursday for pretending to be a news reporter at an event staged by a labor union trying to organize the retail giant's warehouse workers.
Stephanie Harnett, 26, showed up at a June 6 Warehouse Workers United press conference claiming to be a journalism student at the University of Southern California. She signed in as "Zoe Mitchell," records show, and interviewed attendees about labor conditions at Walmart's warehouses.
At another press conference a week later, union members spotted Harnett again. This time, she introduced herself as a Mercury PR representative and offered reporters interviews with Walmart officials. When confronted, Harnett denied attending the union's press conference.
"She said she was a storyteller from the heart,'' said Santos Castaneda, 25, a warehouse worker who said he was interviewed by Harnett for about 20 minutes at the first event. "She said she was working on a project and that she was very interested in our warehouse conditions." Harnett wore a T-shirt and casual pants at the union press conference, Castanada said. At the Walmart event, she looked much more professional in an oxford shirt and sunglasses, he said.
The bad disguise cost Harnett her job on Thursday.
Harnett "is no longer with our company," said Becky Warren, managing director of Mercury Public Affairs, in an email statement. "The action taken by Ms. Harnett was in no way approved, authorized, or directed by Walmart or Mercury. Stephanie is a junior member of our team who made an immature decision. She showed very poor judgment and Mercury takes full responsibility. We are taking the necessary disciplinary actions. This is an isolated incident that has never happened before and will not happen again."
Harnett did not respond to a request for comment.
Harnett, did study journalism at USC. She worked at The Huffington Post and the Los Angeles Times before signing onto Mercury in 2011, according to her LinkedIn profile.
Walmart hired Mercury, a crisis PR and lobbying firm, for $60,000 earlier this year to build support for its planned store in Los Angeles' Chinatown neighborhood, according to public records. The Chinatown Walmart has sparked an outcry from community groups and labor organizations. In March, Walmart obtained building permits, hours before City Council voted unanimously to limit the expansion of big box chains in the neighborhood.
Walmart joined the PR firm in lambasting Harnett on Thursday. "These actions were unacceptable, misleading and wrong," spokesman Steve Restivo said in an email statement. "Our culture of integrity is a constant at Walmart and by not properly identifying herself, this individual's behavior was contrary to our values and the way we do business."
Walmart is under investigation by the U.S. Justice Department and Congress over allegations it paid $24 million in bribes to Mexican officials for store approvals and tried to cover it up. Since the scandal broke in April with a New York Times story, Walmart has struggled to rescue its image by frequently pronouncing the importance of integrity.
"I'm so disappointed Walmart sent a spy instead of sitting down to discuss things," said Castaneda, who had worked at a Walmart warehouse for 3 1/2 years until about a month ago. Castaneda said he got involved with Warehouse Workers United because of low pay, long hours and bad working conditions.
"I felt like I wasted my time," he said. "We're here fighting and she's making fun of us."
Popular in the Community