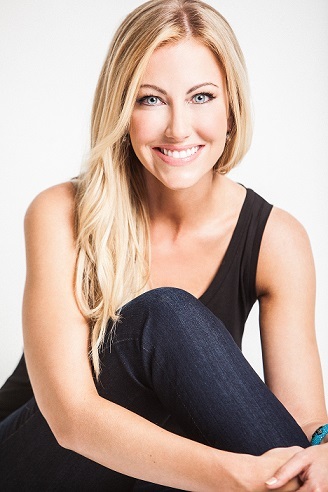 I honestly didn't know what to expect when I decided to interview Stephanie Hollman who is currently on Bravo's The Real Housewives of Dallas.
Stephanie is like the comic relief on the show, but in real life, she is conquering serious issues and works with different charities.
Born and raised in a small town in Oklahoma, Stephanie never dreamed of developing into the strong business maven she is today. Her passion for giving back was always a strong force in her life and after working for six years as a social worker, Stephanie met her soon to be husband Travis Hollman. The two hit it off immediately and soon Stephanie was moving to Texas to be with Travis. They now have two sons and live on the golf course of The Four Seasons hotel.
You're part of The Real Housewives of Dallas which premiered April 11th on Bravo. How exactly did you become involved in this franchise and why did you want to do the show?
A good friend of mine recommended me to the casting director and it just naturally fell into place. During filming the cast had no idea what the project would be called. We received a call the night before our title shoot that Bravo loved the show and wanted to make it part of the Real Housewives franchise. The entire cast was shocked and exited! I decided to do the show for many reasons. My best friend, Brandi, was also cast in the show and I thought it would be a fun journey to take together. I wanted to do something for myself outside of carpool and housework. Honestly, I have never gone outside of my comfort zone and I wanted to push myself. Also, I felt like this experience was a journey I was supposed to take. Something inside me knew if I let fear keep me from trying this, I would always regret the decision.
You used to be a social worker. Tell us the most memorable story about one day on the job.
I worked in the social service field for six years before I met my husband Travis. I loved working for Head Start. I enjoyed seeing the relief on the faces of a parent when I directed them to resources they did not know existed. My favorite part was being able to provide a food basket and Christmas presents for families that may have otherwise received nothing. While visiting one of the classrooms, one child told me, "Santa never comes to my house. I try so hard to be good, but he never comes."
Later, I talked with the mother. Through her tears, she described how stressful the holidays were for her. When I told her that we could help her with the holidays, she broke down and sobbed. She was so thankful. It was through the aid of donors with our agency that I was able to give them a magical Christmas. One donor was invited to meet the family and child. This amazing individual put the child's feelings and need for "Santa to visit" in front of their own and decided to remain anonymous. It was a magical experience for two reasons. First, it's rare to see someone give back just for the sake of giving. This woman helped a family she had never met and wanted nothing in return. This act of kindness came from her heart! Secondly, when I delivered the wrapped gifts to the mother, she was so touched that someone she had never met cared about her and her daughter. She said that she never felt like she mattered and that no one truly cared. A complete stranger changed her life just by caring!
What are your workout and food routines?
I work out about 4-5 days a week. I love to run, anything fast paced. I have an incredible trainer who pushes me like crazy. My workouts with Mike consist of kettle bells, rope, hitting tires with a sledge hammer, sprinting and pushing 45 pound plates around the gym. It is intense and hard but, so amazing. I try to eat healthy, but I have children and tend to eat their leftovers. We love making cookies together. I am a bit of a cookie monster!
How old are your sons? What do they think of mommy's new job? Do they understand that you're on TV?
I have two sons, Chance is six years old and Cruz is four years old. They don't really get that I am on TV. I will not let them watch the show because they are so young and I want them to see the world and people in a kind light. The boys loved filming because they got a ton of new playdates in the crew. They asked when their "friends" were coming back for a while after the season wrapped. The crew is like family to us.
Give us the inside scoop about The Real Housewives of Dallas. What can viewers expect to see and how does Dallas differ from some of the other Housewives shows?
I think our show gives a "fresh feel" to the franchise. We bring is humor, drama and life changing moments that will touch the hearts and lives of the viewers. The cast works well together even though we are all so different. We are all tied together through community service.
What's it like doing a photo shoot by yourself vs. with the cast of the Housewives?
Photo shoots are fun but stressful. I am not a model so am constantly apologizing to the photographer for all of the extra work they have to put in to help me. Here's a secret -- we do not have photo shoots at the same time. We have individual photo shoots. The photo shoots consist of many different poses. We see the end result of the photo shoots with the rest of the world! By far our commercial was my favorite! It was an honor to participate in this. The team was so kind and patient with us. All the girls were supportive of each other that day. It is a memory I will cherish for the rest of my life. Bravo digitally creates a beautiful cast pic out of our individual pics. The clothes we wear are clothes that bravo pics from "shopping" in our closet. Unfortunately for my sweet husband, Travis, that meant I had to go shopping in the Neiman Marcus' closet!
What do you think about selfish people?
I think it is healthy to do some things for yourself and take care of yourself physically, emotionally and spiritually. You can't take care of your family and friends if you are not meeting taking care of yourself. Sometimes it's hard to find the balance but it is important to balance self-care and care of others. I don't understand people who make everything and anything about themselves. I think there is something so wonderful about a person who wants to know about you, accepts you, works to show you that you are loved, builds you up, and is excited for others to shine. I am blessed to have many friends in my life who are kind, giving, funny and accepting.
When was the last time you got to sleep in without interruptions?
I get to go to sleep without interruptions when my kids fall asleep in the car on the way to Oklahoma to visit my parents. Travis is sweet and drives so I can sleep, too. I also get to go to sleep without interruption when the boys visit their grandparents for a few days. It's amazing, when it is time to go to bed, they magically need a drink, a snack or monster check multiple times before they finally go to sleep.
What are some charities you're most passionate about?
I am an passionate about women and children's issues. I have worked with and known many women who have dealt with family violence. My passion is to provide support and have a voice on a cause that so many are uncomfortable talking about. As a mother of two young boys, it is important for Travis and me to lead by example. My boys will be raised knowing that domestic violence is never okay. It is my hope that they will be strong advocates as well. Travis and I co-chaired The Texas Trailblazers Luncheon in 2014. Through the efforts of the board members, we were able to raise over $700,000 for The Family Place, the largest domestic violence agency in Texas. Travis currently serves on the Family Place Board. His company, Hollman Inc. supports families in the safe house during the Christmas season. This year Hollman, Inc. funded a family field trip to an amusement park for all of the men, women and children at the safe campus.
Another organization we are passionate about is Big Brothers Big Sisters. I have been a big sister for nine years and have loved the experience. It is a great way to make a difference in a the life of a child. This year Travis and I are co-chairing the 2016 Big Brother Big Sister Big Black Tie Ball with Mark and Cary Deuber to help raise funds for this worthwhile organization.
Anything else you'd like to say?
I am equal parts excited and nervous to share my life with you. I hope to bring some fun entertainment to your Mondays. I am appreciative and humbled by all the love and support I have received. I am not perfect by any means and hope when you watch the show that you see a kind, goofy wife and mom who doesn't take herself or life too seriously and cares about those around her.
Popular in the Community