Top Chef winner Stephanie Izard is set to open her second restaurant, The Drunken Goat, in the West Loop in January of next year. In preparation for the opening she has been hosting traveling dinner parties in secret locations around Chicago called The Wandering Goat Dinner Series.
The first one, held in July, was a casual backyard BBQ where standouts included pork shoulder on a buttermilk biscuit and grilled calamari stuffed with seasoned ground lamb. The next one will be held in a warehouse on September 2 and is reported to be entirely bacon-themed. DJ Arby Green will spin as guests sip Three Floyds beer and enjoy dishes like Bacon Crisped Oysters, Bacon and Smoked Trout Salad with Heirloom Tomatoes and Aji-Braised Pork Belly. Those interested in tickets should follow Stephanie on Twitter to find out when they can buy them.
I recently had the opportunity to chat with Stephanie about the impending opening of The Drunken Goat, how Twitter affects her life and what it's like to watch a pig be slaughtered.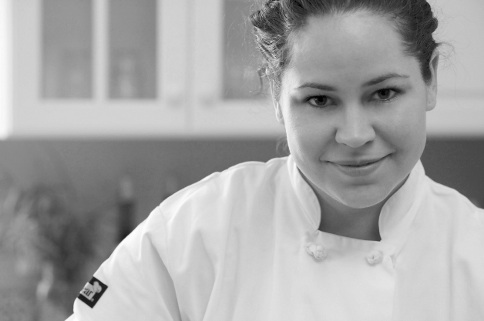 Huffington Post: This has been an exciting last couple of years for you. So, what was more nerve-wracking? Finding the perfect location for your new restaurant, The Drunken Goat, whipping up your final meal on Bravo's Top Chef, or throwing out the first pitch at a Cubs game?
Stephanie Izard: It has been a crazy year full of new and exciting opportunities. I would say all of the above seemed like the most nerve-wracking at the time, but I always figure things work out as they are supposed to, so in the end I try not to get too stressed. Although that could just be my mindset now that I have made it through. Now on to getting The Drunken Goat.... That might top the cake for sure.
HP: You're less than six months away from opening your second restaurant. How did you tackle The Drunken Goat differently from how you did your first restaurant, Scylla?
SI: This time around I found two great partners to open the restaurant with, Rob Katz and Kevin Boehm, who own three other successful spots in the city right now. We are taking our time and making sure everything is just right. The first time I was on some crazy adrenaline rush and, to be honest, have no idea how I pulled it off on my own.
HP: Are The Wandering Goat dinners serving as a way to plan out the menu for the restaurant, or are you just having fun and getting people excited? And was this an organic idea, or have you been attending other underground Chicago dinner parties?
SI: I think they are just a way to keep people excited and give them a glimpse of what The Drunken Goat will be like. They also keep my mind on creating dishes for the new place. I have attended Sunday Dinner Club before, though I feel these are a bit different as the location changes from party to party and no one really knows what to expect.
HP: You're pretty active on Twitter. I'm on there too, and I still don't know how I feel about it. On one hand I love following people, gathering information without having to engage or bother someone, and on the other hand I'm not sure how I feel about all these strangers following me, reading about my life. How has Twitter affected your life as a chef who wants to keep her customers and potential customers interested in what you're doing professionally, and how has it affected you as a private person?
SI: I think I have given up a bit on being a 'private' person. I share thoughts about professional info but also share random and personal thoughts. I think after being on a reality television show there is no reason to hide. I am happy to let people into my life (to a certain extent) and let them get to know me a bit better, since Top Chef was really only a small part of my personality. People have told me to block strangers from personal pictures on Facebook and such and I have not. If people see these pics and think I am a bit nuts or that I look like I have too much fun, well they are right!
HP: So often people talk about your laid-back, down-to-earth attitude. Is that a reflection of your time spent in Phoenix, in Chicago, with your family and friends, or is that just how you are? And do you think it affects your cooking?
SI: I think it is just how I am. Probably why I fit in better in Chicago than in Scottsdale.
HP: There are so many great neighborhoods in Chicago. Tell me about why you chose the West Loop location. Any locations come in a close second? Close third?
SI: It took us about a year to finally settle on the West Loop location. There are so many neighborhoods that are fantastic, and if/when I open another restaurant, who knows which one I will go with. For The Drunken Goat, we wanted to find a spot that is accessible by folks downtown and from the suburbs. Some other locations such as Logan Square are awesome neighborhoods but may be out of the way for some. We are close to the expressway while still being in a spot that has great energy. I just wanted to walk into a space and have it feel just right, which is what happened on Randolph. Plus, I can call up my friends at Avec and Blackbird down the street and borrow some onions when I run out.
HP: On your site you say that The Drunken Goat will be serving up a lot of seafood and pork products, plus "some fun flavor combinations." Can you give me an example of some of these?
SI: I have always focused on making your whole mouth happy by having very balanced dishes. The other night for a dinner party I served seared scallops with braised/smoked goat, spicy mustard greens and a tomato/peach sauce. Smoky, sweet, spicy, savory, acidic... all covered.
HP: Tongue is a favorite of yours. I recently watched your Tasty Life episode "Pig to Pork" in which you partake in the whole process of procuring a pig to use in the kitchen. Although I love pork, seeing that pig killed, boiled and scraped really turned my stomach. Did it affect you at all?
SI: It made me appreciate pork even more, and it was just amazing to prepare and eat the tongue hours after the pig was alive.
HP: Tell me about the wines you've created for The Drunken Goat. That sounds like so much fun. What was that process like and do you think we'll see that as an emerging trend with other chefs?
SI: It was a ton of fun. I have become friends with a number of wine makers in Walla Walla and hope to continue to learn more about the process and become more involved. For these wines, we were part of the blending. We sat in the back room of the winery in Walla Walla with beakers of many different varietals and mixed and matched until we had beautiful wines. The red is 50 percent grenache, 37.5 percent of two different Syrahs, and Mouvedre. The white is 95 percent Semollion and 5 percent Viogner. Both are delicious and I am excited to taste them again after some time in the bottle. I think there is such a connection between vintners and chefs, since both are so dependent on a great palate, so I would think any chef that has the time to do so and the opportunity would jump on it.
HP: You're at home alone on your day off, which I hope you've given yourself, and it's getting close to dinner time. What's for dinner? Cooking or going out?
SI: To be honest, lately it is all going out. I can not even count the number of fantastic (of course a few not so great) meals I have had this year. Gathering with friends, great food and wine is my favorite thing to do by far.
HP: Rick Bayless just won Top Chef Masters. What is it, do you think, about these Chicago chefs and their cuisine? What direction do you think it's headed in?
SI: I think Chicago has already proven itself as one of the top culinary destinations in the country and this will continue as we have great chefs like Rick who have been known for years and a countless number of emerging chefs who are just getting started. Chicago is full of chefs that support each other, which I think has a great impact.
HP: Chicago has an amazing range of restaurants, from hole-in-the-wall spots to places like Alinea. Where do you like to dine in Chicago?
SI: I am down with it all. I always think I have found all of the great spots when suddenly a friend introduces me to a new place.
Related
Popular in the Community