FERGUSON, Mo. -- "Did the protesters use the term 'Fuck the police'?"
It's late Tuesday morning, and perhaps 15 people are gathered in a room inside City Hall in this St. Louis suburb, a room that usually hosts meetings of the Ferguson City Council. Seated at the head of the dais, in the chair usually reserved for Ferguson Mayor James Knowles, is a man wearing a robe. Ferguson Municipal Court is in session.
Seated at one end of the dais, at the same level as the judge, is Ferguson Prosecuting Attorney Stephanie Karr, who has held that part-time role since April 2011 and who also serves as Ferguson's city attorney. Shortly after Karr was hired as Ferguson's top prosecutor, according to a Justice Department investigation, Mary Ann Twitty, who was then Ferguson's city court clerk, complained in an email to Ferguson's municipal court judge and police chief that the fines Karr was recommending for certain offenses -- like "derelict vehicle" and "failure to comply" -- were not high enough. "We need to keep up our revenue," Twitty wrote.
Twitty is now gone, fired for sending racist emails. Also gone is former Ferguson Municipal Court Judge Ronald Brockmeyer, who, it turned out, owed tens of thousands of dollars in back taxes even as he was jailing people who couldn't afford Ferguson's stiff fines. Former Ferguson Police Chief Tom Jackson, who supervised the court employees and bragged about the revenue the municipal court was bringing in, has retired.
But Karr -- who by day works for Curtis, Heinz, Garrett and O'Keefe, one of several St. Louis law firms that profit off of the county's network of tiny municipalities desperate for revenue -- is still around. This week, the part-time prosecutor was going after three people who were arrested under questionable circumstances outside the Ferguson Police Department in the early morning hours of Aug. 14, 2014, just days after Darren Wilson, who was then a Ferguson police officer, shot and killed 18-year-old Michael Brown. In the court proceedings this week, Karr was seeking hundreds of dollars in fines for minor violations of Ferguson's municipal code.
Many of the people who were arrested in Ferguson, figuring it was unlikely they'd receive fair treatment in a municipal court that was essentially a massive shakedown, ended up taking plea deals and forking over some cash to avoid wasting time and money on fighting the charges. The three who had their day in court this week -- Michael Powers, Meghan Flannery and Liz Peinado -- chose to take the more difficult route.
Powers, 30, serves as legislative director to the president of the St. Louis Board of Aldermen, while Flannery and Peinado, both 25, work as educational program directors for a nonprofit organization run by St. Louis Alderman Antonio French. Last August, hours before Powers, Flannery and Peinado were taken into custody, French -- who would go on to gain recognition for documenting the protests in Ferguson on Twitter -- was arrested and held at the Ferguson Police Department. A crowd gathered outside the building to await his release, some of them chanting: "Hell no, we won't go / Till you free Antonio." Powers, Flannery and Peinado were at the scene.
It had been an eventful day. On Aug. 13, dozens of heavily armored officers with the St. Louis County Police Department and a variety of other law enforcement agencies swarmed a crowd of peaceful demonstrators who'd been marching down the street. In broad daylight, officers pointed sniper rifles at the crowd from atop armored vehicles. They ordered peaceful demonstrators to leave the area, and they arrested with abandon.
The tactics used by police that day have since been roundly condemned by policing experts and Democratic and Republican politicians alike, and a forthcoming expert report commissioned by the Justice Department asserts that the tactics only served to incite additional unrest. The police actions of Aug. 13 led Missouri Gov. Jay Nixon (D) to take command out of the hands of the St. Louis County Police Department and put the Missouri Highway Patrol in charge. The next day, under the direction of Capt. Ron Johnson of the Missouri Highway Patrol, officers in normal uniforms calmly and successfully policed the demonstrations. Protesters and police officers shook hands, shared hugs and took selfies.
In Ferguson Municipal Court this week, the unconstitutional police tactics of Aug. 13 and early Aug. 14, tactics that suppressed the free-speech rights of American citizens, didn't seem to strike Karr as a big deal. She objected when John Ammann, a law professor at Saint Louis University School of Law who represented all three defendants, brought up the issue of intimidation. Karr instead kept the focus on the "violent protesters," even though all three defendants were only charged with noise ordinance violations and failure to comply.
Ammann, seated at a plastic folding table about a foot lower than the judge and the prosecutor on the elevated platform, objected when Karr asked Ferguson police Officer Sean Gibbons whether protesters had yelled "Fuck the police." Judge Donald McCullin sustained the objection, finding that Karr's question was improper.
Gibbons, who was first hired by the Ferguson Police Department in 1996, admitted that he never actually saw the defendants yelling or actively protesting, even though he sought to have them charged with noise ordinance violations. He claimed that Powers, Flannery and Peinado were told via loudspeaker that they were under arrest, but he acknowledged that it was possible they did not hear the announcement. He also said it was "very possible" that protesters were intimidated by the sight of heavily armed St. Louis County Police officers on top of armored vehicles.
Powers testified that he was trying that night to comply with police orders to disperse, but that he was barricaded in by armored vehicles. Powers said he asked a police officer how he should leave the area. Instead of offering assistance or instructions, Powers said, the officer told him to turn around and then arrested him.
Karr appeared unsympathetic.
"You couldn't walk out of the area?" she asked Powers. "If you had done your research, you would have known that street was Tiffin."
"We were not able to safely leave the area, in my judgment," Powers replied.
Peinado did not testify, but she said in an interview with The Huffington Post that after the police ordered the crowd to disperse, she went back to the vehicle she'd shared with Flannery that day. She says she was in the passenger seat with her seat belt buckled when police surrounded the car.
"They tried to paint this overall picture of protesters being violent and throwing things. Having been there for several hours, that's not what I witnessed," Peinado said. "I definitely wasn't one of them. In fact, I sat on the ground with my phone, not doing anything, on a public sidewalk."
Peinado called Karr "aggressive," and said this week's three trials were a waste of her time.
"I know I didn't do anything wrong at all. I wholeheartedly know that I did not break any laws," she said. "The fact that it's almost a year later and I'm still going through this -- I want to be done with it. But I'm also not going to agree to say I did something that I didn't do."
Flannery, who described Karr's pursuit of her case as a waste of resources, could be seen shaking her head several times during the trials. She said Karr was picking out "irrelevant" details.
"If they're trying to make a show of persecuting somebody for being in Ferguson, I mean, I guess I could understand that," Flannery said. "But I don't understand why it's been this long and this drawn out of a process."
Flannery and Peinado are not the only ones critical of Karr, who as Ferguson's city attorney has demanded tens of thousands of dollars from media organizations seeking city records. In fact, the Justice Department's report on Ferguson's municipal court accuses Karr of abusing her power.
The DOJ report says that Karr and her assistants "officially prosecute all actions before the court," but that most cases are resolved "without trial or a prosecutor's involvement." It notes that in 2013, Karr -- who also worked as a prosecuting attorney in Hazelwood, Missouri -- had a red-light camera ticket dismissed there for Ronald Brockmeyer, the municipal court judge who would later be found to owe the government tens of thousands of dollars. That same year, Karr also had a prosecutor from another municipality dismiss a speeding ticket for the relative of a Ferguson Police Department patrol supervisor. Also in 2013, Karr had a parking ticket dismissed for the employee of a nonprofit day camp at the request of Ferguson Mayor Knowles.
Another case from 2014 prosecuted under Karr's watch was even more troubling. A black family was at the park, and the parents allowed their small children "to urinate in the bushes next to their parked car," according to the DOJ report. An officer stopped them, and decided to check the father for warrants. Per the report:
When the mother asked if the officer had to detain the father in front of the children, the officer turned to the father and said, "you're going to jail because your wife keeps running her mouth." The mother then began recording the officer on her cell phone. The officer became irate, declaring, "you don't videotape me!" As the officer drove away with the father in custody for "parental neglect," the mother drove after them, continuing to record. The officer then pulled over and arrested her for traffic violations. When the father asked the officer to show mercy, he responded, "no more mercy, since she wanted to videotape," and declared "nobody videotapes me." The officer then took the phone, which the couple's daughter was holding. After posting bond, the couple found that the video had been deleted.
Perhaps unsurprisingly, the Ferguson officer who allegedly abused that family -- and who, a month later, allegedly arrested a passenger in a vehicle because he'd declined to provide identification -- had a history. The officer had previously been "found untruthful" during an official Ferguson Police Department investigation. Yet the "prosecuting attorney" -- it's not clear whether this refers to Karr or an assistant under her supervision -- "presented his testimony without informing [the father arrested in front of his children] of that fact," according to the DOJ report. The father hired a lawyer and went to trial, but Brockmeyer, who was still Ferguson's municipal court judge at that point, repeatedly interrupted the defending lawyer and threatened to hold him in contempt when he objected, according to the DOJ report.
This past January, the same officer was called as a witness in at least two other cases, the report says. According to his own police department, the officer was a liar. But the defendants were never told.
The court has yet to reach a verdict in the trials of Peinado, Flannery and Powers. Karr did not respond to multiple requests for comment for this article.
Before You Go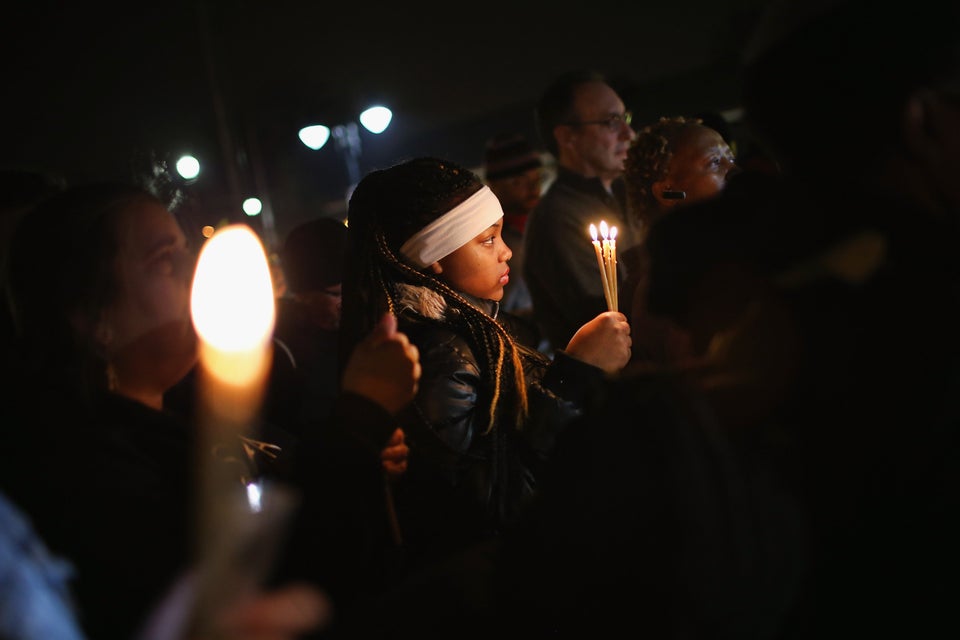 Ferguson Protests At Police Department
Popular in the Community