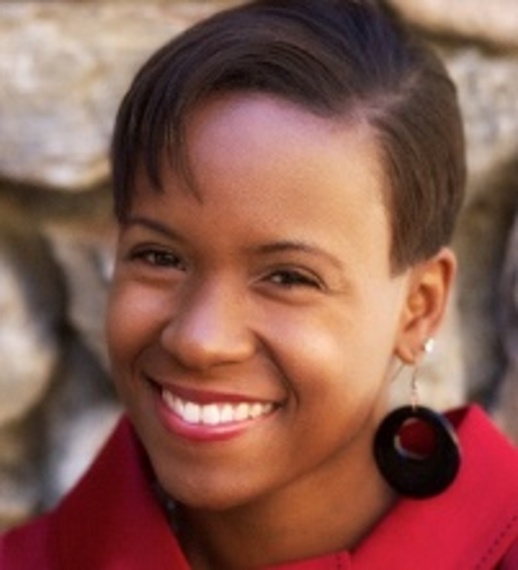 (Image Source: Stephanie Lampkin)
I first met Stephanie Lampkin at Harvard Innovation Lab's first Startup Scramble in November 2011 when she was an MBA student at MIT Sloan. During this dynamic, 48-hour weekend focused on teaching participants startup and innovation skills, I found Stephanie to be extremely smart, energetic, and passionate about technology.
Stephanie's love for technology started when she first learned to code at age 13. She credits being introduced to the world of technology to counteracting a difficult childhood primarily spent in an urban, crime-ridden area of Washington D.C. while her single mother struggled to raise her on welfare. By 16, Stephanie was a full-stack web developer who competed in computer science competitions across the U.S. Stephanie's passion for technology earned her a full scholarship to attend the most selective universities in the country, including Stanford, Duke, and Columbia. She chose Stanford because of its strong engineering program and vibrant startup scene.
Fast forward to 2015, and Stephanie is on a mission to diversify the tech industry. After earning an engineering degree from Stanford and an MBA from MIT Sloan, Stephanie founded Blendoor in the Fall of 2014. Blendoor's mobile application helps tech companies like Facebook, LinkedIn, Google, and Microsoft recruit diverse candidates in a more streamlined, unbiased way.
As CEOs of major tech companies commit to hiring more women and under-represented minorities, Blendoor already is proving to be a highly sought solution to their hiring woes. Stephanie says several leading technology firms have signed on to partner with Blendoor. Her work has also caught the attention of President Obama's staff, and she was selected to attend the first-ever Demo Day held at the White House on August 4, 2015.
As recent diversity reports released by tech companies in midyear 2015 reveal, the number of women and under-represented minorities who work at these companies remains abysmal. As of midyear 2015, only 10% of tech jobs at Twitter and 17% of tech jobs at Microsoft are held by women or under-represented minorities. See The Wall Street Journal's interactive to see the diversity numbers at other tech firms like Apple, Facebook, and LinkedIn.
Stephanie is no stranger to the lack of diversity at tech companies. As an African-American woman who worked at Microsoft for over five years, she "experienced first-hand that there is a lack of diversity in tech." While at Microsoft, she found the lack of diversity appalling and the lack of sponsorship to work on challenging projects unacceptable. Stephanie believes that the issue is not a pipeline problem, but an institutional one due to bias that starts at the recruiting phase.
Through Blendoor, Stephanie wants to take the bias out of the recruiting process where the odds are stacked against the numerous women and under-represented minorities who are well-qualified to join tech companies. According to a 2014 research study jointly conducted by Stanford University and the Paris School of Economics, a person's foreign-sounding name on his or her resume can adversely affect that candidate's chances of being called for an interview. To minimize this bias, Blendoor hides the candidate's name and photo from the employer during the initial stages of the recruiting process.
Blendoor also allows prospective candidates a view into the diversity numbers and initiatives at tech companies, so they can learn how many women or under-represented minorities actually work there. In doing so, Stephanie bets that Blendoor will play a powerful role in helping tech companies increase their diversity stats so that they read less like posts intended for a wall of shame.
As Stephanie continues to build Blendoor, her advice to young people aspiring to enter the tech industry today is to "be strong, be diligent, and be inclusive."
Moha Shah managed projects worldwide at Harvard Business School for 10 years. She writes about leadership, women in business, and skills required in today's global knowledge economy. Follow her on Twitter via @globalmoha.
Related
Popular in the Community