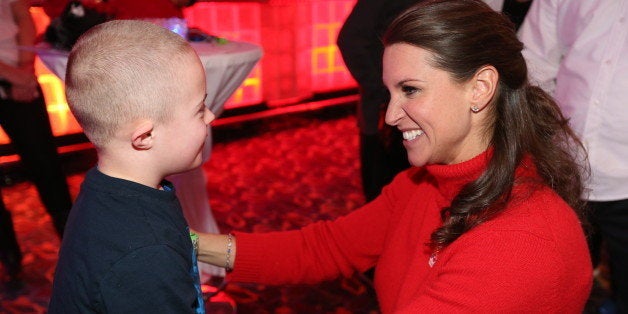 We often use the word unique to describe something special; something that is without equal. We look at architectural wonders like the Pyramids or the Great Wall of China with awe. We marvel at masterpieces by artists such as Picasso and Monet. We are inspired by the unique beauty of natural creations like the Grand Canyon or Niagara Falls ... Then why is it when we use the term "unique" to describe a person, the connotation is often negative?
Perhaps it's ignorance, perhaps fear, maybe sometimes a bit of both.
As a Founding Partner for the 2014 Special Olympics USA Games, WWE has the opportunity to help Special Olympics spread the important message that what makes us unique is what makes us special. And that our uniqueness should be celebrated. Special Olympics' message of acceptance and inclusion is shared through WWE's weekly television broadcasts that reach nearly 14 million viewers in the U.S. by showing footage of competing athletes as well as WWE Superstars coaching unified games across the United States. In addition, we use the WWE and Superstars' and Divas' social media platforms that reach more than 350 million followers worldwide to send messages of encouragement and support. WWE Superstars and Divas are role models to many children in our community, and it is our hope they will inspire others to be more accepting, more inclusive, and even celebrate the differences in each of us.
One of the best "coaches" is WWE Superstar, Big Show. Big Show is a legitimate "giant" who had the medical condition acromegaly resulting in his massive size. Big Show is no stranger to adversity and learned at a young age how to ignore those who judged him and truly celebrate his uniqueness. Big Show uses his past experience to motivate the athletes and has said his involvement with Special Olympics is one of the most rewarding experiences of his life.
Our mission at WWE is to make people smile, and to see the smiles on the faces of the Special Olympics athletes when they meet WWE Superstars and Divas is beyond rewarding. These athletes overcome many challenges to achieve their goals. They do so by believing in themselves and their teammates and encouraging each other every step of the way. Their heart, courage, and dedication serve as the ultimate motivation to anyone who has the privilege of watching them in action. And we are sure to tell them every chance we can, that the athletes of Special Olympics are the ones who inspire us, not the other way around. Eunice Kennedy Shriver, founder of Special Olympics said, "As we hope for the best in them, hope is reborn in us." My hope is for all of you to share in the same inspiration that those of us at WWE have been privileged to receive from the athletes of Special Olympics.
Come to the 2014 USA Games in New Jersey from June 14 to 21 or tune in to Celebrating Champions: 2014 Special Olympics USA Games on Monday, June 30 at 7:00 pm ET on FOX Sports 1, chronicling the weeklong celebration of the Games through the eyes of the athletes. Please take a moment to revel in the pure joy on these athlete's faces as they compete and join us as we celebrate all that makes them and us unique.
Related
Popular in the Community