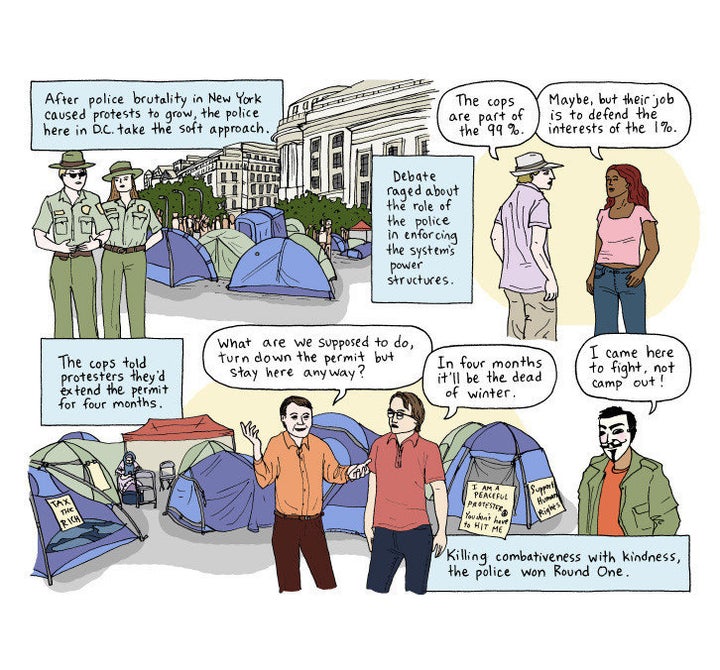 WASHINGTON -- There's no superhero in cartoonist Stephanie McMillan's two-part comic detailing the early days of the Occupy movement in the nation's capital. But there are plenty of idealistic and persnickety revolutionaries in them.
McMillan is from South Florida -- she came to D.C. to participate in the protests, not just chronicle them. And her role as an insider comes through. The comics are affectionate if sometimes pointed looks at the people occupying D.C.'s two protest encampments -- Occupy DC in McPherson Square and Occupy Washington DC, formerly called "Stop the Machine," in Freedom Plaza.
McMillan gets into everything from the demonstrators' hopefulness and radical idealism to the groups' internal struggles over how to deal with the police and illustrates how annoying the consensus process and camping can be even for radical idealists.
"I wanted to include, through dialogue and description, the major currents, trends and struggles within the [protests], like the debate around nonviolence, the demand for demands, and the desire for everyone to be heard balanced with the challenges of the consensus model of decision-making," McMillan told The Washington Post.
The Huffington Post caught up with McMillan by email a few days after part two of "American Fall" was released.

HuffPost: Are you coming back to D.C. to do a part three of American Fall?
McMillan: I don't have specific plans to go back to D.C., but since then I've had a chance to briefly visit Occupy Oakland and Occupy San Francisco. I'd love to visit Occupy Wall Street and a few other places. In South Florida, I regularly work with an anti-capitalist/anti-imperialist collective called One Struggle, and we've been active at both Occupy Fort Lauderdale and Occupy Miami.
HuffPost: Are you making a cartoon about Occupy Fort Lauderdale?
McMillan: I haven't yet drawn cartoons about OFtL, but I probably will! I think comics are a very appealing way to document the movement, highlight important details, and explore some of its contradictions.
HuffPost: Are you getting Occupy snowbirds?
McMillan: I don't personally know of any snowbirds staying at Occupy Fort Lauderdale, but I've heard that there are people at Occupy Miami who have come from encampments up north to spend the winter down here.
HuffPost: I love that your cartoons of the Occupation are so affectionate and at the same time you aren't afraid to poke fun or show and examine flaws. What do people inside the Occupation think of the cartoons?
McMillan: Thank you! I've received very nice responses and feedback. People appreciate that I've brought out the essence of some of the issues people are wrestling with. Many participants find the movement very contradictory, and have mixed feelings about it -- one minute we're weeping with joy, the next minute grinding our teeth in annoyance. It's a rollercoaster of love.
HuffPost: Do you have any specific demands? (I have to ask.)
McMillan: I don't have demands because I don't recognize the legitimacy of those in power (so why would I demand anything from them?), and I don't believe that this system can be reformed. But I absolutely have goals: a sustainable way of life free of class divisions and all other forms of domination.

Before You Go
RELATED VIDEO: Stephanie McMillan Speaks At Freedom Plaza
Popular in the Community