It looked like a regular to-do list of organization goals we often see on lifestyle blogs everywhere. Little did we know that blogger Stephanie Morgan's list of accomplishments, which included everything from labeling containers to managing her family's budget, was all but wishful thinking -- just one blogger joking about the unrealistic nature of the pristine home. Nonetheless, readers were totally taken by it.
"It really kind of resonated with people," says Morgan. "They were almost upset that I wasn't going to lead them to the promise land and tell them how to organize their entire lives."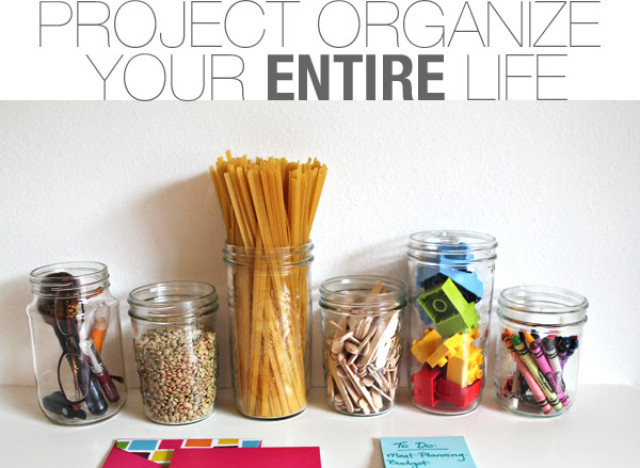 Photo by Stephanie Morgan of Modern Parents Messy Kids
However, the viral reaction (for better or worse) did inspire Morgan, 31, to begin tackling her own list of around-the-house tasks ... for real this time. But now, she had a community of eager readers to back her up. Thus, Project Organize Your Entire Life began. Every few weeks, the Washington State resident posts a challenge for readers to tackle, from decluttering the kitchen to planning a weekly schedule. Readers are then encouraged to ask questions and comment on her site, motivating each other as they go.
And after almost three months, Morgan shares three essential tips she's learned through the process.
Start small. Tackle easy projects first to accomplish big goals. To manage growing clutter, Morgan keeps three bins in her bedroom that are marked "Goodwill," "long-term storage" and "short-term storage." Once one of them is full, she stores the box away or delivers it to the thrift store.
Ask for support. Turn to family, friends or even Morgan's readers to keep you on track. "Staying motivated is one of the things people often find the hardest," she says. "Tell everybody what you're doing so you get some positive feedback. You'll have someone to celebrate your accomplishment."
Cutting through kid clutter. Children's toys can pile up, but Morgan has a clever solution. "When my kids don't pick up their toys at night, [the toys] go into the 'toy ransom box' and [the kids] have to earn them back," she says. The mommy blogger also rotates her children's toys every three to four weeks. The kids forget about their toy inventory, which makes them feel as if they're getting something new.
Though Morgan does believe in setting goals, there's one thing she doesn't do. "We're not going to put deadlines on ourselves," she says. "The last thing I think we need is more pressure to get things done and more guilt when we didn't get them done."