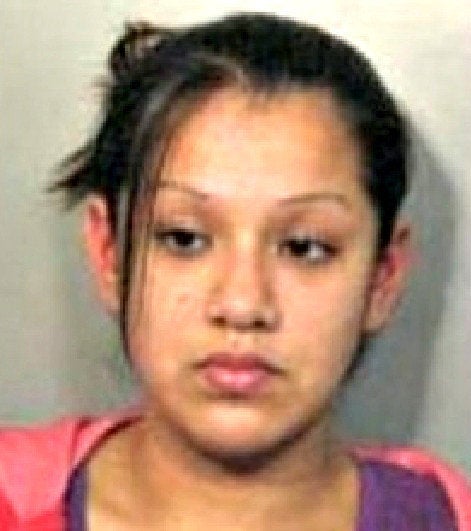 A drunk, pregnant mother who stumbled into a Texas tattoo shop for a piercing was taken away in a pair of shiny cuffs after she left her 10-month-old daughter alone in her car, police said.
Houston police arrested 20-year-old Stephanie Irene Santana early Wednesday morning in the parking lot of Dagos Tattoo Shop on the North Freeway. A spokesperson for Dagos Tattoo Shop was unavailable for comment Thursday morning. In an interview with Houston's KTRK, an employee who calls himself "Yogi" said Santana came into Dagos at about 4 a.m. Wednesday and asked about a piercing.
"She asked me how long would the piercing take, and I said, 'Why would you ask me how long would it take because there is nobody in here?' And she said, 'Because I have a baby in the car.' That's when I asked her who's watching the baby. She said, 'Nobody, the baby is asleep,'" Yogi told the news station.
Concerned for the welfare of the child, studio employees asked Santana to leave. Yogi told KTRK they watched her stumble to her car and fall asleep behind the wheel of her running car, while her daughter sat unrestrained in the passenger's seat.
"She was asleep in the car and we called the police," Yogi said.
STRANGE CRIME MUG SHOTS: (Article Continues Below)
"Our officers arrived [and] they found her exhibiting signs of being intoxicated," Houston Police Department spokesman Victor Senties told The Huffington Post. "They also found a child in the vehicle."
Senties said Santana failed a field sobriety test. During a search of her vehicle, officers found several bottles of beer inside a diaper bag and also what they believe to be Xanax pills. Santana was evaluated at the scene by the Houston Fire Department and taken to Ben Taub General Hospital. She was later released from the hospital and incarcerated in the Harris County Jail.
Santana has been charged with driving while intoxicated, child endangerment and possession of a controlled substance. She is being held on a $9,000 bond, pending her first court appearance on Friday.
According to Houston's KPRC, Santana was already on probation for theft charges.
Santana's child was unharmed. The baby is in the custody of Child Protective Services, who are trying to find a suitable relative to take care of the child, Dreamin Demon reported.
"She was looking for trouble," Yogi told KTRK. "She got everything she deserves, because the baby was in danger and she needs to be where she needs to be."
Popular in the Community