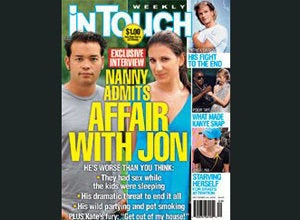 IN TOUCH MAGAZINE PRESS RELEASE:
Ever since Jon and Kate Gosselin filed for divorce, rumors have swirled about Jon's increasingly wild lifestyle. Though Jon insists he's been faithful to his girlfriend, Hailey Glassman, 22, stories continue to circulate about late nights of partying and hot hookups. And now, In Touch can exclusively report explosive new allegations. Former waitress and single mom Stephanie Santoro, 23, claims that during the month she spent employed as Jon's nanny, she had a passionate affair with the Jon & Kate Plus 8 star in the family home -- and saw a side of Jon that's bound to shock even his most devoted fans. Here, Stephanie describes for In Touch her "genuine" romance with Jon -- and how it came to a bitter end.
How did you first meet Jon?
I had met Jon and Kate a few years back at a twins convention when they had Cara and Mady [now 8]. Jon and I became friends when I was working at [Pennsylvania bar] Legends, and he came in sometimes. After they filed for divorce, he started hanging out there a lot, and we started talking more.
When did you get intimate?
We were talking on the phone one night, and the kids were all at home, and he was like, "What are you doing tonight?" and I didn't have plans. So he goes, "Let's hang out. We can go hang out in the hot tub and talk more about everything." So I went over, and we were talking. He asked me if I could give a back massage, and I was like, "Okay, whatever." So I gave him one and then he was like, "my turn." While we were sitting there, he said, "Well, I guess we can kiss just once." At one point he said, "Whatever you do, don't fall in love with me, because it's going to be impossible for me not to fall in love with you."


During your relationship, how many times did you sleep together?

Nine times.

How would you rate the sex?
On the romantic end, it was a nine. I wasn't looking for the pleasure part of it. If you care about someone, it's not about how good they are in bed. It wasn't terrible, but it wasn't the best I ever had.

How close would you say you were?
Very close. We would lie in bed and talk about the future. He would say how he wanted to make sure my daughter and I would always be okay, and how he would take care of me. There was no talk about marriage, but we did talk about being together.

Was he seeing Hailey when you first got together?
I don't think he has ever been apart from Hailey, but he has cheated on Hailey. I know they've broken up before. I didn't know their current status. We talked about it, and he had told me that things were very weird and strange and he would explain it to me, but he didn't want to hurt me in the process.

For the full exclusive interview with Stephanie, check out this week's issue of In Touch Weekly, on newsstands now.
Popular in the Community