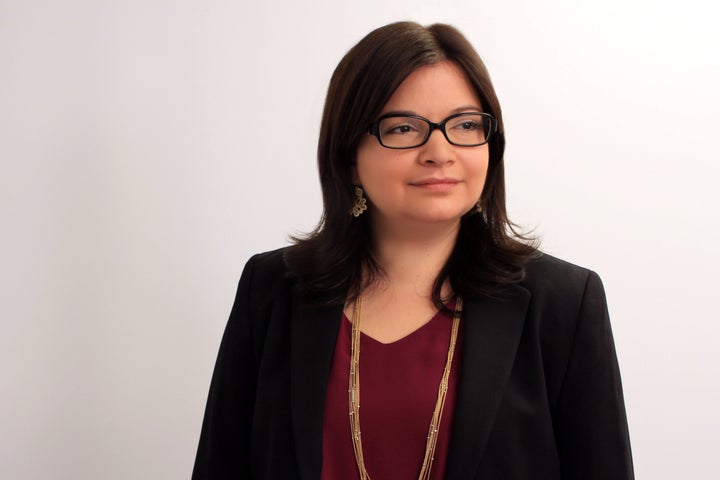 In February, The Huffington Post profiled Stephanie Toti as she was preparing to lead the oral arguments in Whole Woman's Health v. Hellerstedt. On Monday, the Supreme Court handed Toti a victory in the case, striking down both Texas regulations that made it more difficult for clinics to provide abortions.
Read our original story about Toti below:
The night of Nov. 7, 2006, Stephanie Toti slept on the sidewalk in front of the Supreme Court.
It was pouring rain, but the Capitol Police would not let the 26-year-old and her colleagues pitch a tent. So they laid in sleeping bags on the concrete, miserable, huddled together. The next morning, they stood in line in their soaking-wet clothes, hoping to get seats for oral arguments in the most important abortion rights case of the last decade.
After camping in the rain all night, Toti and her co-workers -- junior employees at the Center for Reproductive Rights, a legal advocacy group that defends abortion rights around the globe -- managed to nab a few spots in the last row.
"Some of our colleagues who had tickets to the arguments came around in the morning and brought us suits so we could change our clothes after we got into the courthouse and be appropriately dressed," Toti said. "I remember sitting in the back and thinking, 'Wow, this courtroom is so big!'"
Toti's side lost. In a 5-4 decision authored by Justice Anthony Kennedy, the high court upheld the Partial-Birth Abortion Ban Act -- a federal law passed in 2003 that prohibited a specific kind of surgical abortion procedure.
Now, a decade later, Toti is preparing to argue her first Supreme Court case -- the most significant abortion trial of this century. On March 2, she'll take the lead in oral arguments on Whole Woman's Health v. Hellerstedt, a case that could determine whether women in Texas and across the country will have access to abortion services in their communities.
The case challenges the constitutionality of two Texas abortion restrictions passed in 2013 that were designed to shut down most of the clinics in the state. The decision will not only determine the fate of abortion access in Texas; it will also send a signal to other states about the appropriateness of similar laws.
Most litigators who argue big cases before the Supreme Court are white men who have done it before. An elite group of 66 lawyers -- only eight of whom are women -- argued nearly half of the cases before the high court from 2004 to 2012, according to a 2014 Reuters analysis of 17,000 attorneys. Some of those attorneys have argued dozens of cases before the court, and nearly half of them are graduates of Harvard or Yale law schools who clerked for Supreme Court justices after graduation. That narrow representation turns the court into what the Reuters investigators described as an "echo chamber."
But in the most consequential abortion rights cases, the reproductive rights movement has repeatedly turned to relatively inexperienced women.
Sarah Weddington was 27 when she argued and won Roe v. Wade, the 1973 case that legalized abortion throughout the United States. Weddington had no previous experience with the high court. "Because I hadn't been able to get a job with a law firm, I didn't have any real experience," Weddington told Ms. Magazine last year. "I had done one adoption for my uncle, some divorces for people with no real assets to divide up, a couple of wills for people with very little money. I had not done Big Law."
In 1992, reproductive rights advocates chose Kathryn Kolbert to represent them in the case Planned Parenthood v. Casey, which challenged a Pennsylvania law requiring a 24-hour waiting period and spousal notification before a woman could obtain an abortion. Kolbert, then a 40-year-old attorney for the American Civil Liberties Union, had only argued one case before the Supreme Court, but she claimed a narrow victory over Pennsylvania's Republican attorney general. The court ruled that states can regulate abortion, but cannot place an "undue burden" on the right to obtain one.
"Being underestimated is "frustrating, but motivating," Toti said."
Toti, who is now 37, has argued dozens of abortion cases in district and federal courts, and she briefly clerked for U.S. District Judge Nina Gershon in New York in 2005. But she has never argued before the Supreme Court. She lives in a modest walk-up apartment in Brooklyn with a roommate and occasionally attends Catholic mass with her sprawling Italian-American family on Long Island.
She is humble and soft-spoken in our interview in her office in Manhattan, which is filled with cards bearing supportive messages from her co-workers: "Uteruses before duderuses" and "Ovaries before brovaries." Her nails are painted bright purple -- her favorite color, and also the color of the marketing materials for Whole Woman's Health, the chain of Texas clinics she represents.
Toti's opponent, Texas Solicitor General Scott Keller, argued two cases before the Supreme Court in 2015, and clerked for Justice Anthony Kennedy -- the justice expected to be the swing vote in the case.
Keller's team doesn't appear to be taking its less-experienced female opponent seriously. As the case wound its way through the lower courts, Toti repeatedly had to remind the Texas attorneys that she is the lead counsel on the case. But they consistently directed communications to her co-counsel -- a taller, slightly older man from the international law firm Morrison & Foerster. "They would always reach out to him and not even 'cc' me," she said. "I would get back to the lawyers and say, 'Here is our position,' and the next time they would go back to him anyway."
Toti's co-counsel, Alex Lawrence, said the Texas attorneys are ignoring his colleague because she's a woman. "I feel bad about it, but yes, it's true," he said in a phone interview. "They're not comfortable with it completely. Maybe it's a Texas thing, or maybe it's just a man thing."
Being underestimated is "frustrating, but motivating," Toti said. And she needs the boost -- the outcome of her first Supreme Court case will determine whether millions of American women will still be able to access abortion in their states.
"I definitely feel the pressure," she said. "So much hangs in the balance."
In the 2010 midterm elections, a new crop of ultra-conservative Republicans swept statehouses across the country, bringing with them a fresh determination to rid the country of legal abortion. Over the next five years, these lawmakers passed an unprecedented number of abortion restrictions that shut down dozens of clinics across the country. Their strategy was simple: Instead of passing outright bans on legal abortion that would be difficult to defend in court, states passed so many new regulations on abortion clinics and doctors that few providers would be able to meet the requirements and stay open.
In 2013, Texas enacted two of these so-called TRAP laws ("TRAP" stands for Targeted Regulation of Abortion Providers). The laws mandate that all abortions take place in ambulatory surgical centers, or mini-hospitals, and that all abortion providers must have admitting privileges at a nearby hospital. The extensive renovations required to turn a clinic into a mini-hospital, such as specific hallway widths, large janitors' closets and new ventilation systems, are too expensive for most clinic owners to undertake. And hospitals in Texas often refuse to grant admitting privileges to abortion providers for political or religious reasons that have nothing to do with the doctor's experience or safety record.
By the middle of 2014, 20 of the state's 42 clinics had shut down, forcing many women in poor, rural areas of the state to travel up to 300 miles to the nearest clinic. Women's health advocates complained that the restrictions did not appear to be medically necessary -- abortions are already remarkably safe, and in the event of an emergency, hospitals have to admit women whether the doctor performing the abortion has admitting privileges or not. "These laws don't provide any material benefit to abortion patients," Toti said.
In August 2014, the Center for Reproductive Rights -- with Toti as lead counsel -- sued Texas, arguing that the new restrictions were irrelevant to women's health and imposed an unconstitutional burden on their access to safe and legal abortion. Toti won in district court and lost in the 5th U.S. Circuit Court of Appeals. In November, the Supreme Court agreed to take the case.
Toti's task in Whole Woman's Health v. Hellerstedt is to convince the court -- specifically, Kennedy -- that the new regulations are not medically necessary, that lawmakers passed them with the sole intent of eradicating legal abortion in Texas, and that the rules do indeed impede women's ability to exercise their constitutional right to an abortion.
Her team has taken a novel approach in its argument, submitting a document to the court in which 113 female attorneys share stories of their own abortions and explain how access to the procedure allowed them to break the cycles of poverty, abuse and teenage motherhood in their families and rise into successful careers.
The state of Texas will argue that the clinic regulations are necessary to protect the health and safety of women. "The state has wide discretion to pass laws ensuring Texas women are not subject to substandard conditions at abortion facilities," Ken Paxton, Texas' attorney general, said in a statement when the Supreme Court agreed to review the case last November.
The death of conservative Justice Antonin Scalia earlier this month does not change much about Toti's case. If Kennedy sides with Whole Woman's Health, the Texas restrictions will be struck down. But if he sides with the state, that will create a 4-4 tie, which will mean that a lower court decision that upheld Texas' abortion restrictions will stand.
As she prepares for next week's oral arguments, Toti is trying to avoid psychoanalyzing Kennedy. Instead, she is practicing with experienced Supreme Court lawyers who shoot rapid-fire questions at her in moot courts, interrupting her as the justices will. These dress rehearsals can be humbling.
"There have definitely been moments of remorse," she said. "Everyone's jumping in and asking these really hard questions, and I reach a point where I'm like, 'When is this going to end?'"
At the gym or at the grocery store, Toti listens to audio recordings of past oral arguments on her headphones. Sometimes a dream about the case will wake her up in the middle of the night, and she'll jump out of bed to scribble down the ideas cycling through her head. The notes rarely make any sense the next morning. "I'm not going to give you a specific example," she said, laughing, "because I don't want to tip off the other side to the kind of nonsense I'm coming up with."
When the Supreme Court agreed to take the case, Toti's bosses briefly considered replacing her with a more experienced Supreme Court lawyer. She lobbied to keep the case, noting that she had already taken the lead in district and appellate arguments. She convinced them. When she found out she'd argue the case, she was "really excited," she recalled. "And then, you know, a moment later, slightly terrified."
Lawrence, her co-counsel, isn't as worried.
"Stephanie knows the case backwards and forwards," he said. "Every nook and cranny of the case, she knows. That is an asset that cannot be undervalued."
"I would not have wanted anyone else to argue this case," he added. "Including myself."
Before You Go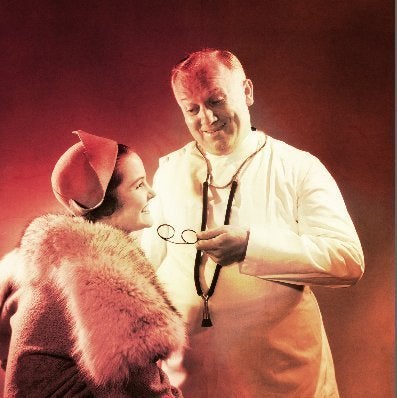 Myths About Abortion That Need To Be Busted
Popular in the Community