In the wake of the formidable, frenzied NYFW 2011, the fashion community is allowed a momentary pause to... exhale. Even Stephanie Winston Wolkoff, Director of Fashion and self-professed "Switzerland" in her role as neutral liaison between the fashion industry and Lincoln Center, relaxes her neutral stance to share some personal highlights and favorite looks from the Fall 2011 collections. She's widely regarded as one of the most influential figures in the fashion industry - handpicked and admired by Anna Wintour - with over a decade's experience as Vogue's Special Events Director; Lincoln Center president Reynold Levy knew only the woman behind the Met Gala could revolutionize Lincoln Center. She does. Every day. Stephanie's fashion week reflection, therefore, is an aberration as well as a veritable knighting ceremony; newcomers will be inducted into the realms of fashion royalty and fashion icons further cemented in their thrones.
My shih tzu puppy, Luigi Maestro, will not stop barking.
I can't hear a word and cringe inwardly before awkwardly requesting a replay. "I love dogs," Stephanie laughs warmly, unflustered. A simple statement, delivered naturally, but emblematic of the woman, as well as the new era of fashion dawning at Lincoln Center.
Stephanie exudes humanity.
Loving wife and mother of three are roles which come foremost, but a passion to work, her mentor Wintour taught, does not have to be compromised. "I like to work," she declares simply. Stephanie's secret? To bend, to laugh, to give the moment and the person you are addressing a level of focus and respect perilously near extinction these days. Her realness is an inspiration, made all the more compelling when juxtaposed with her statuesque beauty. A hint of Frederique van der Wal's bedroom eyes and a style sensibility reminiscent of Jenny Cavilleri at Harvard Yard circa Love Story make her both impossible to label, and irrestible to both sexes. She's the beauty and the best friend; a little sexy, a little cerebral, and obligingly rewinds: "A woman should dress to suit her body and her personal sense of style. An occasional sprinkling of seasonal trends can be fun, but adherence to looks that suit your body's frame should never be sacrificied."
Barking has subsided; Luigi and I are transfixed.
With a seamless transition from Bryant to Damrosch Park and a second fashion week flawlessly executed under her black-belt (Division I basketball, All-American lacrosse, and yes, karate all preceded her entrance into high fashion) the 6'1 crown princess of Fashion Week commences her fashion week round-up with trends she noticed and loved: "The 70's were everywhere, and I couldn't be happier! High-waisted pants - yes, we tall girls applaud! - classic plaids, and geometric prints. Sumptuous, long coats, dramatic capes and long coats. . . and red. Red dominated the runways." Fitting, with Valentine's Day at the heart of NYFW 2011.
It's time for highlights, and the fair-minded Director reminds, "I'm usually drawn to classic, timeless looks, but I can be adventurous if a piece really catches my eye. For my own tastes and frame, there was so much to choose from and it's difficult to name all. Standouts that spring to mind... Derek Lam was terrific - very 70's sporty, and Michael Kors' nod to the era was amazing. I loved the wide-legged trousers Celine paired with the long coats. The mid-calf skirt length at Calvin Klein felt very fresh, but also elegant. I always admire Rodarte. Vera Wang was beautiful. Rag & Bone and Alexander Wang were so chic. L'Wren Scott I find exceptionally well made. And the paisley prints at VACCA were stunning. Donna Karan was exquisite. Sensational. Beautiful." Stephanie pauses, and the fashion drumrolls beat. "But it was Prabal's season," she finishes, and the up-and-coming, albeit already much lauded Prabal Gurung (he only debuted his eponymous collection in February 2009) skyrockets to a star in Winston Wolkoff's galaxy. "He is thoughtful. Serious and contemplative by nature. He chooses his words with care...that precision translates in his work. His collection was a revelation." Indeed Prabal's vocalization of how much he loves Charles Dickens' Great Expectations at a recent dinner came full circle; the entire collection was inspired by Miss Havisham: romantic, decayed elegance in a deluge of feathers, dyed minks, beads, silks, leather and taffeta.
Reflecting on fashion highlights lends a poignant cast to our discussion; Stephanie bears the weight of her new position with pride and humility: "I am poised at the vanguard of fashion. It's a magical place to be, but I am also mindful of how many industries are interwined and affected. It's not just Mercedes-Benz Fashion Week; it's the CFDA, the individual designers, the publishing houses, the publicists, the stylists, the retailers... and so forth. I view my position as fashion's ambassador seriously. It's like chess. Each move effects the entire board."
Queen she may be, but checkmate is hardly near; the end of fashion week does not signal a hiatus for Winston Wolkoff, who has already made impressive strides towards making fashion a year-round presence at Lincoln Center. "I do not believe fashion should exist here for two weeks only. I want it to be on par with music, theater, and opera. Fashion Lincoln Center is a website I am spearheading, with the intent of organizing an invigorating schedule of events. Designer-lecture series, photography exhibitions, emerging talent showcases." The Director's glass office overlooking Revson Fountain doubles as a metaphor as she emphasizes, "I want to open fashion to the masses; it's not about exclusivity."
Stephanie's vision was already felt this February; customized for IMG, Fashion GPS streamlined RSVP and seating lists while also allowing guests to pre-print their tickets and check-in themselves. Television screens along 65th Street offered designers the chance to live-stream their shows, and "The Box" touted the first ever presentation-only space for fashion week. The CIRCA lounge debuted adjacent to the exclusive VIP Star Lounge, but without the fuss of velvet ropes and discerning guest lists. Stephanie, along with CIRCA Chairman and CEO Chris Del Gatto, were a constant presence in the welcoming space which was regularly visited by featured CFDA designers as well as top editors and fashion insiders. Cognizant of fashion's scope beyond Lincoln Center's fashion campus, Stephanie remarkably carved time to visit designer presentations off-site: "If I have the time, I love checking out a presentation. Fashion is not limited to Lincoln Center. It's everywhere. It's a reflection of our times and our lives."
And she's off - large Birkin in tote -"large bags are the best," favorite accessory "my wedding band" from her father's company sparkling for eternity, in a pair of favorite blue jeans - "for me it's always been True Religion or J Brand."
Only a whisper of Givenchy's Amarige in her wake and the lingering suggestion of fashion in full bloom this spring.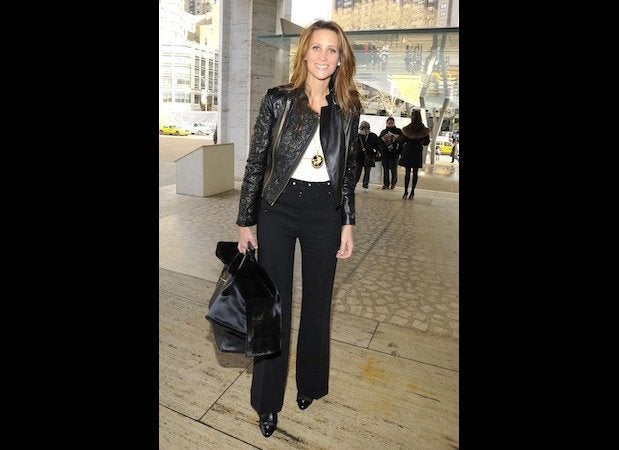 Stephanie Winston Wolkoff: Director of Fashion at Lincoln Center