Stephanie Yoder is a travel blogger who left her job in 2010 to travel the world. Through her adventures, readers are able to escape with Stephanie through her blog Twenty-SomethingTravel.com. I had the opportunity to ask her a few questions about her journeys and I'm pleased to share them with you!
Leon Logothetis: We're very similar in that neither of us can sit still and we always have an itch to keep traveling. What was your ultimate motivator in becoming a freelance travel writer for a living?
Stephanie Yoder: I've always loved to write and travel is a major passion, but I basically fell into this career path by accident. I really wanted to quit my boring desk job and take a career break, and I didn't know anybody else in real life who was doing anything like that. I think as Americans we're not really conditioned to travel while we're young like they do in many places in Europe and Australia. I started my website to encourage other twenty-somethings to get out and travel. Nobody was more shocked than me that people actually started reading it.
Once I realized I actually had a viable career path on my hands I threw myself into my work and I've never looked back. I love being self employed, and I love writing, but mostly I really like getting the chance to help and inspire people.
LL: You took a seven month honeymoon! Tell me about that experience. Why did you decide to stay in one place for so long?
SY: My husband and I are pretty slow travelers. We like to settle in somewhere and work on our various projects while enjoying the local life. We picked Mexico as our post-wedding destination for a couple of reasons: it's affordable, it's got great food, and we liked the idea of hanging out near a beach. We ended up in Sayulita, which is this fun beach town outside of Puerto Vallarta. It was just such a relaxing, pleasant place to ease into being married.
LL: Prior to meeting your husband, did you have a favorite travel companion?
SY: Is it self-centered if I say myself? I'm a huge fan of solo-travel, it's a great way to get to know yourself, your preferences and your capabilities. I find it very empowering. Even now that I'm married I still travel solo whenever I get the chance.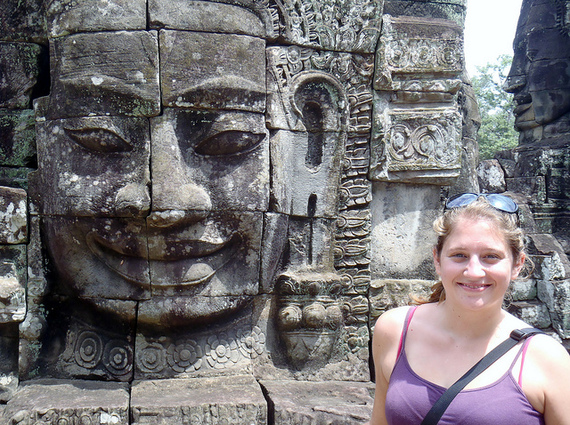 LL: As you know, I recently traveled around the world, relying on the kindness of strangers to help me along the way. I was truly fortunate to meet so many benevolent people willing to help. Can you share a story of someone being kind to you while you were traveling?
SY: This has happened so many times, but I'll always remember the first time, it has really stuck with me. I was studying abroad in London, my first time outside of the US without my family. I took the train up to St. Andrews to visit some friends, but due to construction work I found myself stranded at a random station with no way to get to my train. An older Scottish gentleman and his wife offered to drive me 30 minutes to the next station. I remember being blown away by their generosity.
LL: You talk about this a lot on your blog but experiencing new things with new people and really seeing others is something so fundamental to who I am. What does travel mean to you?
SY: To me, the great appeal of travel is the opportunity for constant learning and discovery. I love learning about local history, local food and new cultures. Travel can be tedious once in awhile, but the incredible thrill of discovery is so addictive.