What many people thought would be a night of champagne celebrations for the Curry family instead turned out rather badly for them on Thursday night.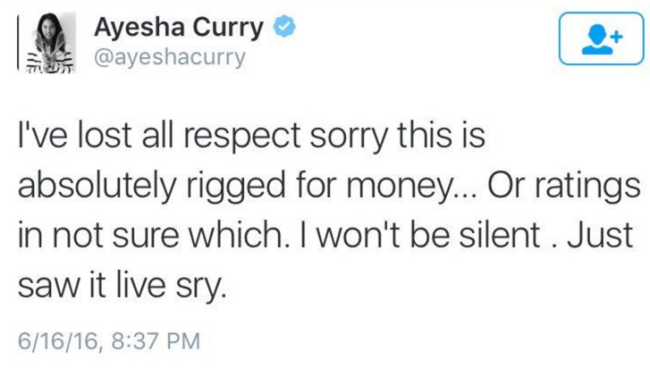 Steph defended his wife after the game, saying, "Everybody says stuff where you get caught in the moment ... I don't fault her from showing some emotion on Twitter." But on ESPN's Friday morning episode of "First Take," "analysts" Stephen A. Smith and Skip Bayless completely faulted Ayesha for showing emotion.
Smith spoke at length (as seen in the above video), in fact, about how NBA wives should and should not act. He focused the conversation around wives of the NBA Finals' two rival stars: LeBron James and Steph. Smith thinks that Ayesha, a relative rookie when it comes to the superstar NBA lifestyle, should be quiet and act more like LeBron's wife Savannah Brinson, a 13-year veteran of the NBA family.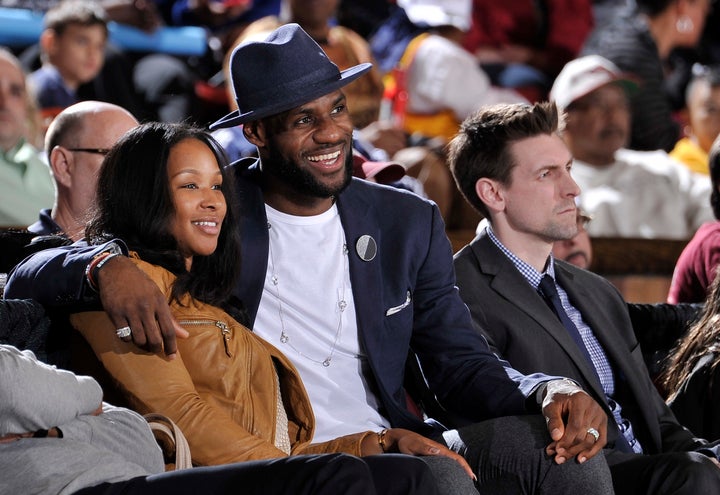 "[Brinson] never brings attention to herself. She never tweets and calls out the lying. Nobody, nobody is more scrutinized than her husband, but yet she thinks about how she represents him," Smith said.
And there's nothing wrong or right about that! It's Savannah's choice to stay low and work on a small business. It's also Ayesha's choice to parlay her popularity as a family-first social media presence into a Food Network show. They're different women who are making their own mark, if Smith couldn't tell.
But he can't, because his sexism won't allow him to recognize Ayesha as an independent person from her husband. "You are not just Ayesha Curry. You are Steph Curry's wife," he shockingly said (and Bayless agreed!). Apparently, once a woman marries an NBA player, they no longer have their own identity. They're merely ornamental.
Smith claims that because "everybody veers towards Steph Curry," we're ignoring Ayesha's tweets. Quite the contrary, as much has been made of her tweets Thursday morning.
"If this were Savannah acting like this, do you know how much heat LeBron James may have taken?" Smith continued to argue.
Savannah "acting like this" may indeed cause some heat for LeBron. Yet in the spectrum of overly critical LeBron stories, Smith's "acting like this" hypothetical would likely amount to nothing. Would LeBron and Savannah suffer if she started defending LeBron's flopping? No. Will Ayesha and Steph suffer because of a few tweets? No. When you're Steph Curry or LeBron James, two of the biggest athletes alive, it'll take a lot more than heated tweets to "hurt yourself or your husband or your family in any way," as Smith said.
Ayesha evidently watched Smith's diatribe, and responded on Twitter immediately:
Seeing the tweet, Smith responded live on "First Take" and continued to explain why she was out of line.
"It is not me. It is you," he said.
No it isn't, Stephen. No it isn't.
Support HuffPost
The Stakes Have Never Been Higher
Related
Before You Go
Stephen Curry: From Rookie To Stardom
Popular in the Community