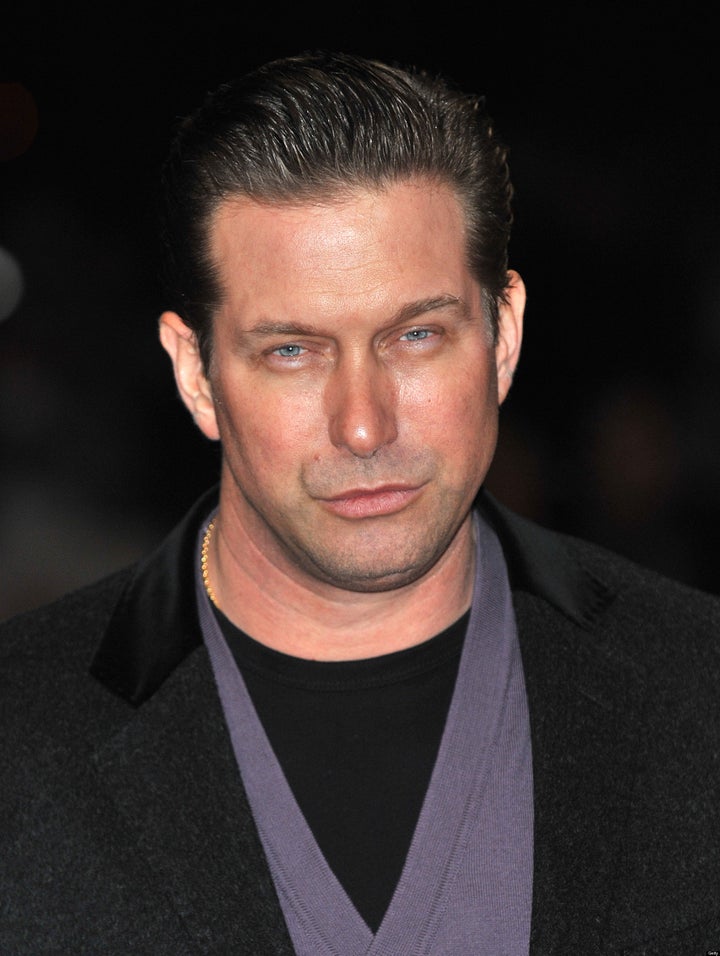 Is Stephen Baldwin too big to fail? I certainly hope so.
Despite his pop-culture status as the youngest and least famous of the acting Baldwin brothers, Stephen has always held a special place in my heart. I've followed his acting career (which peaked with 1995's The Usual Suspects) and his career as a full-time celeb, which, besides a brief stint stumping for Sarah Palin, included appearances on a number of reality shows like The Celebrity Mole (twice), Celebrity Big Brother, The Celebrity Apprentice, and -- I kid you not -- the aptly titled I'm a Celebrity ... Get Me Out of Here!
But, perhaps most importantly, it's his career as America's most famous born-again Baldwin that gets me out of bed in the morning. As a religion journalist, I've seen the monks and the ministers. But it's Baldwin that keeps things exciting. You can always count on him doing something interesting. Like how he's currently bankrupt and asking for donations (more on that later).
There is no greater gift than the enigma that is Stephen Baldwin. I actually had the pleasure of spending a day with him, and he tried to convert me -- twice.
Baldwin suffered for years from drug and alcohol addiction, until his Brazilian housekeeper convinced the actor and his wife to bring Jesus into their lives. Baldwin started his own skate punk ministry (although I'm not really sure what that means), starred in a number of straight-to-DVD Christian action movies, became a cultural adviser to President Bush, and wrote a 2006 memoir about becoming a born-again Christian called The Unusual Suspect, an obvious play on the name of the one movie he's actually famous for appearing in. (Keep in mind we're talking about a guy who has starred in movies with less-than-holy names like Sex Monster and Threesome.)
But now it seems there's trouble in paradise. The actor is out of work and out of money, and it appears that you and I are to blame. In a conspiracy of biblical proportions, a new website called RestoreStephenBaldwin.org claims that "because of his convictions, it began to cost him the loss of several jobs and, most recently, a highly-publicized bankruptcy." Apparently, they claim, it was the ridicule hurled at Stephen (and ergo Jesus) that caused this happen.
I guess the residual checks from Bio-Dome and The Flintstones in Viva Rock Vegas have all dried up.
But, dear reader, we can repent for our sins. For just a small donation, for the cost of a high-priced cup of Starbucks, we all have the power to save Stephen Baldwin. In essence, Baldwin's plea is offering us our very own chance at redemption.
In what has to be one of the most unintentionally hilarious videos (see below), the Restore Stephen Baldwin site is asking for public donations to help bail out Baldwin. They reason that if enough people give, "Stephen's platform will increase, allowing him to reach even more people with the gospel." But don't think of this as an ego trip or a financial windfall for Stephen. No, no, no -- stop being a cynical heretic. It's all for Jesus. The video concludes with the simple proclamation: "God will get all the glory."
On the one hand, it's quite amusing to witness the hubris of a famous actor asking for a bailout when average Americans are having their own tough kitchen table conversations about how to survive the economic downturn and simply pay their monthly bills. On the other hand, it's Stephen Freaking Baldwin. My Stephen Baldwin. What kind of America are we living in where Stephen Baldwin can't continue to preach his gospel? I don't know about you, but I don't want to live in that kind of America.
So, perhaps against better judgment, I made a donation. A tiny one, but a donation nonetheless. And I encourage everyone to do the same. If for no other reason than to keep Stephen Baldwin around in the public eye.
I gave $4. I hope Stephen uses it wisely.
REAL LIFE. REAL NEWS. REAL VOICES.
Help us tell more of the stories that matter from voices that too often remain unheard.