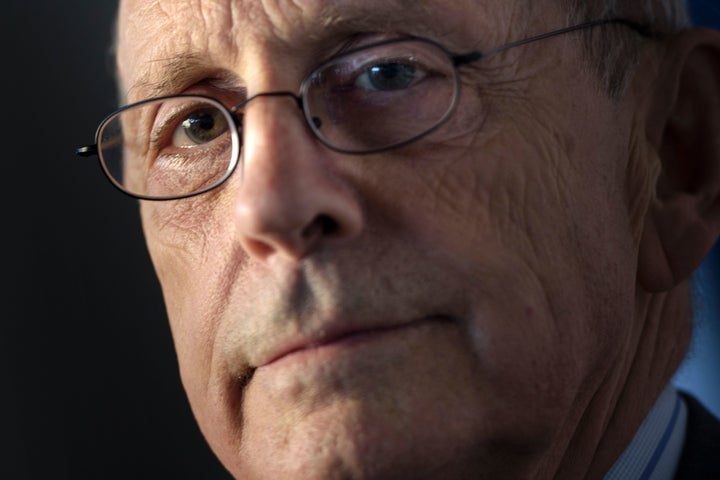 The Supreme Court on Monday declined to hear the appeals of two inmates, one from Florida and one from Ohio, who questioned whether their death sentences were constitutional. The court didn't provide a rationale for the denials.
But Justice Stephen Breyer said he would've given the prisoners a chance to make their cases before the court. And in the process, he seemed to remind his colleagues of something he's said a number of times before: that it may be time to eliminate the death penalty once and for all.
"I have elsewhere described these matters at greater length, and I have explained why the time has come for this Court to reconsider the constitutionality of the death penalty," Breyer wrote in an opinion disagreeing with the court's decision not to hear the Florida case.
Neither that case or the Ohio one had asked the Supreme Court to revisit whether the death penalty remains consistent with the Eighth Amendment's prohibition on "cruel and unusual" punishment.
But Breyer pointed to systemic failings in both cases to underscore an ongoing theme in his crusade against the death penalty ― that not all death sentences are created equal.
"When he was first sentenced to death," Breyer wrote of Henry Sireci, the Florida inmate, "the Berlin Wall stood firmly in place. Saigon had just fallen. Few Americans knew of the personal computer or the Internet. And over half of all Americans now alive had not yet been born."
Sireci has been awaiting execution since 1976, when he was convicted of the murder of a used car salesman. In their Supreme Court petition, his lawyers argued that Florida's refusal to grant Sireci a new trial — based on newly discovered DNA evidence that may exonerate him — violated his constitutional right to due process of law.
Breyer observed that the time Sireci has spent waiting for his punishment is even longer than the average life expectancy of the framers who wrote the Bill of Rights.
"I should hope that this kind of delay would arise only on the rarest of occasions," Breyer wrote. "But in the ever diminishing universe of actual executions, I fear that delays of this kind have become more common."
"The time has come for this Court to reconsider the constitutionality of the death penalty."
Romell Broom, the Ohio inmate, was nearly executed in 2009. State officials poked him with a needle for almost two hours, but couldn't find a suitable vein into which to administer the cocktail that was meant to kill him. Broom's lawyers argued that the failed 2009 execution, and the prospect of further suffering whenever Ohio tries to execute him again, amount to cruel and unusual punishment and other constitutional violations.
"I would've heard Broom's claim," Breyer said. Justice Elena Kagan also voted to hear his case.
Notably, Breyer still had in mind the execution of Ronald Smith, an Alabama inmate who was sentenced to death despite a jury recommendation that he be given a life sentence instead.
Last week, Breyer and three other justices would have placed Smith's execution on hold to review whether the Alabama system ― which is unique in allowing judges to override a jury's determination as to a death sentence ― is constitutional. But none of the Supreme Court's more conservative members provided the necessary fifth vote to spare Smith, and he was put to death on Thursday.
These and other cases, Breyer said, "provide additional evidence" that the court may soon need to confront the larger questions surrounding the death penalty.
"As I and other Justices have previously pointed out," Breyer explained, "individuals who are executed are not the worst of the worst, but, rather, are individuals chosen at random, on the basis, perhaps of geography, perhaps of the views of individual prosecutors, or still worse on the basis of race."
Popular in the Community