Cancer. The word that terrifies us, at any age. But when a young person is struck by it, it seems all the more tragic. To help cope with this harsh reality, Roger Daltrey and Pete Townshend of The Who joined together to form WHO Cares and created The Lounge at Memorial Sloan Kettering Cancer Center (MSK). This is a place that allows teenagers to feel like teenagers and immerse in an atmosphere far unlike a hospital's (program).
The Memorial Sloan Kettering Cancer Center Teen and Young Adult (TYA@MSK) Program offers special services to MSK's teen and young adult population.
The Lounge is a space designed especially for this unique age group that was made possible by a $1 million donation from Teen Cancer America. The nonprofit organization, co-founded by Roger Daltrey and Pete Townshend of The Who, partners with hospitals throughout the U.S. to develop specialized facilities for teens and young adults with cancer.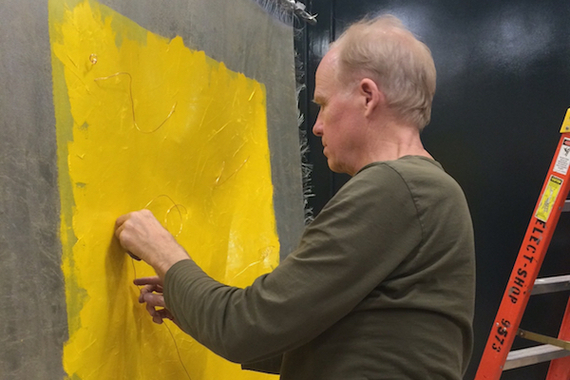 Stephen Burlingham creating his piece "Whisper." Photo: TYA@MSK.
Inspired to go beyond art to create a space for healing, Memorial Sloan Kettering Cancer Center turned to a new friend of mine, the extraordinary thinker and doer Stephen Burlingham. Stephen, speaking to our foundation's young global leaders this summer, explained his recent piece "Whisper" featured in the MSK Lounge for Teens and Young Adults:
I wanted to go beyond art. "Whisper," for me, is hope for the patients, the family and friends of children living with cancer. My work springs directly from envisioning humanity's cumulative knowledge and belief encapsulated within an ever-expanding membrane that emanates from the Elements themselves.

My work stands for the universal Membrane and involves my search to find the spiritual, the mindful passage, to allow one to break through our restrains and to see what lies beyond our sensory world. To perceive the Intangible - that which is unable to be touched or grasped, that lacks a physical presence.
Stephen is no stranger when it comes with working with children in needs. The grand-grandson of the renowned designer Louis Comfort Tiffany, Stephen was commissioned for designing the award for the Save the Children's 75th Anniversary Benefit in 2007. Three visionary leaders were honored at that benefit with Save the Children's Global Humanitarian Awards -- former President George H. W. Bush, former President Bill Clinton, and Melinda Gates.
Unlike any other artist I have met, Stephen is charismatic, spiritual, intelligent - and deeply philosophical. If you didn't know he was an artist, you might think he is a humanitarian.
One of his works, a permanent stone sculpture entitled "The Crossing," was erected in the ancient port of Bodrum, Turkey, on the Mediterranean. He told me the piece now bears witness to the eternal laws that are constant over time, language and culture - and the great civilizations which unite humanity.
Another of his work in progress, "The Gateway," is an installation project that explores the frontier between the tangible and the intangible. "Traversing this universal Membrane is at the core of my work,' he said, "and the search to find the spiritual, the mindful passage, to allow one to break through our restraints and see what lies beyond our sensory world. To perceive the Intangible."
Cancer can sometimes feel like that, intangible and out of one's grasp. The artist speaks of his piece as a way to "look through and beyond." I took this as a nod to those battling cancer. The Lounge at MSK provides an escape for teenagers who want to be able to live their lives as if they are somewhere else other than a hospital.
"I believe it is up to each patient and family member to choose to see and to take from your piece what you intended to offer them," Stephen told us.
His work "Whisper," I believe, is aptly named. Whisper surround hospitals. In Stephen's whispers, we see something else - a different way to speak up. Among the whispers are the intangible possibility that things can get better, and that people may truly heal.
Meera Gandhi, an activist and CEO of The Giving Back Foundation, is a good friend of us both. Meera helped me gain some insight into Stephen's life and work:
When I walked into Sloan Kettering and got to the lounge, the yellow art piece "Whisper" by Stephen Burlingham reminded me of the sun. I assumed Stephen was thinking of sunlight and energy to heal when he designed that.

The Lounge has great energy and is so comfortable and has the guitar from The Who hanging on the wall. Stephen shared that he had such joy creating the piece and hoped many teens would be healed of cancer and enjoy great downtime in the relaxed lounge created at MSK.
Meera received our foundation's Humanitarian of the Year Award in 2015.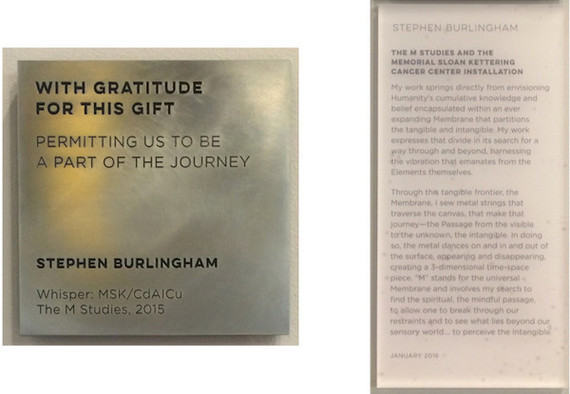 Burlingham's description of his piece "Whisper" featured in The Lounge
at Memorial Sloan Kettering Cancer Center. Photo: Stephen Burlingham
Jeremy Hu, gallerist and global adviser to our foundation, agrees:
When you step into The Lounge at Sloan Kettering, the first thing you notice is the vibrancy of Stephen's work brightening up the walls, signaling a hopeful tomorrow, one that is cancer-free. There is such peace in Burlingham's pieces. The main element blends seamlessly with the world around it. It lifts you up.
A challenge we have as a foundation and young global leadership program is to try to relate to our readers the breadth and scope of those thought leaders and global citizens whom we meet during the course of our activities. Stephen Burlingham is perhaps the most intellectually engaging and challenging individual we have encountered. One piece on his hospital installation does not begin to unravel his myriad mysteries.
With this in mind, we have determined to create a series about his artistic achievements. Stephen's world revolves around CoAu - the iconic markers of the paradigm shift of Humanity's Consciousness, The Gateway, the physical portal of the new consciousness, and 0M1.org, a community forming around this new consciousness.
As we sat around our dining table, we discussed with Stephen his vision. In short, the artist sees three current parts: Joining the idea/vision, a shared curiosity in Humanity's future and the cosmos; Collaborating in the realization of the Gateway; and Bringing together thought leaders and interested parties (people, universities, think tanks, etc.). Our young team seemed anxiously eager to absorb his ideas.
A creative life force such as Stephen Burlingham is difficult to encapsulate and even harder to pigeonhole. Young patients living with cancer who find themselves in The Lounge at Memorial Sloan Kettering Cancer Center don't care - they simply find enormous comfort in his piece "Whisper."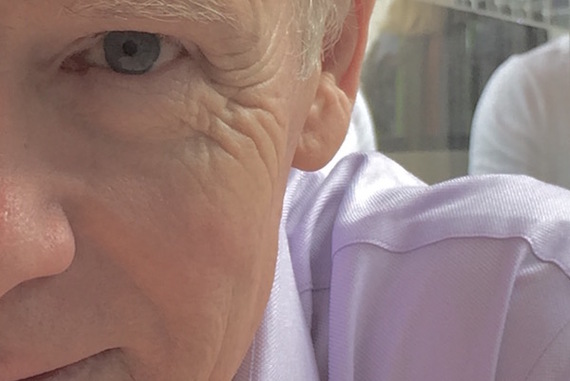 A creative life force such as Stephen Burlingham is difficult to encapsulate
and even harder to pigeonhole. Photo: Stephen Burlingham.
Our foundation is actively discussing how best we might engage him in the future. Should he be Artist-in-Residence, Humanitarian of the Year, or simply honorary chair of our Global Advisory Board? Whatever role he may one day assume with us, it is clear that Stephen Burlingham is going to change the world.
With Mia Lazarus, Global Adviser, J. Luce Foundation.
Support HuffPost
A No-B.S. Guide To Life
Related
Popular in the Community