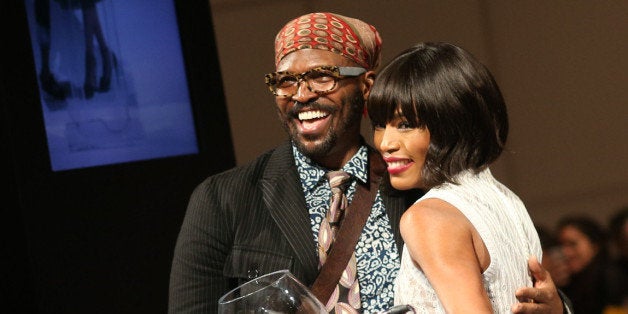 While the show has been shuttered, that certainly doesn't mean the celebration of those talented individuals has ended.
In fact, Thursday night two of the fashion designers included in the exhibit, Stephen Burrows and Byron Lars, were honored at the 2014 Pratt Institute Fashion Show and Cocktail Benefit. The annual event is an opportunity for the fine arts school to showcase designs from its graduating class and hand out its most prestigious awards.
This year, Pratt's Fashion Award for Lifetime Achievement went to Burrows, a designer whose work spans more than 50 years and whose creations have been worn by Michelle Obama, Kate Moss, Diana Ross and many more. Lest we forget, this is also the man that put Iman in her first pair of high heels.
But it was another iconic supermodel and a close friend of Burrows, Pat Cleveland, who presented the award to Burrows last night, thanking him for "making us all feel that we've flown on the red carpet of the wonderful rainbow of fashion."
The night's Fashion Visionary Award went to Lars, who launched his eponymous collection in 1991 and is known for his intricate ladylike frocks -- making it no surprise that he has also dressed the First Lady, as well as stars like Alicia Keys, Natalie Portman and Tasha Smith.
But it was acclaimed actress Angela Bassett, one of Lars' biggest fans, who was on hand Thursday night to present him with the Pratt award.
Bassett recited a poem she wrote for the occasion praising Lars for his superb designs. The "American Horror Story" star waxed poetic about Lars' collection, saying it "flatters my assets and diminishes the real, or perceived, shortcomings" and that it offers "classic shapes and twists of detail -- familiar to a point and unexpected thereafter."
Thomas F. Schutte, Pratt's president, added to the chorus of praise for Burrows and Lars, calling them "two of the most dynamic designers of our time."
Schutte's assessment couldn't be more true, considering the honorees' bodies of work and their level of influence within the fashion industry. But the Pratt awards take on more meaning when one considers fashion's glaring lack of diversity, an issue that's received a lot of attention in recent years. In that light, it's both exciting and surprising to have two black designers celebrated by Pratt in the same year.
"It really came as a result of the Black Dress exhibition that was curated in part by one of our faculty members, Adrienne Jones. We wanted to continue that celebration, because she really put to the forefront the importance of these designers and I wanted to carry the message over to the show tonight," Jennifer Minniti, Chair of Pratt's fashion department, told The Huffington Post.
"When we looked at all of the designers, clearly Stephen Burrows was the pioneer and Byron looked up to him," Minitti added. "We're so proud to be able to express our appreciation."
Here's a look at all the fun and the fashion-forward crowd at Pratt's annual fashion show and benefit.
Calling all HuffPost superfans!
Sign up for membership to become a founding member and help shape HuffPost's next chapter
BEFORE YOU GO
PHOTO GALLERY
2014 Pratt Institute Fashion Show and Cocktail Benefit