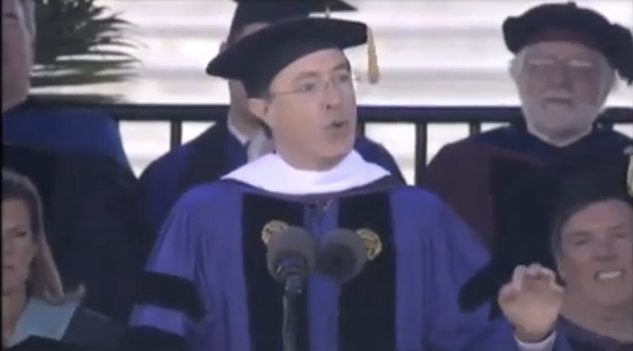 Conan O'Brien was not the only talk show host to give a funny and inspiring commencement address this graduation season. Stephen Colbert offered his unique brand of wisdom to the Class of 2011 at his alma mater, Northwestern University, on Friday, June 17.
Colbert quickly pointed out that he was giving the address as "himself," and not as the blustery commentator he plays nightly on "The Colbert Report." He noted that he was sure of this, as a mixup caused him to not quite graduate on time as he had planned 25 years ago -- a mixup that decidedly occurred to him and not his character. (His character, he joked, watched O'Brien with jealousy at Dartmouth last weekend.)
The comedian made good use of references familiar to Northwestern students, such as "Dillo Day," as well as an odd mini-scandal in which the university threatened to crack down on "brothels." Most notably, he referenced the story that received national attention: a professor who demonstrated a graphic sexual device on a naked woman during a lecture.
"I saw some photos of the lab equipment, and I'm thinking you may have been scared off sex forever. I think it might have been a stealth abstinence program or a viral ad campaign for True Value Hardware," Colbert said.
After spending the first half of the speech with a series of well-received inside jokes, Colbert took a more serious turn, encouraging the importance of adaptation, change and collaboration. He emphasized that since graduating college, his career has been a long sequence of changing goalposts, aided by the lessons taught by his background in improvisation. "You cannot 'win' improv. And life is an improvisation," he said, driving home his view that true satisfaction and success is born from selflessness, onstage and off.
"No winning," Colbert said at the end of his speech. "Instead, try to love others and serve others, and hopefully find those who will love and serve you in return."
Related
Popular in the Community